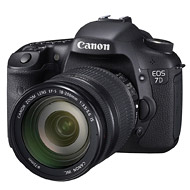 Canon 7D
Pros:
pro body, burst, AF, viewfinder, joystick, first Canon SLR with auto ISO in M working
Cons:
sensor inevitably outdated, no articulated screen & touch, live view contrast pre Dual Pixel, no exposure compensation with auto ISO in M.
Opinion:
Does it make sense to buy a 7d in 2021? I switched to this old woman after trying the newcomer Sigma 150-600mm C on the M5: excellent machine in general, it is unsuitable for fast shots in which to seize the fleeting moment, a bit because of the viewfinder (not bad in itself, but the blackout is quite long with moving subjects) but mainly for the continuous af absolutely unreliable and inconsistent regardless of the mounted optics. The 7d attracted me with the ridiculous price, the pro body (both as controls / grip and as quality of materials) and an autofocus that, although not at the pace of the last ml, seemed to be more than enough for my needs. I immediately put my hands forward saying that in these characteristics the 7D does not disappoint: it is true, it lacks the tilt and touch screen of the descendants, but even with only the physical controls (including the excellent joystick) this body is comfortable and the response is always ready. The ovf is huge and a pleasure to use, the burst fast and "substantial" (about 20-24 raw at 8 shots per second, with a modern cf) and flanked by an af able to do it justice, even if every now and then there is some shot mysteriously out of focus. Unfortunately, after trying this camera returning to the M5 is really difficult, what previously seemed to me a great body now in comparison is little more than a toy for quality of materials and many details (shutter noise, main ring of the M for me indecent, as written reactivity, grip, battery life,...) small taken alone, but that all together for me weigh a lot on the experience of use. They weigh so much that I decided to continue using the 7d by turning a blind eye to the poor 18mpx sensor, which for giddì and noise can not compete with its younger descendants. a note on the subject: while for the dynamic range nothing can be done, for the noise are now available denoise softwares based on AI that I do not say fill the gap with recent sensors, but that guarantee a huge boost to the quality of the images, practically solving the problem of noise related to high ISO. Even the dreaded banding can be treated effectively with RawTherapee, even if the carefree shadow recoveries to which we have become accustomed in recent years remain impossible. So, back to the initial question... recommended or not? Compromises are there and they are important. But knowing them and seeing the ridiculous price of this old pro (about 250 euros), in my opinion you will hardly be disappointed.
sent on August 14, 2021