Sigma 24-105mm f/4 DG OS HSM Art : Specifications and Opinions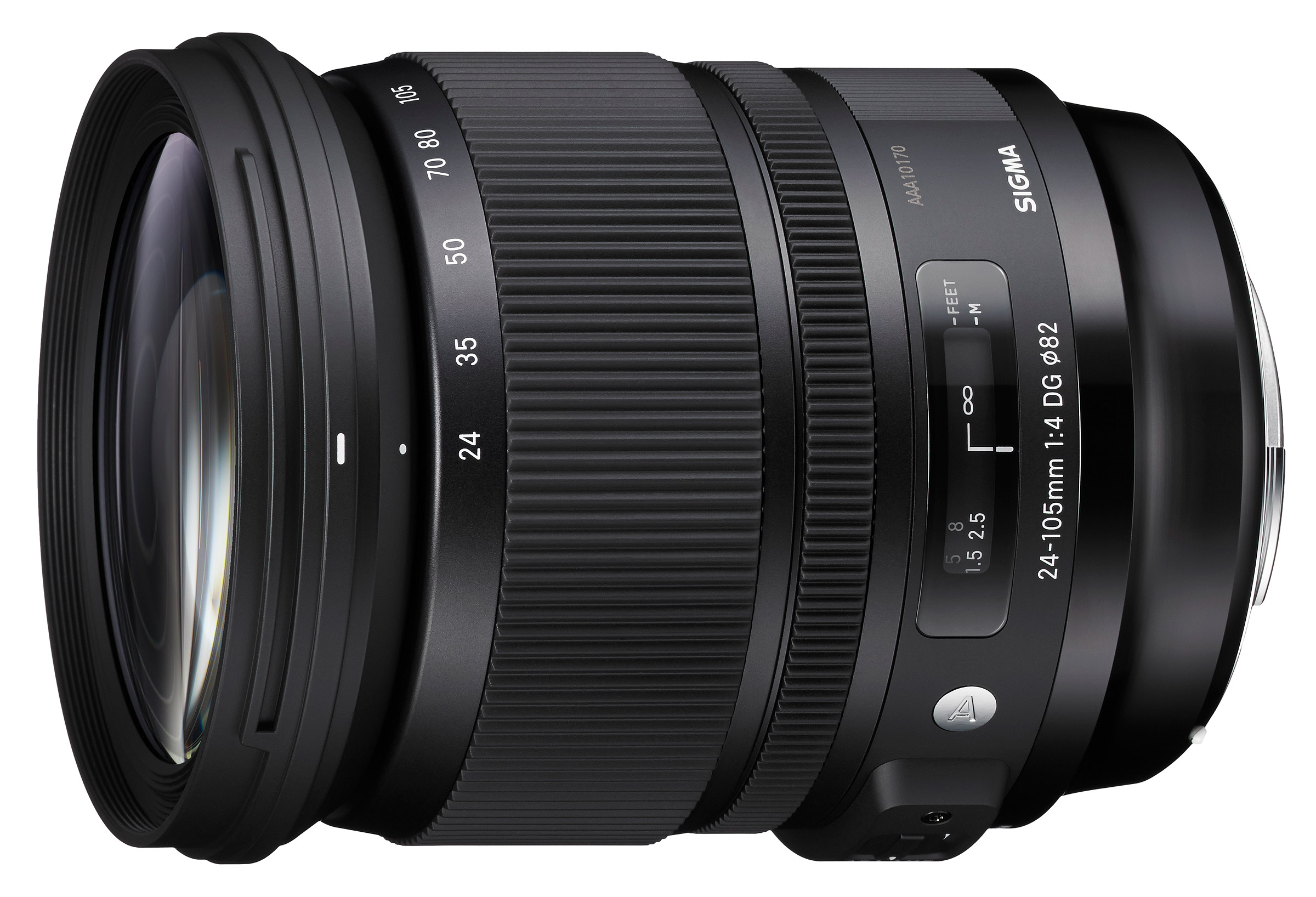 MOUNT

This lens is available with the following mounts:

Canon EF: this lens is compatible with reflex fullframe and APS-C Canon EF.

Nikon F: this lens is compatible with reflex fullframe and APS-C Nikon.

Sony A-mount: this lens is compatible with reflex fullframe and APS-C Sony A-mount.

Sigma SA: this lens is compatible with reflex and mirrorless fullframe and APS-C Sigma SA-mount.





Specifications

Focal lenght
24-105 mm
Angle of view
84.1 - 23.3°
Format
FF, APS-C
Max. aperture
f/4
Aperture blades
9
Lenses/Groups
19 elements in 14 groups
Min. focus distance
0.45 meters
Reproduction ratio
0.21x



Features

Zoom type
Ring, external
Stabilization
Yes (built in lens)
Focus
Ultrasonic AF Motor (Ring-USM)
Internal AF
Yes
Full Time MF
Yes



Built and notes

Tripod ring
No
Extenders
No
Filters
82 mm
Lens hood
Yes, supplied
Weather sealing
No
Weight
885 g
Dimensions
88 x 109 mm
Buy
Sigma 24-105mm f/4 DG OS HSM Art, buy on Ebay



Publish your advertisement on JuzaPhoto (info)
Reviews
What do you think about this lens?
Do you want add your opinion? You do it by joining JuzaPhoto, it is easy and free!

There is more: by registering you can create your personal page, publish photos, receive comments, join discussions and you can use all the features of JuzaPhoto. With more than 161000 members, there is space for everyone, from the beginner to the professional.
pubblicata da Blank76 September 18, 2018
Pros:
Sharpness-stabilization-focal versatility
Cons:
Position of the rings-lens hood
Bought to replace a Tamron 24-70 f/2.8 I series which had broken the filter ring-I thought I would buy this lens giving up the opening of the Tammy (being fond of street and landscapes I used the aperture to f/2.8 very sporadically). To the touch from a feeling of extreme solidity. It does not have a release lever but is well-solid and the lens does not flow unless applying a certain pressure. Tested at an event in my area and with a micrometric ruler does not have front/back focus problems. The weight feels. The focal range from 24 to 105 mm makes it a real handyman for travel. The trumpet is 82mm, so recycle all of the Tammy's filters. The stabilizer is silent and effective. Of a hundred photos taken does not seem to me wrong even a focus. Vignetting and chromatic aberration are not noteworthy and in any case perfectly corregible. Nice Bokeh. Faults-the hood folded backwards does not allow zooming, similar to the 70-200 that I already own; The focus ring is on the side of the camera body, zooming from the side of the lens... you get used to it but at the beginning it's "molesta" paid roughly €800, overall an excellent lens and the unbeatable value for money.
Pubblicata da Blank76 September 18, 2018
pubblicata da Gsabbio September 16, 2018
Pros:
Quality, sharpness, stabilization
Cons:
Weight and size
Very good optics in all respects (rating 9): Used on the Nikon D800, already at F4 shows excellent sharpness throughout the frame and a nice contrast, the stabilization is always very effective and the focus very fast. My copy, bought second hand, on my machine body did not need any calibration of the autofocus, however has a slight tendency to overexpose: about 1/3 diaphragm, but nothing that can not be corrected in pp. I took it to replace a Nikon 24-120 f4 much exploited (well beyond the 100,000 shots) that because of some excessive mistreat I was no longer convincing me as sharpness; The fact is that the difference I saw immediately compared to the last images of 24-120, while, is not so marked compared to the photos taken years earlier with Nikon. To the question: "Nikon or Sigma?" Honestly, I could not give a preference, the Sigma seems a little sharper at full aperture, and also has a nice blur, but it is very big, heavy, and stops at 105, the Nikon is nearby for sharpness, stabilization seems to me Equivalent (maybe a hair better than the sigma), the autofocus is just slower than the Sigma, but it's lighter, less cumbersome and gets to 120 (it's little, but it's handy). As for the Nikon, even for the Sigma I can not talk about the distortion because I do not care, while chromatic aberrations are irrelevant on the practical level, and the whole is safely correctable in PP with the right SW (I use DxO). They are all minimal differences that on lenses from reportage like these (excellent for the purpose), in the end are lost in the inaccuracies of recovery that in fact pave strengths and weaknesses. These consumer optics do not have production processes with a quality that is worthy of a Leica optics, so the defect always ' looms ', perhaps justified by the magnitude of the tolerances on the specifications. The key to everything is in the good fortune to find the right specimen (fundamental: Try it well before you buy it). So the most concrete thing I'm going to write is: good luck.
Pubblicata da Gsabbio September 16, 2018
pubblicata da Roberto Piloni September 16, 2018
Pros:
Build quality, aesthetics, F4 at all focal lengths, stabilizer, sharpness
Cons:
Usual problems F/b Focus Sigma, distortion and vignetting more or less at all focal
Taken to accompany me around like handyman. Immediately discovered the usual problems of F/b focus unresolved in the room but only after purchasing the USB dock separately. A hassle but I had previously put into account. Apart from that the lens is very solid and built very well, a real tank. I also like it very aesthetically and for the weight, which is true that it makes you feel, but that from a feeling of professional optics. Maybe a little hard scrolling the zoom, I hope because new. Some time ago I had the Nikkor 24-120 VR that I do not regret. I never really liked it. This has the sharpness and definition I was looking for, though rather concentrated in the central area. Vote 10 for the stabilizer, really remarkable! One of the most effective stabilizers that ever happened to me. What I do not like is the obvious barrel distortion at 24, 35mm and bearing after, up to 105. In short it is, in one way or another always quite obvious. As on the other hand the vignetting, but in my opinion, is less annoying than in 24-120. In any case a solid, fast and reliable lens I'm very happy with. Very recommended!
Pubblicata da Roberto Piloni September 16, 2018
pubblicata da Diadoro September 04, 2018
Pros:
Build quality, focus speed, sharpness.
Cons:
Very hard lens hood in the final block shot
I stumbled upon an "unfortunate" model, immediately returned, with an obvious problem to the stabilizer that blew the lens on the long exposures (on OFF). The second lens is perfect instead. Very versatile, yes vignette slightly fine especially at 24mm F4, but in certain situations I think it can also be an interesting aspect. Quick and precise focusing, lens coupled with Canon 6d M II. If I really have to find a cons I would say that the lens hood in the final shot of its grafting in and definitely too hard, will be why new? implies a torsion force on the zoom of the lens not indifferent. Build quality and excellent results at a good price.
Pubblicata da Diadoro September 04, 2018
pubblicata da Pgatto July 12, 2018
Pros:
Versatility, sharpness already at TA, speed MAF, blurred, colour rendition faithful, pleasant to the touch...
Cons:
In certain situations "vignette" lightly, the weight (but the quality "weighs"...)
Premise Duty: I was biased towards the Sigma, so far all 4 of the optics I had taken had always had problems of F/B focus, not correctable in the room and therefore my despite I always had to return, "folding" (it is to say...;)) on Original optics of Canon mom. When I took it (in Test...) I had already had as many as 2 copies of the counterpart Canon I version and in both cases (I will have been particularly lame...) I was disappointed: poor sharpness, af not up to an original optics, blurred better to let loose ... Not being a "range" by me much used (mainly shooting sports then with "long" lenses) I did not mean in this case spend too much to take the new canon, so I had taken the excellent 24-70 F/4 canon, sharp, fast, light, etc. just that in Too many occasions was short... those 35mm more would have made me comfortable and then, when they proposed to try it without any commitment for a few days, I took advantage, convinced that would have made the same end of his predecessors... Instead, to my surprise, not only the optics in question did not manifest any problem of F/B focus, but using it in various situations, from closed for events to motor shows, the more I used it and more I liked! I've already written my impressions of the pros, that "pleasing to the touch" is everything, it seems to use a perspective of the years that were, heavy, but the build quality is there and it is felt in this case in the weight, more appropriate to a 70-200 than to a 24-105. I mean, I liked it and I like it more and more, it has a nice blur, TA you get a three-dimensionality and a detachment of the foreground subject worthy of much more expensive optics, as is faithful the color rendition (someone says that the colors are slightly Cold, it doesn't seem to me but I don't exclude it). Only flaw, but easily correctable in PP; In certain situations vignette (but also vignettavano the 2 Canon "old", I do not know the new because I have never tried) and for someone the weight, but as said before I do not consider it a problem, accustomed to turn with heavy optics, when I mount the "Fifty" I always fear Having forgotten the target, so its weight "reassures me." I took it in physical store to less than 700 euros with 3 years of official mtrading warranty, I think it's worth them all and even more!
Pubblicata da Pgatto July 12, 2018
Photos taken with Sigma 24-105mm f/4 DG OS HSM Art
The sample photos are selected automatically between all photos posted by JuzaPhoto members, using the camera and the lens selected in the techs. If you find evident errors (e.g. photos taken with cameras and lenses that are not available yet), you can contribute to improve the page by sending a private message to the user that has entered incorrect values in the photo caption.