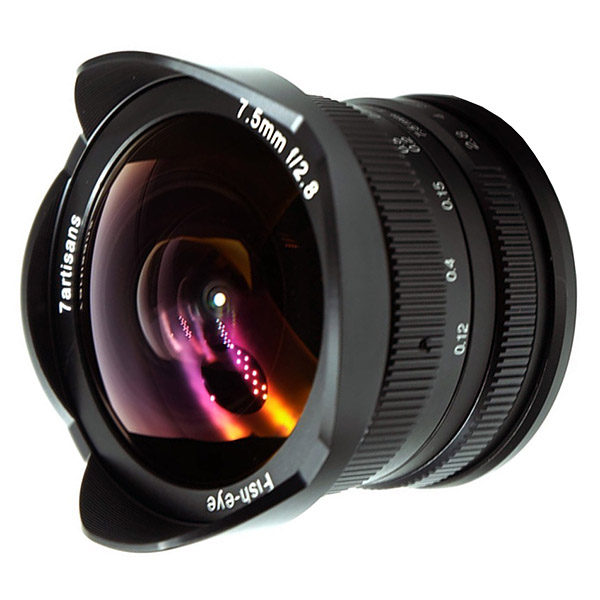 7artisans 7.5mm f/2.8 Fisheye
Pros:
Price, compactness, quality
Cons:
No one for what you spend
Opinion:
I have included quality in the pros because the piece that came to my surprise is not exactly what I expected but much more. From the reviews found on the net I was expecting a something assembled to the least worse with plasticaccia front cap and optic coupling ring of blued scrap metal. Instead I was handed a specimen, probably the result of a recent restyling, with metallic cap, chrome optic coupling ring, which engages on the Fuji body without games, entirely of glass and metal with focus rings and fluid diaphragms and with the Right clutch (analog memory stuff). At full aperture is a soft hair but nothing ruinous that can not recover with a slight mask of contrast, closing already a stop improves considerably. I had read of the reviews in which it was argued that there was the danger of engaging it also on the contrary, with danger detachment, with the red opposite reference of 180 degrees but from my tests there is only one way to graft it, the correct one. In short it seems a matter of substance especially in the consistency, it is small but is cramed with glass, all in a barrel with the solidity of a manhole, I do not know which alloy but probably iron-steel vulgaris. Plastic is an unknown element in this perspective, at least from the outside. It is not a perspective that is used often, in the long tired but in a work of documentation one or two photos of together do not spoil and then there is the sensationalistic aspect typical of the fish. Apart from a 12mm Zeiss I don't use anything third party in my kit, especially manual focus but this piece for what it costs and what it offers should not really be lacking in the bag. The focus ring could also have been spared, in a quarter turn it goes from 10 cm to infinity.
sent on November 17, 2018