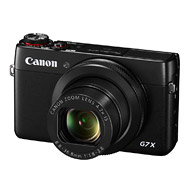 Canon PowerShot G7 X
Pros:
Spectacular compact, image quality, shooting in RAW comes to 20mm zoom range
Cons:
It is not an SLR
Opinion:
I recently this compact that I have taken to replace the little reflex in reading outputs. As a compact camera is a show. It ''s the perfect size (fits into the pocket, weighs more than one ixus, like a travel zoom), excellent zoom range. The sensor is very good, you can do to ISO 1600 photo calmly. If we think that the lens is f1.8 and is well stabilized, this means that one shot without the noise takes home almost always. The combination of these ingredients is deadly. For example you can make a night photo with T = 1/6 A = 1.8 and ISO 200 chooses, which is very clean in absolute terms. Finally in case of need then there is the 6400-12800 area, where the noise and a magenta hue begin to appear, and then would be the case of rescale the photos. In any case, for a compact is a eccellente.rnIl my use recommended performance is TV mode in the evening (with times between 1/6 and 1/40, so he choose ISOlow and large opening), Av mode of day (from 5.6 ìl openings up to the depth of field). With very strong sun I enable the internal ND filter because at f11 T = 1/2000 there is too much luce.rnUna gem using capture one, it is that the RAW reveals a part of the sensor normally cut off. By doing so you have a picture 16: 9 with approximately horizontal 20mm equivalent focal. Not always this band is used (there is a drop of chromatic aberration too and at high ISO you have a little 'too much noise), however, in some contexts you can return utile.rnLa battery life is decent. A day of tourist shots from the hold. But you just have to put extra battery .. you access remains in play mode, you do? RnVorrei now, however, open up the field and set the review as a comparison between the G7x and other photographic tools of today . Ie smartphones and cameras. Compared to smartphonegains and not just in image quality, especially in the night, and zooming. Then there is also the wide angle and the very useful folding screen appearance. On the connectivity side-social instead we are a little 'half-way. Unfortunately, the machine can not log into a WhatsApp account (which for me would be the most useful thing). So before I fetch the photos through the app canon, then I share them. A little 'more work than usual, but on holiday abroad where you have little data you do not realize the difference. From the manual are some ways to share via facebook, email and Canon Image Gateway (which is a private gallery, which can be enjoyed only after login). But I find them less useful. rnIl comparison with the SLR is also interesting. The image quality is not far aps-c with optic kits (what you lose as sensor size it is earned with the opening). Then, can in some casesco challenging replace the SLR? I think not: they are two very different experiences. Primarily due to the absence of the viewfinder. Secundis for the speed command; the changes of opening and very quickly, especially with the rotellone on the lens, but the electro-zoom is slow as of all compact and manual focus in some cases proceeds by millimeters. Finally there is a discussion on operational speed. The autofocus is decent, but slower than a reflex, shooting (as of all compact puts those two tenths too), writing RAW files is slow which precludes raffiche.rnInsomma finally, a photographic amazing tool and reliable. Always carry it pulls you out of something good in so many situations and out clearly smartphones. It also has nice features that have neither smartphone nor reflex, as the peaking focus. But beware: the SLR complements, not replaces.
sent on May 06, 2016