Sigma 150-600mm f/5-6.3 DG OS HSM S : Specifications and Opinions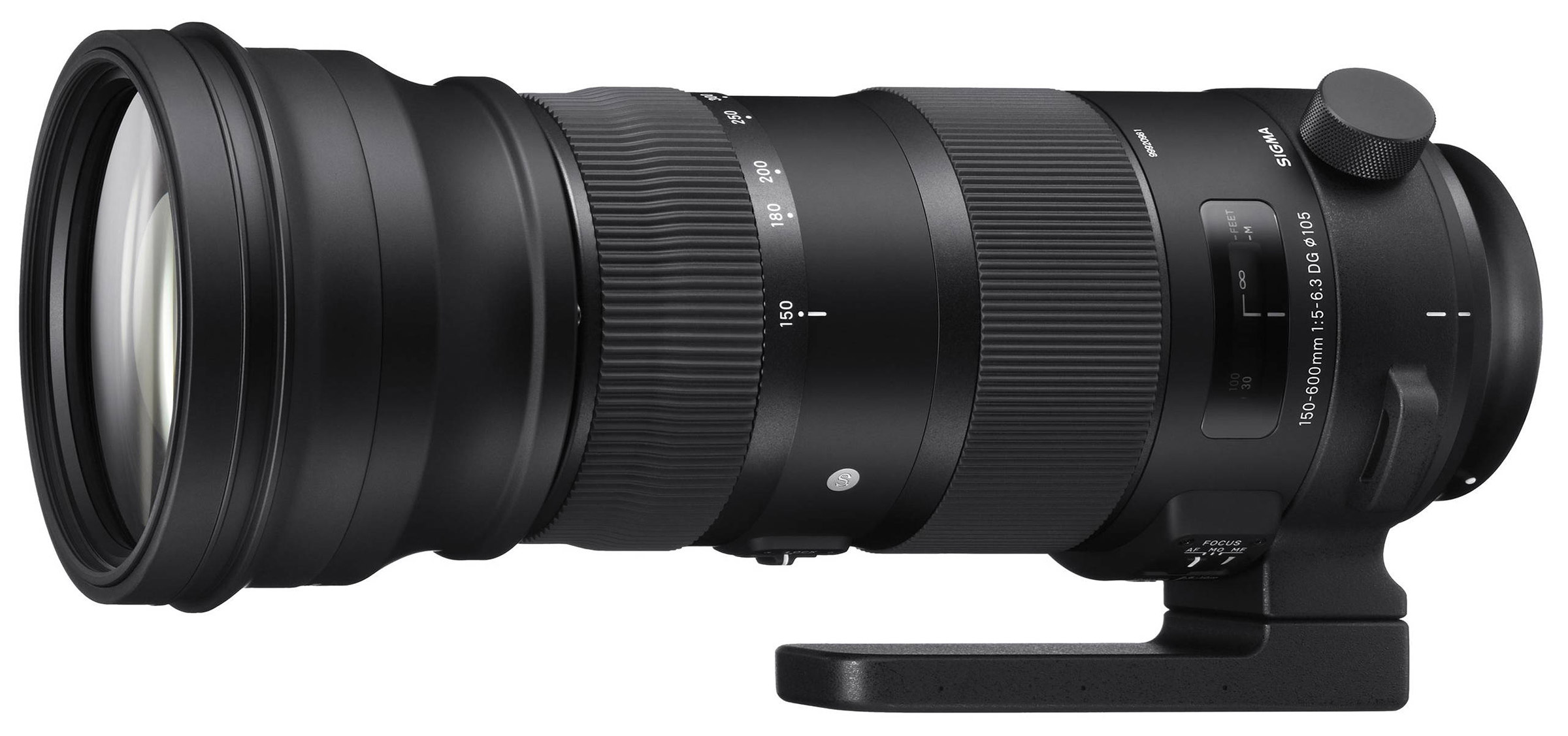 MOUNT

This lens is available with the following mounts:

Canon EF: this lens is compatible with reflex fullframe and APS-C Canon EF.

Nikon F: this lens is compatible with reflex fullframe and APS-C Nikon.

Sigma SA: this lens is compatible with reflex and mirrorless fullframe and APS-C Sigma SA-mount.





Specifications

Focal lenght
150-600 mm
Angle of view
16.4 - 4.1°
Format
FF, APS-C
Max. aperture
f/5.0-6.3
Aperture blades
9
Lenses/Groups
24 elements in 16 groups
Min. focus distance
2.60 meters
Reproduction ratio
0.20x



Features

Zoom type
Ring, external
Stabilization
Yes (built in lens)
Focus
Ultrasonic AF Motor (Ring-USM)
Internal AF
Yes
Full Time MF
Yes



Built and notes

Tripod ring
Yes
Extenders
Yes
Filters
105 mm
Lens hood
Yes, supplied
Weather sealing
Yes
Weight
2860 g
Dimensions
121 x 290 mm
Buy
Sigma 150-600mm f/5-6.3 DG OS HSM S, buy on Ebay
Reviews
What do you think about this lens?
Do you want add your opinion? You do it by joining JuzaPhoto, it is easy and free!

There is more: by registering you can create your personal page, publish photos, receive comments, join discussions and you can use all the features of JuzaPhoto. With more than 138000 members, there is space for everyone, from the beginner to the professional.
Pros:
Sharpness, build quality, custom settings / USB dock
Cons:
Weight
This lens is real value for money. You get great quality, sturdiness and very sharp photos (even at 600mm). With the USB dock you ar able to adjust the focus setting, but when using several cameras i prefer finetuning on the camera's.For birds in flight i think the lens is a bit slow. I use this lens combined with the Nikon D7200 These two combined creates great photo's
Pubblicata da Peterwiggerman November 30, 2016
Pros:
construction, feeling, focal range, sharpness (after microregulation) on subjects not too distant, stabilization, customization, size (if compared to the maximum focal length), purchase price (especially on used), speed af (to be a zoom)
Cons:
keys and levers too small and difficult to use with gloves, tripod bracket too close to the lens that limits the use for transport only when you have bare hands (and small): impossible with winter gloves, tripod bracket too short (to balance it to 600mm on the gimball it takes an ark swiss plate that protrudes from the original bracket), speed af (especially if used without limiter)
I'm definitely happy with the purchase, I went from the Canon 400 5.6 to this because I wanted a stabilized and tropicalized lens. The bigger size (and weight) do not weigh me, in fact: the Canon is too small to carry it on the shoulder, with a ridiculous tripod bracket to take it from there and still too heavy to carry it for hours around the neck. The Sigma I tie it to the shoulder straps of the backpack and I take it (almost) safely in the high mountains.rnUsed for hours under a blizzard at -10 ° did not show the slightest sign of slowdown af or other problems.rnAfter microregulation made by Sigma is excellent on subjects close or not far away. The loss of detail on distant subjects is quite evident.rnSome defects to be corrected (see keys and various small levers too small and tripod bracket too close to the body of the lens) but all in all is a great goal.rnrnSurely not at the level of the Canon L, but it costs much less and has much greater ranges of use. 600mm on APSC are really many.rnrnIl all used on Canon 7d Mark iirn
Pubblicata da Stefano.S December 18, 2017
Pros:
Pro Construction, Great Sharpness at All Focuses, Great Stabilizer, Color Rendering and Very Good AF
Cons:
Minimum opening 6.3 and blurred
I had this fantastic Zoom in for a week and used it to photograph birdlife in my area, so far I've always used a fixed optic but the latter sometimes can detect a limit, while with zoom you have many more possibilities. RnI would like that price / quality ratio this Sigma lens is really exceptional. RnPaulightness if not superior in certain situations with much more expensive optics, it has compromises obviously, it's a bit dark (f / 6.3) and blurry is not up to Nikon pro optics, but for me I'm not a Professional should be the perfect lens. I was intent on purchasing it, also considering the pro, beautiful, robust construction and weatherproofness, but reading the previous review and going to search the web I found that "RobertoOK" is not the only one who has had The zoom jam problem. I heard two friends who have more than one of themA year, one of whom told me that she is always in mountain backpacks supported here and there, she has got rain and no problems. RnI will ...? Rn
Pubblicata da Fbphotofranz August 16, 2017
Pros:
Initially I thought of a great deal of this goal, some satisfaction has given me in terms of sharpness.
Cons:
Weight and zoom jam
Those are the ones that have zoomed in. After fixing it as a guarantee I gave it to a grocery store and bought the Tamron G2. I did not find substantive differences as to clarity and I gained in Ai Servo, much more powerful than the Tamron. To the fateful phrase "I recommend you bring it in the back seat well protected otherwise it might happen again that it locks I did not hesitate a moment! I sold it! But since a target needs so much attention ... I photographed for 50 years with so many goals But I did not need any jamming assistance because of the shipping! I immediately bought a padded cushion for dogs so that I could safely transport it but apparently it did not work at all. And I demand professionalism and seriousness, I do not think to ask too much.
Pubblicata da RobertoOK July 23, 2017
Pros:
Sharpness, average warm colors of the lens, stabilization, af speed, construction, tropicalization
Cons:
Nobody
The super-zoom construction is solid, including the hood. Weight is partially weighed with a battery grip. The handle of the bracket is long and applying a Benro arc 150 mm swiss plate further improves transportability and is easier to find balance with dedicated heads.rn With 120-150mm plates it is possible to fix them ultrasonic through 3 dedicated screws. I firmly recommend mounting a gimbal head on a tripod. If you need to make frequent movements and adjustments along a path, I find it intelligent to use a solid monopod and a Tilt & Shift head for monopods or mono + tripods (Genesis-Photoseiki-Sirui) that mimics the movements of a gimbal but with Greater compactness and a low cost eye. Rn The purchase of the sigma dock station allows you to customize tits c1 and c2 in addition to receiving firmware upgrades and performing optical microarrays. The headset provided to protect the lens is robust, practical, and safety. However, I bought a neoprene camouflage lens-hood for a further oneBut lightweight protection that can be found in a trouser jacket. The lens-hood can therefore be used alone or covered with the supplied headset. Model of lens-hood: 13.5 - 14.4 cm. - size 3 - producer: outdoorphotographygearrnNo problem of BFFocus.rnWith a f.6.3 at full opening should not keep af with certain reflexes coupling it to a 1.4x extender but, following a topic open to me to gather feedback In this regard, it has emerged that: rnrnConfirmed Sigma 150-600 Sport with teleconverter Sigma TC-1401 on Nikon D7200 (1 point af) rnConfirmed Sigma 150-600 Sport with teleconverter Sigma TC-1401 on Nikon nikon d810 SorrisornrnConfirmed Sigma 150-600 Sport with Sigma TC-1401 teleconverter on Canon 1d Mark IV (1 point af) rnConfirmed Sigma 150-600 Sport with Canon 1.4x III teleconverter on Canon 1d Mark IV (1 point af) rnConfirmed Sigma 150-600 Sport with Kenko 1.4x dgx teleconverter on Canon 1d Mark IV (all points af) rnrnConfirmed Sigma 150-600 Sport with kenko1.4x pro300 teleconverter on 5d mark II work all points af rnConfirmed Sigma 150-600Sports with Canon 1.4x II teleconverter on Canon 5d Mark III (1 point af) rnrnSigma 150-600 Sport with Canon 1.4x III teleconverter on canon 7d mark II (1 af maintenance case) rnCon updated sigma sport and canon 7d firmware Mark II with kenko dgx 1.4x and canon 1.4x III (2 cases of communication error) rnrnlink topic: https://www.juzaphoto.com/topic2.php?l=en&t=1615689rnrnIn my case, using it with a 1dmark canon IV, no noticeable loss of yield is known and the velocity of af remains interesting. My% of use without extender is around 35% .rnrn
Pubblicata da Elleemme July 22, 2017
Photos taken with Sigma 150-600mm f/5-6.3 DG OS HSM S
The sample photos are selected automatically between all photos posted by JuzaPhoto members, using the camera and the lens selected in the techs. If you find evident errors (e.g. photos taken with cameras and lenses that are not available yet), you can contribute to improve the page by sending a private message to the user that has entered incorrect values in the photo caption.