Canon EF 70-200mm f/4.0 L USM : Specifications and Opinions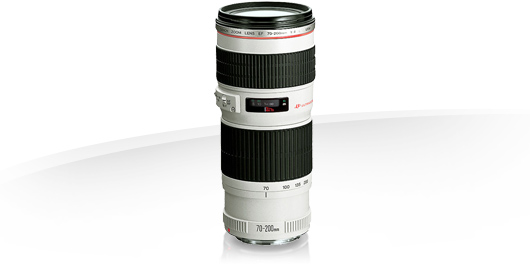 MOUNT

This lens is available with the following mounts:

Canon EF: this lens is compatible with reflex fullframe and APS-C Canon EF.





Specifications

Focal lenght
70-200 mm
Angle of view
34.3 - 12.3°
Format
FF, APS-C
Max. aperture
f/4
Aperture blades
8
Lenses/Groups
16 elements in 13 groups
Min. focus distance
1.20 meters
Reproduction ratio
0.21x



Features

Zoom type
Ring, interal
Stabilization
No
Focus
Ultrasonic AF Motor (Ring-USM)
Internal AF
Yes
Full Time MF
Yes



Built and notes

Tripod ring
Yes
Extenders
Yes
Filters
67 mm
Lens hood
Yes, supplied
Weather sealing
No
Weight
705 g
Dimensions
76 x 172 mm
Buy
Canon EF 70-200mm f/4.0 L USM, buy on Ebay
Reviews
What do you think about this lens?
Do you want add your opinion? You do it by joining JuzaPhoto, it is easy and free!

There is more: by registering you can create your personal page, publish photos, receive comments, join discussions and you can use all the features of JuzaPhoto. With more than 157000 members, there is space for everyone, from the beginner to the professional.
pubblicata da Aricafoix February 21, 2013
Pros:
Low price, fast and precise AF, sharp, non-CA, lightweight, construction
Cons:
Nothing from lens itself, but tripod ring not included.
This was my upgrade from the 70-300mm non-L. I don't know where to start: first I noticed that the construction is excellent, it deserves the "red-L-ring". The image quality is just fantastic, it can be used even at f/4 and the image isn't so soft like other lenses. The AF is very fast and very accurate. I can't complain about it's non-IS or just f/4 aperture, for this price it's just fantastic as it is. I wish that it would come with the tripod ring included. It can be used for portraits, wildlife and events.
Pubblicata da Aricafoix February 21, 2013
pubblicata da Budi Haryanto May 19, 2012
Pros:
less expensive (poor man pro tele lense); lightweight (perfect for travel); good sharpness; not-too-intimidating lens (good for candid)
Cons:
slightly soft at 200mm (for the best result, take at 135mm f/4 or 200mm f/5.6); sometimes non IS affects shake-blur
The lens is perfect for travel, & also perfect in term of price/quaility. The only thing you can't get is beautiful bokeh blur - it is not really necessary when we do landscape, reportage or even human interest portrait during travel (you could capture the environment background as a part of story, anyway). To me, combining with another lightweight 85mm f/1.8, or 135mm will be a wise choice. Just my 2 cents ;-). Www.budiharyantophoto.com
Pubblicata da Budi Haryanto May 19, 2012
pubblicata da Pqlrgl October 15, 2018
Pros:
Perceived quality, sharpness, price, weight.
Cons:
I'm not judging a 20-year target.
A few months from a friend who used it as a knits for his little interest in photography, I approached with curiosity to do "experiments" with this senior telephoto L Series. The specimen I owned was purchased in 2001 and has obvious signs of wear (probably of the sun because there are coloured rubberized parts) on the tires of the rings but I was pleasantly displaced by the quality of the shots that I managed to Get with my little 800d. Light and beautiful to see, always makes good figure! Probably if my finances allow me to evaluate to buy a copy of my thinking about the stabilized version and a bit ' newer!
Pubblicata da Pqlrgl October 15, 2018
pubblicata da Daniele Chierichetti July 28, 2018
Pros:
Sharpness, construction, colors, internal zoom, image quality
Cons:
No tripod ring, no tropicalization, AF slightly noisy
I bought this 70-200 used on offer in store at a super price and I tried well before finding it because it was the tele that I was missing in the kit. It has many merits and few flaws in my opinion, I also had a Tamron 70-300 VC a few years back but it never conquered me. I decided to stay in the house canon with all my optics and as such the choice has fallen on canon even for tele. Built very well by real L series, the zoom is inside the barrel and therefore does not extend, great thing. The rendition of the images is superb and despite being the 70-200 of Canon's cheapest, on the final rendering of the images there is nothing missing. Possible "problems", if we wanted to call them are the absence of tropicalization that is found only on the models is (F4 and F 2.8) and sometimes freehand the stabilizer. But the speech is always the same, with quick times the stabilizer is not indispensable and in other situations you can use a tripod in order to remedy the "problem". Another thing that makes a little ' crooked nose is the absence of the ring for the tripod, which is intended for the tripod but also helps a lot of free hand as you can lean on the palm of the hand and counterbalance the zoom, which weighs 705g but is still to be managed well V The length. The ring of the tripod you can find online non-branded canon but of third for an expense of about 20/30 € made in aluminum and I recommend the purchase. Last note, maybe it is my model but I had similar confirmations even from those who bought it again, that the autofocus is sometimes noisy in particular at the extremes of its extension, I think is also due to the project that is quite dated (it is almost 20 years) despite This autofocus is really quick. I would definitely recommend this 70-200, I was torn between the 4 models.. The Forbidden Dream was the 70-200 II IS f/2.8 But in addition to the cost also the weight to be taken behind was not recently, I had used the tele 90% of the time I would have had doubts and that would have been my choice, but for those who use it little like myself and the tele It is useful for some portrait but mainly for landscaping advice to find a 70-200 F4 smooth on the used. Rating: 9
Pubblicata da Daniele Chierichetti July 28, 2018
pubblicata da Rendy L. June 15, 2018
Pros:
Construction, sharpness, colors, weight, precise and fast AF, value for money
Cons:
Is but I don't feel the need
Lens that I have for a few months, mounted on my 80d I can only say to find myself really well. Coming from a Tamron 70 300 F4 5.6 VC USD, good too for the price that costs but the Canon 70 200 USM F4 I find it a span above for sharpness, fast af is not mistaken a shot, built well, fluid rings, weight and handling, and not for nothing is an L series. Sometimes I find a short hair if I shoot in the circuit MotoGP car superbike etc. But if they are available, or for general use, is a lens that gives good satisfaction. Of the stabilizer sincerely do not feel the need clicking on objects in motion or with times of safety. What to say!!!!!!! Great lens I recommend!!!!
Pubblicata da Rendy L. June 15, 2018
Photos taken with Canon EF 70-200mm f/4.0 L USM
The sample photos are selected automatically between all photos posted by JuzaPhoto members, using the camera and the lens selected in the techs. If you find evident errors (e.g. photos taken with cameras and lenses that are not available yet), you can contribute to improve the page by sending a private message to the user that has entered incorrect values in the photo caption.