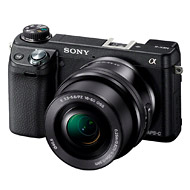 Sony NEX-6
Pros:
Portability, electronic viewfinder, swiveling display, high resolution, focus peaking, wi-fi, dials, and the control menu, you can install the app.
Cons:
Sony color management, battery life, build quality, price, raw files and jpg, external charger and plugs sensor / lens not included in the original package.
Opinion:
2C but really costs a lot of money, and the pictures that returns have a color rendering is not real and really unpleasant for my taste.
sent on September 14, 2013