Canon 100mm Macro L IS USM Review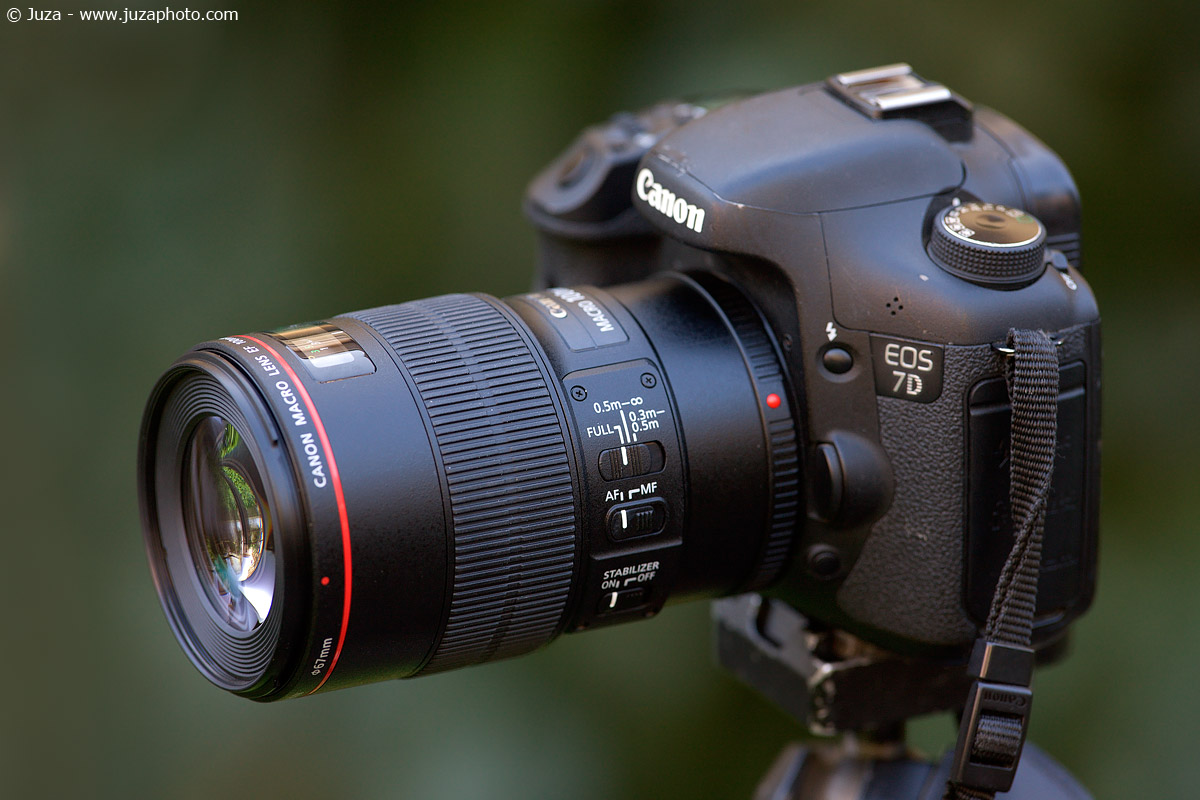 The Canon 100 Macro IS L is an interesting macro lens. It is the first macro from Canon to incorporate image stabilization, and it promises first rate image and built quality. Even though the stabilization in a macro is not as important as in other lenses, I was curious to try the latest Canon macro lens, and to compare it with my old good 180 Macro L.

As usual, I recommend to give a look to the page Testing and reviewing a lens: it will help you to understand better this review and my testing methodology!
| | | | |
| --- | --- | --- | --- |
| | Canon 100mm Macro L IS USM | Canon 100mm Macro USM | Canon 180mm f/3.5 Macro L USM |
| Angle of view | 23º(on FF) | 23º(on FF) | 13º(on FF) |
| Macro ratio | 1x | 1x | 1x |
| Max aperture | f/2.8 | f/2.8 | f/3.5 |
| Stabilization | Yes | No | No |
| Autofocus | Ultrasonic AF Motor | Ultrasonic AF Motor | Ultrasonic AF Motor |
| Closest focus | 0.30 meters | 0.31 meters | 0.48 meters |
| Dimensions | 78 (D) x 123 (L) mm | 79 (D) x 119 (L) mm | 83 (D) x 187 (L) mm |
| Weight | 625 g | 600 g | 1150 g |
| Weather sealing | Yes | No | No |
| Price | $ 880 | $ 520 | $ 1280 |
| Production | 2009- | 2000- | 1996- |
&nbsp
Built quality, image stabilization and autofocus
The "old" 100mm Macro had a good built quality, but the new 100 Macro L is clearly a much more professional lenses. It has the classic built quality of Canon L lenses: it feels solid and very well built. In comparison with its bigger brother, the 180 Macro L, it is much lighter and shorter; it has not tripod ring, but you can buy it separately. An important difference is the the 100 IS canon not use Canon teleconverters (you can still use some TCs from other brands, as Kenko), unlike the 180 Macro: even though TCs are not essential, sometimes they can be pretty useful even for macro work.
The autofocus is much faster than the AF of 180mm, thanks both to the newer design and to the three-steps AF selection (0.3-0.5 meters, 0.5 meters-infinity, full). Most of the times, macro lenses are used in manual focus, and even in this respect the 100 Macro is excellent, its large and smooth focus ring allows a very precise manual focus. As all L lenses, it is supplied with a large lens hood: I recommend to use it always, because it protects the front element from scratches, other than reducing flare.
Of course the image stabilization is one of the key features of the new lens. The 100 Macro has the latest "4-stops" IS, with some improvements to make it more effective for macro work. I don't consider the stabilization an essential feature in a macro lens, because whenever possible it is better to use the tripod...that said, in some situation handholding the lens can be the only way to get the photo, and in these cases the IS gives an huge help. Remember that IS helps only to reduce your movements, it does not freeze the subject movements: if there is wind or the subject is moving, you need either a fast shutter speed or flash, otherwise the photos will be blurred.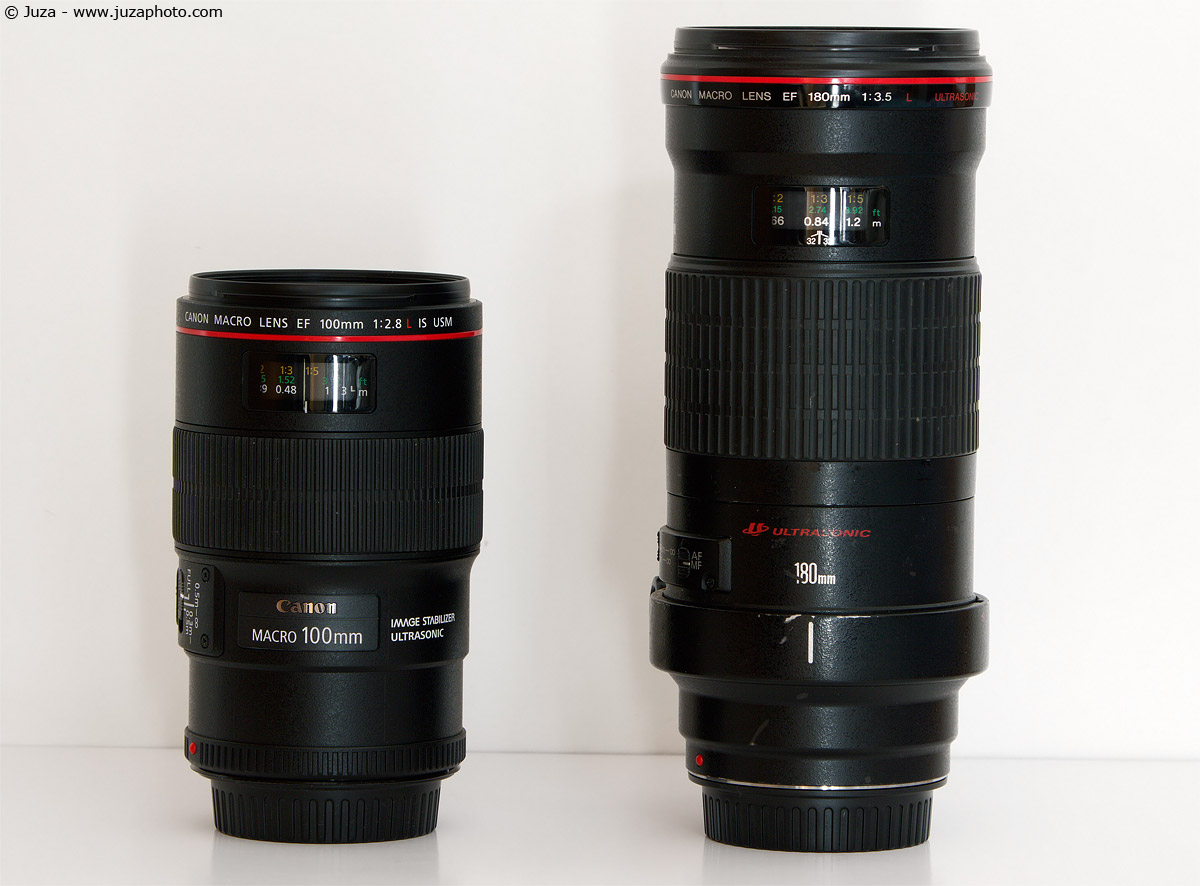 &nbsp
Image quality (in comparison with Canon 180 L)
I have tested the lenses on my Canon 7D (18 megapixels, APS-C). The lenses was mounted on tripod; I have used mirror lock up and self timer. The following images are 100% crop from the unprocessed RAW file.
| | | |
| --- | --- | --- |
| | Canon 100 Macro L IS USM | Canon 180 Macro L USM |
| wide open | | |
| f/5.6 | | |
| f/8 | | |
| f/11 | | |
| f/16 | | |
The 100 IS USM Macro is much sharper at the widest aperture, while from f/5.6 the difference is minimal and from f/8 they are identical; in the field, it would be impossible to tell the difference, unless the photo is taken wide open (and it is very rare to take macro photos at large apertures).
&nbsp
Image Stabilization comparison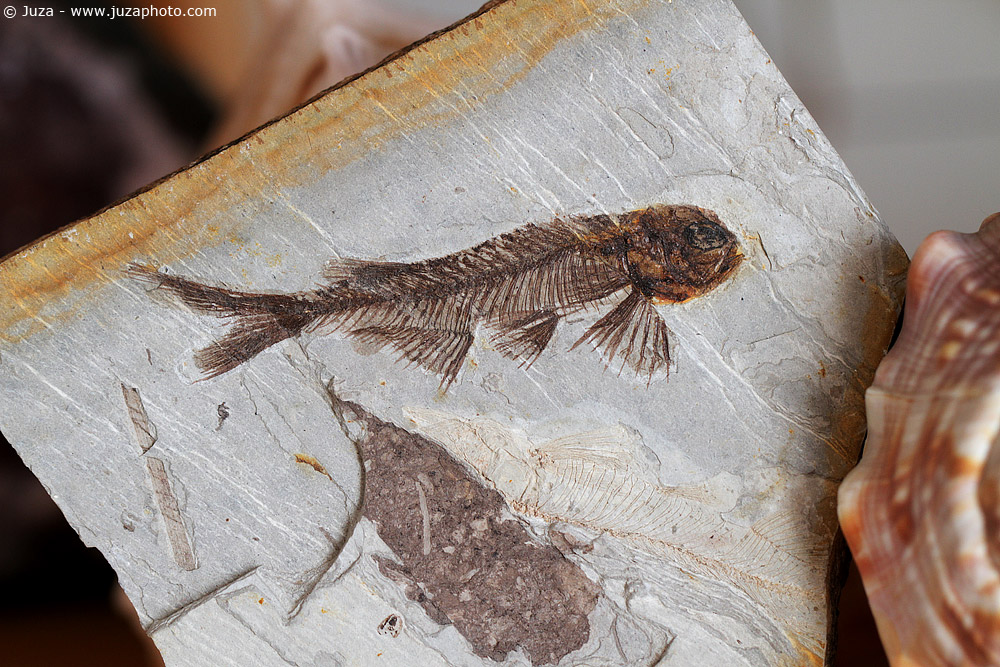 I don't do often tests of image stabilization because it is difficult to make a scientific comparison, but I was interested to see the real advantage of IS in the 100mm macro, compared with my 180. I have taken 10 handheld photos with both lenses - you can see the test subject above - the following images are 100% crops from the test photos.
Canon 100mm Macro L IS USM




Canon 180mm Macro L USM
The four-stop image stabilizer of the 100 IS gives a real advantage in comparison with the 180; while nearly all the photos taken with the 180 are blurred, those taken with the 100 IS are much better.
&nbsp
Background blur and working distance comparison
These photos show how the 100 IS and the 180 compares in terms of background blur and working distance.
| | |
| --- | --- |
| Canon 100mm, 1" f/11 | Canon 180mm, 1" f/11 |
| | |
Don't judge the differences of color and contrast from these images (they are due to slightly different illumination between the two images); look instead at the background: the 180 gives a much cleaner, uniform background. This is one of the reasons that led me to choose the 180 for macro work, together with working distance.
| | |
| --- | --- |
| Canon 100 Macro IS | Canon 180 Macro |
| | |
The difference of working distance is huge: with the 100mm Macro you have to get much closer to the subject.
&nbsp
Samples and comments
These are some sample photos taken with the Canon 100mm Macro L IS USM on Canon 7D. You can download either the untouched photo (JPEG converted from RAW without any additional post processing; minimum contrast and saturation, no sharpening, no AC, distortion or vignetting correction) or the post processed version. The untouched photo is a good way to see the real image quality of the lens, and the post processed versions allow to see the final quality you can get with good post processing techniques.
The 100 Macro is a very sharp lens; it has excellent detail, good contrast and no chromatic aberration. Even on a high-density sensor as the APS-C 18MP sensor of the 7D, it gives a lot of fine detail and a first rate image quality.
&nbsp
Conclusions
If you want a 100mm macro lens, the Canon 100 IS is simply perfect. It has first rate built quality, good AF, IS and the best image quality of any macro lens manufactured by Canon. I recommend this lens if you don't like to use the tripod, or if a short working distance is not a problem in your work.
Personally, I still prefer the 180mm: it gives more background blur, nearly twice working distance, it is supplied with tripod collar and it can use teleconverters in case you need even more focal length. Image stabilization is always a good thing, but you should not think that it replaces the tripod - the 100mm is more handholdable than the 180, but in some situations the shutter speed is too slow for handholding, even with IS. For now, I'm going to keep my 180, and I'll consider the upgrade when Canon will come out with a 180 Macro IS.