Canon EF 24-105mm f/4 L IS USM Field Review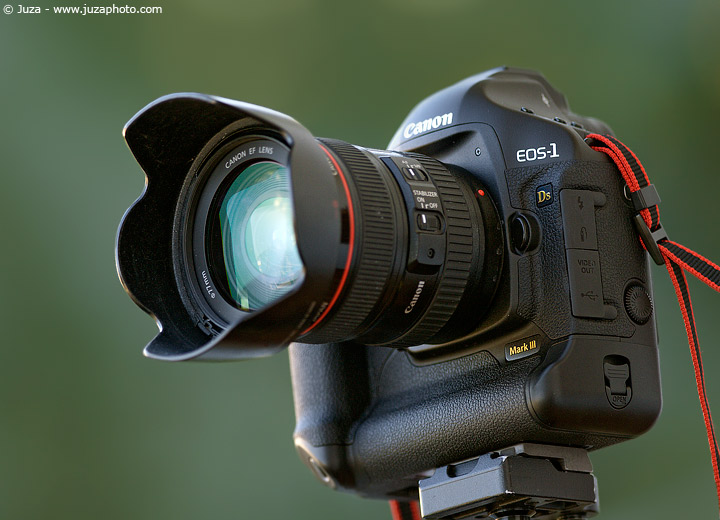 The 24-105 is a very popular lens: this professional zoom is versatile thanks to the wide range of focal lengths and the image stabilization; it has a good brightness, and high end built quality. It is the ideal lens for travel and landscapes, in particular on Fullframe (35mm) cameras.
&nbsp
Lens Specifications
| | |
| --- | --- |
| | |
| Focal length | 24-105 mm |
| Lens construction | 18 elements in 13 groups |
| Number of Diaphragm Blades | 8 blades |
| Angle of view | 84.10º - 23.30º (on 35mm camera); 64.18º - 16.31º (on APS-C camera) |
| Max. Magnification | 0.23x (1:4.2) |
| Maximum Aperture | f/4 |
| Minimum Aperture | f/22 |
| Image Stabilization | Yes |
| Autofocus | Inner ultrasonic motor (ring-type USM) |
| Full Time Manual Focus | Yes |
| Closest Focusing Distance | 0.45 meters |
| Filter size | 77 mm |
| Dimensions(Diameter x Lenght) | 83.5 x 107 mm |
| Weight | 670 |
| Weather sealing | Yes |
| Price | $ 1060 |
| Annuounced | 2005 |
| Accessories | Canon Dust Cap E, front cap, lens hood (EW-83H), soft case (LP1219) |
&nbsp
Description
The 24-105 has professionally built quality - the lens barrel is made of metal and it feels rock solid; moreover, it is weather sealed, and I wouldn't hesitate to use it even in adverse ambient conditions. The body is a little larger than the 17-40 L, but smaller than the 24-70 f/2.8 L, and it weights just 670g: overall, it is a small and light lens, easy to carry everywhere.
The ring closer to the camera body is the zoom ring: it is tight enough to ensure that you don't move it unintentionally, but is not too stiff, and it allows precise and comfortable zooming between 24 and 105mm. The lens extends considerably at the longest focal, but you don't have to worry: to sealed body protects the lens elements from dust, sand, splashes and moisture.
Next to the ring, there are the AF and IS switches. These switches are slightly recessed in the lens body to avoid accidental changes: another nice touch, that demonstrates how well this lens has been designed. The autofocus is fast and silent, thanks to the excellent Canon ultrasonic motor (USM), and it has full time manual focus: you can focus manually in every moment, even if the focus switch is set on AF. The minimum focusing distance is just 45 centimeters: at 105mm, it allows to get a macro ratio of 1:4.2, that is quite good for flowers and details.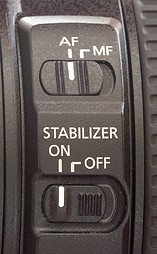 The image stabilization is one of the advantages of this lens. The 24-105 has the third generation IS - it allows to handhold the lens at shutter speeds three stops slower than what you could use without IS. Even tough I take the majority of my landscape photos with the camera mounted on a sturdy tripod, the stabilization is a great help for travel photos, and other occasions when there isn't the time or the possibility to mount the tripod. The IS unit of the 24-105 is able to detect the tripod, so in theory you could keep it always active, even with the camera on tripod. In practice I suggest to keep it active when the tripod is placed on an unstable surface, but when the support is 100% still, it is better to turn off the IS: it reduces a little the battery life, and it may reduce slightly the sharpness.
The second ring is for manual focus. As already mentioned, if is possible to use it in every moment - even if the lens is set on "AF". The lens doesn't extend during focusing, nor it rotates the front element: all the focus operation are internal. The Canon 24-105 is supplied with a bayonet mount lens hood EW-83H. I use almost always the lens hood; other than reducing flare, it protects the front element from the elements.
&nbsp
Similar Lenses (for Canon EOS)
The mid-range zooms are the most popular lenses - there are a lot of similar lenses, both from Canon and other manufacturers. That said, there isn't any lens that can really equal the 24-105 IS.
The
Canon EF 28-135 f/3.5-5.6 IS USM
was the only fullframe mid-range lens with image stabilization, before the introduction he the 24-105. It is not a bad lens, but is slower, it doesn't have the wide angle capabilities of the 24-105, it has first generation IS (less effective and unusable on tripod), and it has average image quality. Overall, a good lens for those who have limited budget, but it can't compete with the 24-105 L IS.
The
Canon EF-S 17-55 f/2.8 IS USM
equals to a 28-90mm lens on FF. It is not an L lens, but is has excellent built and image quality, fast AF and IS. That said, it is as expensive as the 24-105, and it is EF-S: in other words, you can use it only on the amateur bodies with 1.6x sensor. It is a good choice if you plan to use just these cameras, but if you plan to upgrade to a serious (professional) body as the 1 or 5 series, you have to consider a fullframe alternative.
The
Canon EF 24-70 f/2.8 L USM
is the only real alternative. It has the same built quality of the 24-105; it has the same fast USM motor, and the image quality is a little better - it has less distortion and vignetting. You have to choose what is more important for you: the f/2.8 aperture of the 24-70 or the wider zoom range of the 24-105? For me, the zoom was more important, so I've chosen the 24-105.
&nbsp
Image Quality
Remember that you can easily adjust color, distortion, chromatic aberration and vignetting with Photoshop; even though I list every aspect of image quality I don't consider these aspects very important as the other three aspects that can not be corrected with Photoshop (sharpness, contrast and flare). You can enhance a little sharpness and contrast with PS, but the results are not as good as a photo taken with a lens that is sharp and contrasted.
| | |
| --- | --- |
| | |
| Sharpness | the sharpness is pretty good for a 4.3x zoom. From 24 to 70mm it is very sharp even wide open in the center; the corners are acceptable but you need to stop down to f/8 or f/11 if you want a perfect sharpness from corner to corner. At 105mm it is a little softer, in particular if you photograph very close subject, but still good even at f/4. By stopping down a little you get again perfect sharpness. |
| Contrast | the contrast is very good. |
| Color | nothing to nit; the colors are perfect, without any lens-introduced color cast. |
| Flare | if you include a bright light source in the composition it is quite easy go get flare; sometimes there is so much flare that the photos are unusable. It may be a serious problem for sunrise and sunset photos, and in my opinion it is the main cons of this lens. |
| Distortion | there is some distortion af 24mm, but you will notice it only if you photograph straight horizons. From 35 to 105 there is no visible distortion. |
| Chromatic aberration | it has a little bit of red/green CA at all focal lengths, but it is more noticeable at 24mm and 35mm, even though overall it is well controlled. |
| Vignetting | wide open, there is a very strong vignetting at 24mm (the corners are almost black!), but if you stop down by 1 stop the vignetting is acceptable even at 24mm. At all other focal lenghts the vignetting is barely visibile and it is not a problem at all even wide open. |
Overall, I am pretty happy by the sharpness of this lens, but I'd really like some more flare resistance - I have had to throw away many sunset/sunrise photos due to the exaggerate flare that I got with the 24-105.
&nbsp
In-depth look: vignetting and distortion
Vignetting and distortion are the Achilles' heel of the 24-105 at 24mm. Here, you can compare the various focal lenghts - all photos had been taken wide open at f/4. At 24mm the lens clearly exibits vignetting and distortion, while at all other FL is it excellent even wide open.
| | | | | |
| --- | --- | --- | --- | --- |
| 24 mm | 35 mm | 50 mm | 70 mm | 105 mm |
| | | | | |
&nbsp
Image samples
The following sample show the image quality of the Canon 24-105 L IS USM. The photo has been taken in RAW format and converted with Photoshop CS3; I processed it to optimize the image quality (contrast, color, sharpness), and I saved it as high-quality JPEG for web display. You can download both the processed JPEG and the original, untouched RAW file.
Click on the image to download the full size JPEG sample, or use the RAW link to download the untouched RAW (large file!). Please respect the copyright! This image can be printed only to evaluate the quality of the camera, for personal purposes. All other usages are prohibited.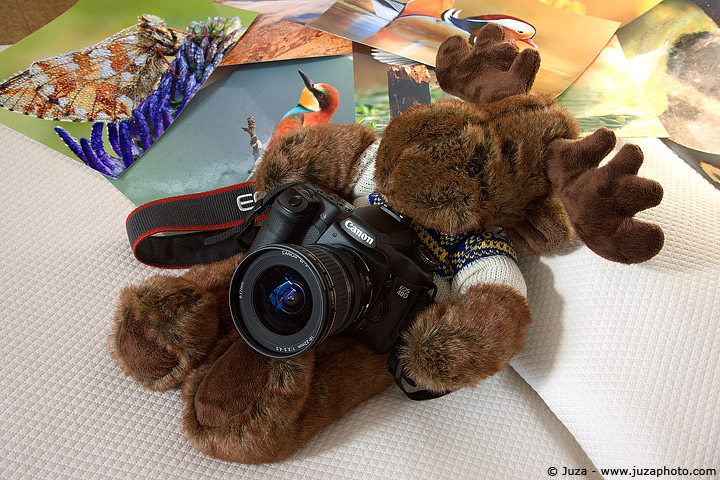 Studio Photo - 24-105 IS, ISO 50, 8" f/9 [ JPEG / RAW ] - the best image quality that you can get with the 1Ds Mark III
&nbsp
Other Reviews
-
Canon EF 24-105 L IS USM Review
by
The-Digital-Picture
-
Canon EF 24-105 L IS USM Review
by
Peter Kun Frary
-
Canon EF 24-105 L IS USM Review
by
Luminous Landscape
&nbsp
Conclusions
Pros
. Very good sharpness, even wide open
. Superb built quality and excellent design; weather sealed
. Fast AF and very effective IS
. Versatile zoom range
Cons
. Flare (in some situations)
. Noticeable distortion at 24mm
&nbsp
Conclusion
The 24-105 combines good image quality with professional built quality and great versatility. It is not perfect: in some situations it has a strong flare, and if you use it on fullframe cameras you will see strong vignetting wide open at 24mm. In spite of these shortcomings, overall I really like this lens on my 1Ds3, where I can appreciate its native zoom range from true wide angle to short tele, and I
recommend
it to nature and travel photographers.