Canon 70-300 f/4-5.6 L IS USM Review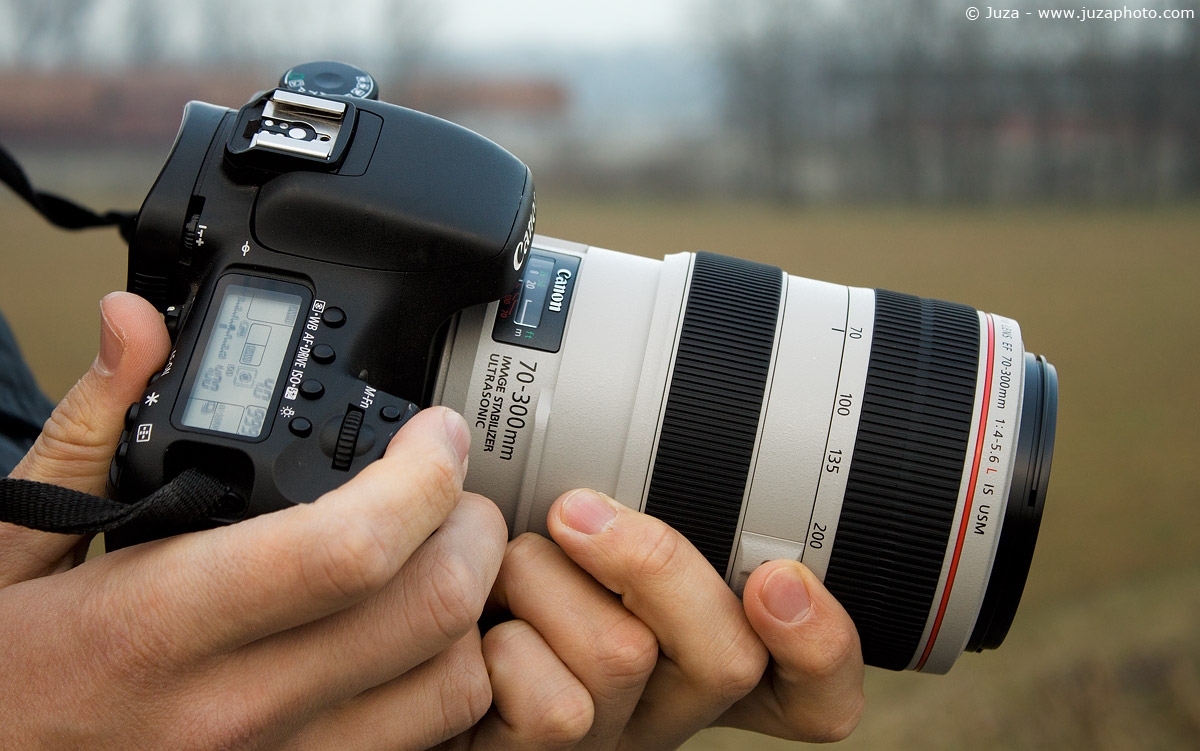 Usually, the 70-300mm lenses are the "beginners telephoto"; they have average quality but they are very affordable. With the new 70-300 L, Canon has proposed a very different lens, that promises first rate image and built quality. The price is extremely high for a 70-300 f/4-5.6, and the expectations are high, too: let's see how this lens performs.
As usual, I recommend to give a look to the page
Testing and reviewing a lens
: it will help you to understand better this review and my testing methodology!
&nbsp
Specifications (compared with similar lenses)
| | | | |
| --- | --- | --- | --- |
| | Canon 70-300 f/4-5.6 L IS USM | Canon 70-300 f/4-5.6 IS USM | Nikkor 70-300 f/4-5.6 AF-S VR |
| Angle of view | 34 - 8.2 º(on FF) | 34 - 8.2 º(on FF) | 34 - 8.2 º(on FF) |
| Macro ratio | 0.21x | 0.25x | 0.25x |
| Max aperture | f/4-5.6 | f/4-5.6 | f/4-5.6 |
| Stabilization | Yes | Yes | Yes |
| Autofocus | Ultrasonic AF Motor | AF Motor (non-USM) | Ultrasonic AF Motor |
| Closest focus | 1.20 meters | 1.50 meters | 1.50 meters |
| Dimensions | 89 (D) x 143 (L) mm | 76 (D) x 143 (L) mm | 80 (D) x 143 (L) mm |
| Weight | 1050 g | 630 g | 745 g |
| Weather sealing | Yes | No | No |
| Price | $ 1600 | $ 550 | $ 520 |
| Production | 2010 - | 2005 - | 2007 - |
&nbsp
Built quality, image stabilization and autofocus
The 70-300 has the built quality that you could expect from a L lens. It is solid and weather proof. It is relatively compact, but it feels pretty heavy, compared to the majority of 70-300 zooms that have a cheaper, plastic construction. It has the classic white finish of Canon superteles and two large rubber rings for zoom and focus. Unlike the "non-L" Canon 70-300 IS USM, the L version has true ring-type ultrasonic AF motor, so it is possible to use manual focus in every moment without damaging the AF motor.
In daylight, the autofocus is pretty good - of course it is not super fast as a 300 f/2.8, but it is fast enough for most subjects. In low light, instead, the disadvantage given by the "slow" aperture, in particular at f/5.6, becomes more noticeable. It is still better than the 70-300 IS USM "non-L", but not as fast as the 300 f/4 or 300 f/2.8.
Image stabilization, as usual, does not disappoint, and it adds about 2-3 stops of advantage when you handhold the lens. The lens is supplied with a large lens hood, that I recommend to use all the times (it helps a lot to protect the front element). It is possible to use tripod ring, even though it is not supplied; considering the small size of the lens, I don't feel much need to use it. One last thing to keep in mind: unlike the 70-200 zooms, the 70-300 is not compatible with Canon extenders. It may be possible to use some third-part extenders, but in any case I wouldn't recommend it, because you would lose autofocus and the image quality drop would be very noticeable. If you need more than 300mm, I recommend to get either the 100-400 or a prime 300mm lens, as the 300 f/4 that works well with the 1.4x TC.
In the following photo, you can see the 70-300 L and the 24-105, that I placed there for size comparison.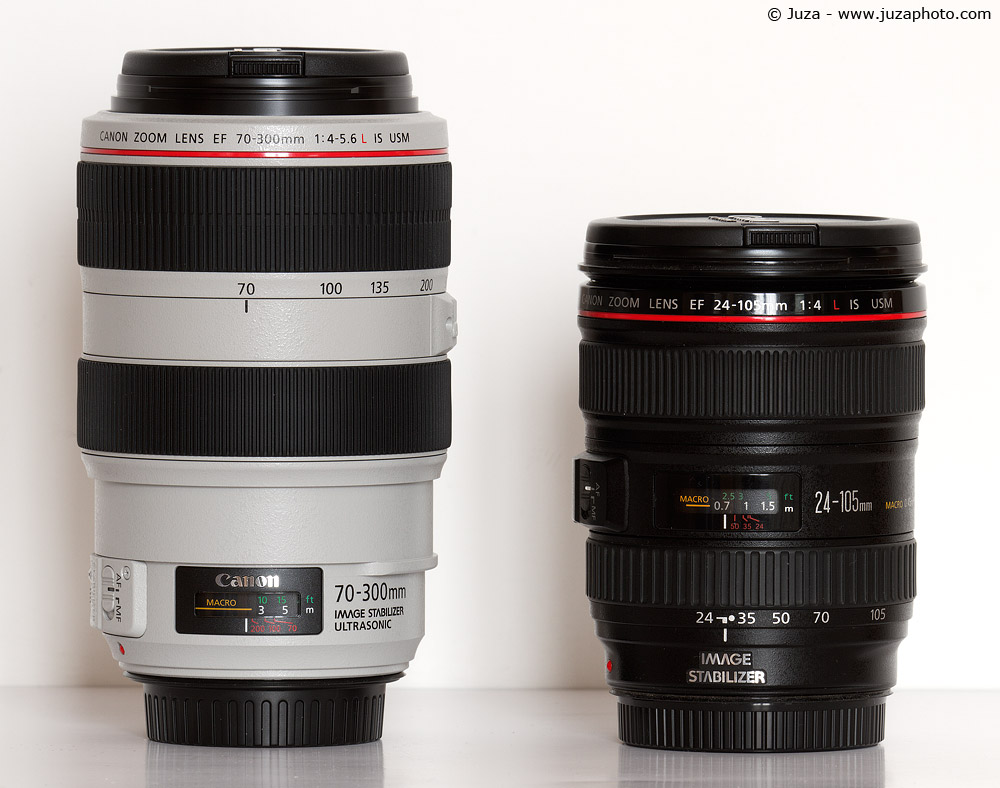 &nbsp
Image quality
I have tested the lens on my Canon 7D (18 megapixels, APS-C). The lens was mounted on tripod; I have used mirror lock up and self timer. The following images are 100% crop from the unprocessed RAW file.
70mm:
Wide open, the sharpness is not that great, while it gets much better at f/8. There is no appreciable difference between center and corners on APS-C cameras; on FF cameras, as the 5D MarkII, there may be a more visible difference.



135mm:
At 135, the sharpness is ok, but not great, at the widest aperture, while it gets pretty good at f/8. Again, no difference between center and corners.

200mm:
At 200mm the Canon 70-300 gives its best performance. The sharpness is good both wide open and stopped down to f/8.



300mm:
At 300, the sharpness is not great at f/5.6, but there is a big improvement if you stop down to f/8.
&nbsp
Samples and comments
These are some sample photos taken with the Canon 70-300 L IS USM on Canon 7D. You can download either the untouched photo (JPEG converted from RAW without any additional post processing; minimum contrast and saturation, no sharpening, no AC, distortion or vignetting correction) or the post processed version. The untouched photo is a good way to see the real image quality of the lens, and the post processed versions allow to see the final quality you can get with good post processing techniques.
It was a foggy day so don't worry about the lack of contrast in the untouched samples. Other than that, both photos had been taken at the widest aperture, to push the lens at its limits - if you shoot at f/8, the image quality improves a lot, as you have seen in the previous test. That said, I am not impressed by the image quality: from a "L" lens, with a moderate zoom, I expected a lot more.
&nbsp
Conclusions
The Canon 70-300 L has excellent built quality, good AF and image stabilization. It is pretty compact and it gives the impression of a professional lens. If its price was something around $500, I'd say that it is a good competitor for the Nikkor 70-300, and better than Sigma/Tamron alternatives. But the Canon 70-300 L has a price out of this world - $1600 is frankly exaggerate for a lens with "good, but not great" image quality, in particular if you consider that with less money you can buy the much, much sharper Canon 70-200 f/4 L IS. I wouldn't buy this lens; I'd get a 70-200 f/4 IS instead (for reportage, landscapes) or the Canon 100-400 L IS USM, that has similar price but much longer reach.