Canon 70-200 f/2.8 L IS USM II Review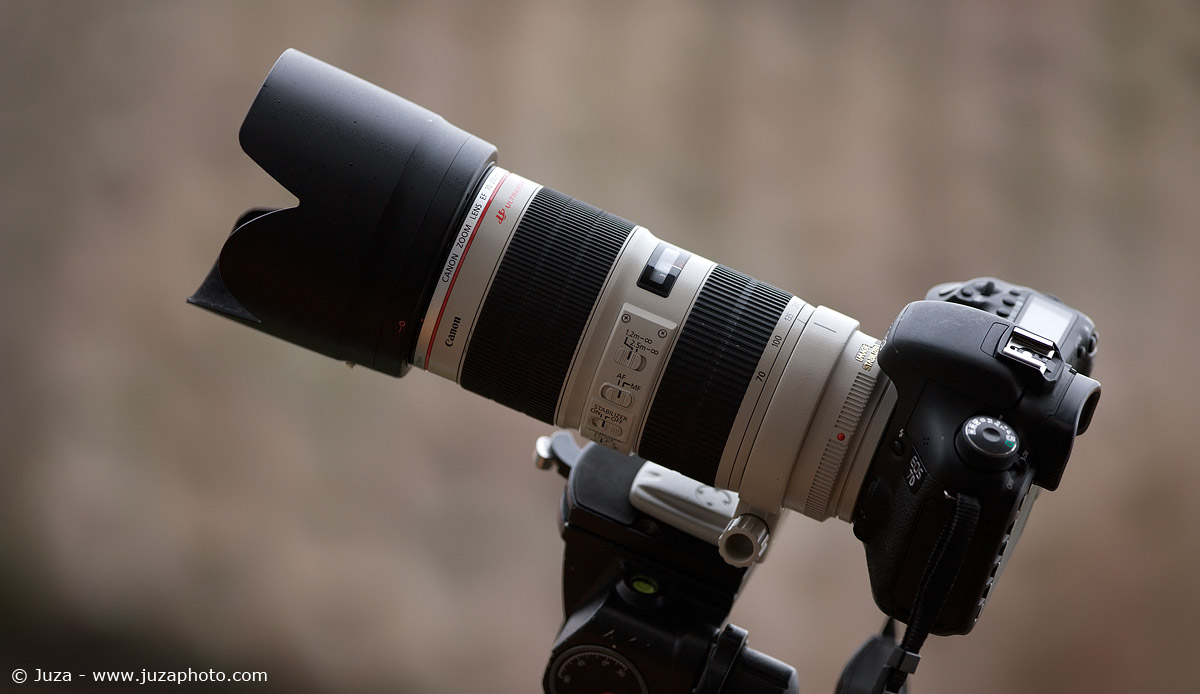 The 70-200 f/2.8 IS has been the top of the line zoom tele lens in the Canon lineup for nine years: the new version has the same range and brightness of its predecessor, but it features several improvement....improved macro ratio, 4 stop IS and better sharpness. I have never been a big fan of 70-200 lenses (too short, poor image quality with TCs), but I was curious to see what improvements Canon has made in these years. Many thanks to my friend
Sandro
who loaned me this lens! As usual, I recommend to give a look to the page
Testing and reviewing a lens
: it will help you to understand better this review and my testing methodology!
&nbsp
Specifications (compared with similar lenses)
| | | | |
| --- | --- | --- | --- |
| | Canon 70-200 f/2.8 L IS USM II | Canon 70-200 f/2.8 L IS USM | Sigma 70-200 f/2.8 OS HSM |
| Angle of view | 34 - 12 º (su FF) | 34 - 12 º (su FF) | 34 - 12 º (su FF) |
| Macro ratio | 0.21x | 0.17x | 0.12x |
| Max aperture | f/2.8 | f/2.8 | f/2.8 |
| Stabilization | Yes | Yes | Yes |
| Autofocus | Ultrasonic AF Motor | Ultrasonic AF Motor | Ultrasonic AF Motor |
| Closest focus | 1.20 meters | 1.40 meters | 1.40 meters |
| Dimensions | 89 (D) x 200 (L) mm | 86 (D) x 197 (L) mm | 86 (D) x 198 (L) mm |
| Weight | 1490 g | 1470 g | 1400 g |
| Weather sealing | Yes | Yes | No |
| Price | $ 2070 | $ 1900 | $ 1700 |
| Production | 2010 - | 2001-2010 | 2010 - |
&nbsp
Built quality, image stabilization and autofocus
The built quality is awesome. Rock solid, with a nice and resistant white painting and weather sealing: every bit of this lens feels professional. It has two large rubber rings for focus and zooming and four switches on the side. As other professional tele lenses, it has the focus limiter switch: a nice improvement in comparison with the previous version is the now the minimum focusing distance is 1.2 meters instead of 1.4. The reduced MFD helps a lot when the subject is very close to you, and it allows to reach a better macro ratio (0.21x, pretty good for a 70-200 zoom).
The AF is very fast; it uses the ring-type AF motor so you have both fast, silent AF and full time manual focus. I don't see noticeable improvements in speed in comparison with the other 70-200 2.8 that I have tried, but the AF of this lenses is already as fast as you can get in a tele zoom: you won't be disappointed. If you want even more speed with distant subject, using the focus limiter on 2.5mt-infinity allows to get the very best from AF.
Of course the 70-200 is compatible with teleconverters, but in this case expect a reduction of image quality and AF speed. I have tested the lens with the current generation of TCs (Canon 1.4x II and 2x II), that will be replaced next year: I am curious to see if the next III series TCs will bring noticeable improvements in image quality.
Together with the 70-200 f/4 IS, the 2.8 IS II has the latest 4-stop image stabilization. I have tested it and in ideal conditions it actually gives a 4 stop advantage; in practice, it is more near 2-3 stops, but it really helps a lot in low light situations, as far as the subject does not move.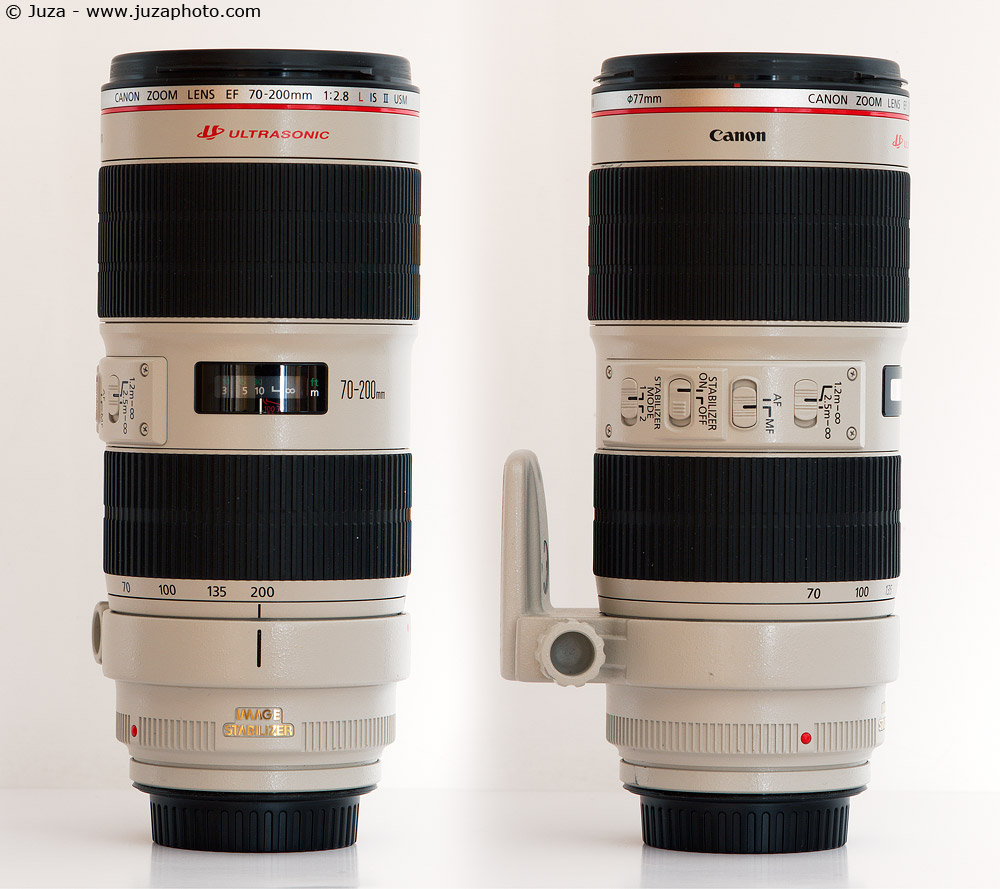 &nbsp
Image quality
I have tested the lens on my Canon 7D (18 megapixels, APS-C). The lens was mounted on tripod; I have used mirror lock up and self timer. The following images are 100% crop from the unprocessed RAW file. You can also see a comparison with the Sigma 70-200 here: Sigma 70-200 f/2.8 OS HSM (vs Canon).
70mm:
| | | |
| --- | --- | --- |
| | f/2.8 | f/5.6 |
| center | | |
| corner | | |
At 70mm, the lens is always very sharp in the center, while the corners are a bit soft at f/2.8 and ok at f/5.6.



200mm:
| | | |
| --- | --- | --- |
| | f/2.8 | f/5.6 |
| center | | |
| corner | | |
At 200mm, the image quality is good on the entire frame, even though there is some improvement by stopping down a bit.



280mm (70-200 + 1.4x TC):
With the 1.4x, the center of the frame is still good, in particular at f/8, while the corners gets soft and they show some chromatic abberation.



400mm (70-200 + 2.0x TC):
At 400mm, the image quality is quite poor wide open at f/5.6, while at f/8 it is not bad, even though there is a noticeable loss of sharpness.
&nbsp
Samples and comments
These are some sample photos taken with the Canon 70-200 IS USM II on Canon 7D. You can download either the untouched photo (JPEG converted from RAW without any additional post processing; minimum contrast and saturation, no sharpening, no AC, distortion or vignetting correction) or the post processed version. The untouched photo is a good way to see the real image quality of the lens, and the post processed versions allow to see the final quality you can get with good post processing techniques.
Like its predecessor and other 70-200 lenses, the new 70-200 IS II is a pretty sharp lens between 70 and 200mm: for sure it is one of the sharpest 70-200 lenses on the market. That said, it is not great with teleconverters (it is better than the older 70-200 that I have tried, but at 400mm it is not as good as the 100-400 or 400 f/5.6).
&nbsp
Conclusions
The 70-200 II improves the previous version is several respects, and overall it is one of the finest 70-200 lenses on the market. However, for the nature photographer it is not a good choice: even though image quality has been improved, it is still pretty poor with teleconverters, so you don't have the reach that is often required for wildlife ...if I had to choose, I wouldn't hesitate to prefer the older and cheaper Canon 100-400 IS.
Of course, if you take photos of sport, weddings, or other kinds of photography where bright aperture is more important than reach, the 70-200 is the way to go: without teleconverters, it is a great lens, with the only downside of a very steep price.