Tripods and Heads
A good tripod is the essential to take sharp photos. Of course, in some situations I handhold the camera, but whenever possible I prefer to use the tripod: a stable support is very important, in particular for landscape, flora and macro photography. The tripod eliminates the blur due to hand shake, and it allows to compose carefully the photo; other than that, it is a great help for heavy telephoto lenses as the 400 f/2.8, 500 f/4 or 600 f/4.
&nbsp
The tripod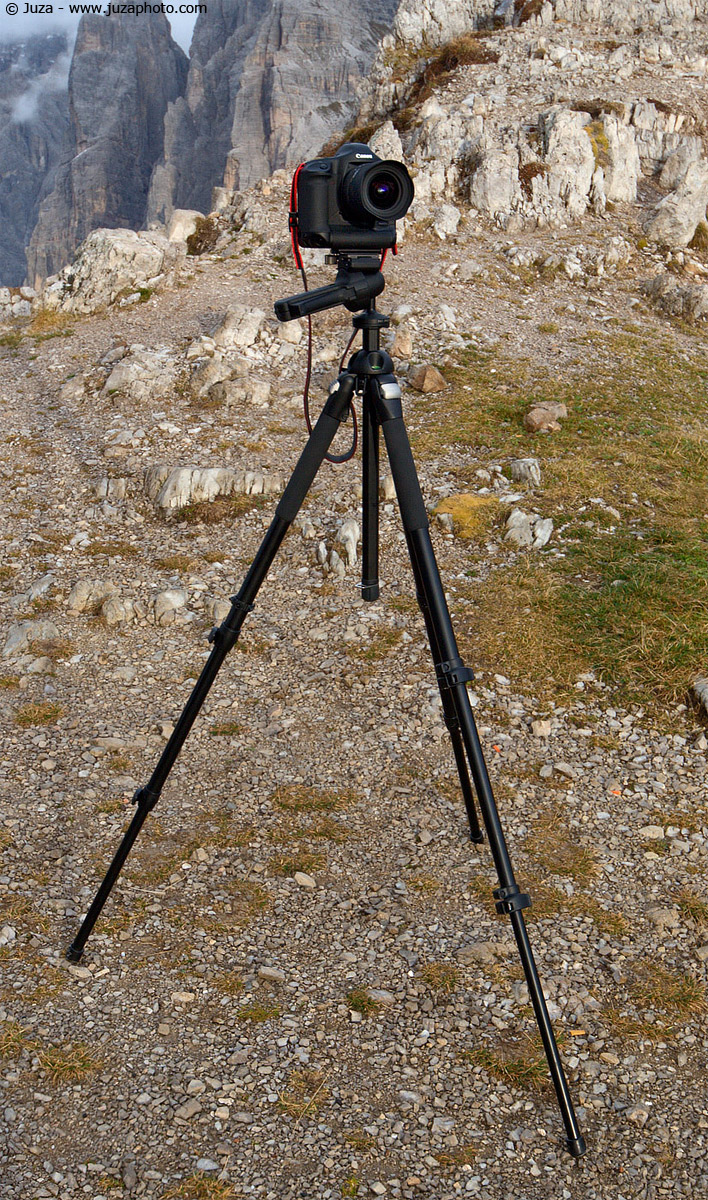 The Canon 1D MarkIIn with Sigma 12-24 EX HSM, mounted on Bogen 3021 tripod (a.k.a. Manfrotto 055PROB).
There is not a right tripod for everyone: it is necessary to choose the model that fits your necessities, evaluating the main features. Personally, I've two tripods, an heavy Manfrotto 055 WNXB that I use when I don't have to walk a lot and bulk is not a problem, and a smaller Manfrotto 190MF4, easy to carry everywhere and sturdy enough for landscape and macro.
The first thing that I'd recommend is to avoid the $15 pocket-sized tripod from your local superstore...they have pencil-thin legs and they are close to being practically useless. If you are serious about photography, don't mount a $700 camera on a $15 tripod. You don't need to spend a lot, but I'd recommend at least a good tripod as the Bogen 3021 ($150), otherwise you will lose a lot of good photos due to camera shake.
The
weight
should be a good compromise between stability and portability: a 10kg tripod might be as stable as a rock, but it is quite useless for nature photography if it is too heavy to carry it around. Usually, the ideal weight is between two and three kg.
The
maximum load capacity
indicates the maximum weight that can be carried "comfortably": the higher, the better. If you want to be 100% sure to get a stable support, choose a tripod that has a capacity considerably higher than the weight of camera and lens. The majority of the tripods can carry a weight much higher than the capacity stated in the specifications, but they don't give the necessary stability, if the loaded weight is excessive.
The
maximum and minimum height
are both very important. The max. height should be at least 1.3-1.4 meters, without extending the central column. If you extend the column, you lose stability - I recommend to keep the column at the minimum height, unless it is strictly necessary to raise it. The min. height is even more important. The majority of the tripods does not allow to get low enough, only some professional models have a min. height of 15-20 centimeters. If the minimum height is not low enough, it is very difficult to do macro photography and to photograph from a low angle. I'd never buy a tripod that doesn't allow to get al least 30 centimeters from the ground. Some manufactures states that you can get very low angles placing the central column reverted, i.e., upside down. It is practically impossible to do with short lenses, and it is a very cumbersome way to work even with long lenses that have tripod collar.
The majority of tripods has a
central column
. As already said, you should try to use it as less as possible, because raising the central columns decreases the stability of the camera; moreover, often the column doesn't allow to get low enough. I'd recommend to substitute the "standard" column with a short one or, even better, to choose a tripod without central column.
The tripods can be made by various materials : usually, they are made by aluminum or carbon fiber. The carbon fiber tripod are more expensive, but they are equally robust and nearly 30% lighter than their aluminum equivalents. The number of leg sections influences stability and portability. I recommend to choose tripods with 3 or 4 sections. The models with just 2 sections are too cumbersome, the ones with 5 or more sections are usually less stable that 3-4 section tripods.
&nbsp
The tripods that I have used
Currently, I use a customized Manfrotto 190MF4 and a Manfrotto 055XWNB. I think that there is not a right tripod for everyone - you have to evaluate with one is better for your exigencies. Here, I describe the pros and cons of the tripod that I have tried (and sold).
Bogen/Manfrotto 055 NAT
(Maximum height without column: 135 cm; minimum height: 27cm; length: 64cm; weight: 2.4 kg; load capacity: 6kg; price: discontinued): it has been my first tripod, and I have used it for years with great satisfaction. It was a sturdy, well built tripod; its only downside was that its minimum height was 27 centimeters - good, but not low enough for some macro subjects.
Bogen/Manfrotto 190 MF4
(Maximum height without column: 113 cm; minimum height: 11cm; length: 46cm; weight: 1.6 kg; load capacity: 4kg; price: $290) : the 190MF4 is a small and lightweight tripod that I bought for the most difficult mountain trips, when I don't want to carry with me bigger tripods. Until my Florida trip, I have been quite happy with the 190MF4, it is sturdy enough for lenses up to 1-1.5kg as the Canon 100-400 L IS, if you don't extend the legs, or with no more than one section extended. On the other hand, its maximum height (113) sometimes can be a problem - I have lost some good photos because the tripod was not high enough for some subjects. Other than that, after using it for three weeks in harsh environments in my Florida trip, it has lost one of its small rubber feet in a swamp (a leg got stuck in the mud, and when I toke it out I lost the "foot" of the tripod leg); after a couple of weeks the legs became dirty with sand, and they often got stuck. Considering the price, the built quality is not very realiable, if you are going to use it in difficult conditions.
Gitzo GT 1548
, now discontinued and replaced by the 5540 (Maximum height without column: 153 cm; minimum height: 14cm; length: 60cm; weight: 2.8 kg; load capacity: 25kg; price: $810) : this is the top of the line Gitzo tripod, and it is the successor of the similar Gitzo 1548, that I have used for about one year. It is unbelievably sturdy and well built, and it is a good tripod for the heaviest lenses as 400 2.8, 600 f/4 or even the recently announced 17 kg Sigma 200-500 2.8. That said, it is extremely expensive - at $810 I think that it is quite overpriced - and, as all Gitzo tripod, has a rotating collar leg locking system that in my opinion is worse than Manfrotto knob system (in low temperatures, I find the Gitzo system more difficult to use than Manfrotto).
&nbsp
The tripods that I currently use

Left: the customized 190MF4 and the 055XWNB side by side. Right: legs without feet.



Left: the 055XWNB in the field. Right: the retractable rubber feet with steel spikes.
Bogen/Manfrotto 190 MF4 - customized
(Maximum height without column: 52 cm; minimum height: 10cm; length: 37cm; weight: 1.1 kg; load capacity: 10kg; price: $290): after the Florida 2008 trip (when the legs become stuck due to mud and sand) I have removed the last two sections of the legs, greatly reducing weight and length, and improving the load capacity. Of course it is very, very low - it can be used only for some macro and landscape work. The main advantage of this customization is that is can really be carried everywhere - at 1.1 kg and 37cm, it fits easily every backpack and suitcase, and it is extremely easy to carry around. Moreover, now I can use it in every condition without worrying about stuck legs: with just two sections, it is difficult that a leg becomes stuck, and anyway it is easy to clean; it has not feet so there is no risk to lose a foot ;-) Since the two legs are the larger ones, it is more sturdy that the normal 190MF4 with all leg extended; I estimate that it has a load capacity of about 10 kg.
Bogen/Manfrotto 055XWNB
(Maximum height without column: 137 cm; minimum height: 7cm; length: 61cm; weight: 2.3 kg; load capacity: 7kg; price: $160): currently, this is my workhorse. It is pretty cheap, but it has very good built quality - it is much sturdier than more expensive tripods as the 190MF4. It is relatively heavy and pretty large - 61cm takes a considerable space - but for me it is not a problem, since I can use, as lightweight alternative, the super small 190MF4 customized instead of the 055 when I need a small tripod. It is ok even for large lenses, and it is a dream for macro photography - it gets super low since the central column is completely removable, and when the subject is high it can reach 137cm, that it pretty good. At its maximum height, it is 25 centimeters higher than the standard 190MF4, and it is way more stable. A fantastic feature of the 055XWNB, that I have seen only on few other tripods, is that it has retractable rubber feet with steel spikes - they are much better than the conventional rubber feet used on all other Manfrotto tripods, and they are designed for outdoor use, even in harsh environments. In other words, there is no risk to lost a foot, as it happened with my 190MF4 in the swamps of Florida. This is the same design of the first tripod, the 055NAT, and having used it for many years I can guarantee that it is a great design; sometimes the rubber/steel feet may get loose or slightly stuck, but they never come out as it may happen with simple rubber feet. If you want a sturdy tripod for outdoor use, and you don't mind size and weight, the 055XWNB is a great choice at a good price.
&nbsp
The head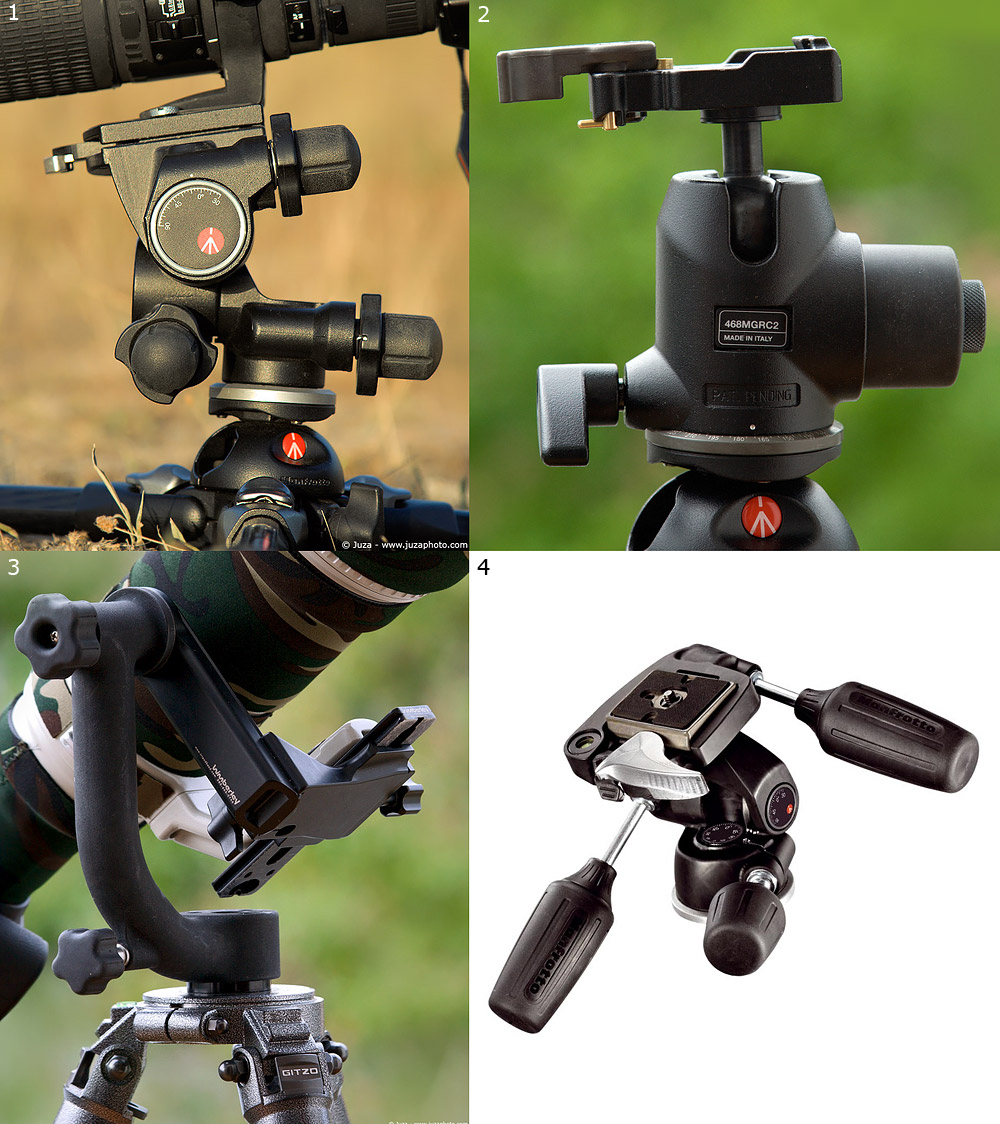 1) gear head 2) ball head 3) gimbal head 4) three-way head.

There is not a perfect head for everyone: the "right" head depends by your personal preferences and your purposes, and you may have to try various heads until you find the perfect one. I've tried a lot of heads, and I ended up buying two: the small Manfrotto 486 RC2 and the precise Manfrotto 410. There are many different types of head and many brands; personally, I'm a fan of Manfrotto: they offers a wide lineup, high quality products and competitive prices.

The three way head is one of the simplest type of heads; it has three handgrips that control the movements in every direction. I have used one of these head in the past (I had the Manfrotto 141 RC NAT, now replaced by the 804 RC2), but I wouldn't recommend it for nature photography; it is too slow and cumbersome, in particular for moving subject as bird, wildlife and action. The three-way heads may be ok for landscape and other static subjects, but they are not as precise as the geared heads, nor as fast as the ball head. Moreover, these head are quite big due to their large handgrips, so they may be a problem if you plan to travel and you have limited room in your backpack or luggage.

The ball head is a good "general purpose "choice. This head has one or more knobs that allows to free or to tighten the ball; usually there is also a knob for panning movements. When you loosen the knobs, you can move the camera on each axis - vertical, horizontal and lateral - easily and quickly. This is the most versatile type of head, it can be used for every subject, from landscapes to wildlife. If you want a good stability, avoid excessively small heads; a good head should have at least a load capacity of 5-6kg. The main disadvantage of the ball heads is that it is difficult to make precise adjustments; if you want the maximum precision and you don't need quick movements, a geared head is a better choice (Indeed, for macro work I've sold my professional 468MG for a geared head). It is essential to choose an head with mounting plates (small plates that can be attached under the camera or lens) They allow to mount quickly the camera on the head. I always keep a mounting plate attached on the camera and on every lens that has tripod collar. Depending by your budget and you necessities, three good choices are: the Bogen/Manfrotto 486 RC2, ($60), a very cheap, small and light ball head that is study enough for DLSR and lenses up to 400mm f/5.6; the Bogen/Manfrotto 488 RC2 ($110), a relatively cheap but sturdy ball head; the Bogen/Manfrotto 468MG RC2 ($300), an extremely professional, sturdy and well built ball head. Other good pro choices are the Arca Swiss B2 or the Really Right Stuff BH-55; that said, if you need an head for very heavy lenses (as the 600 f/4), even the best ball head are not a good choice: for these heavy lenses, you need a gimbal head. I use the ball head only for small lenses, so I've chosen the Manfrotto 486 RC2 - it is small and light, and it is my choice when I want to travel light. Other than that, it has only one knob to lock all movements; some photographers don't like this design, while personally I consider it very easy to use and straightforward.

The geared head is, in some aspects, similar to the three way head, but it has several improvements. Like the three-way, it has three knobs to control the movements on every axis, but you don't have to lock and unlock the knob - you rotate every knob until you have reached the desired position, and the head stays still without having to lock anything. Even though you can make quick movements on each axis with a second knob designed for fast corrections, this is not an head for action - it woks well only with static subject. The big advantage of geared head is precision: you can make micrometric adjustments on each axis! This is by far the best head for macro work: in the past, I've tried both three-way heads and ball heads, but I was never happy with their precision. Moreover, with these head, when I locked the knobs the head moved slightly - I've noticed this behavior even on high end ball heads and, while the movement is just a millimeter or less, it bothered me a lot at high magnification in macro photography. In May 2007, I had the opportunity to try the Manfrotto 410 geared head (thanks to my friend Simone Tossani), and I immediately loved it - this head is the macro-photographer's dream! The Manfrotto 410 ($210) is the less expensive geared head manufactured by Manfrotto, but it works perfectly - I wouldn't recommend it with a 300 2.8 or 500 f4, but it work well with my 180 Macro. It is relatively big and heavy, but smaller than other geared head - in conclusion, highly recommended for macro! The only alternative is the Manfrotto 405 ($370); this is a newer version with even more precise movements and 50% higher load capacity...it is an awesome head, but in my opinion it is an overkill for a DSLR with 180mm lens.

The gimbal head is completely different from any other type of head. Currently, the best gimbal head is by far the Wimberley WH-200 ($595). This head can be used only with large lenses that have a tripod collar, I highly recommended it for lenses as the 400 f2.8, 500 f4, 600 f4. The WH-200 gives an incredibly freedom of movements; heavy lenses as the 600 f/4 feels weightless when mounted on this head, thanks to its gimbal design. It has two knobs to control pan and tilt, and you can use the tripod collar of the lens to rotate it in vertical or horizontal format. Most of the time you can use it without locking the knobs: it is always perfectly balanced and the lens stays still in every position, even if the knobs are not locked.

The only (minor and unavoidable) downside of the Wimberley is that every time that you mount of remove a teleconverter, the flash or every other accessory you have to repeat the balancing; this operation is accomplished by sliding the lens/camera combo backward and forward in the clams until it stays perfectly balanced (without locking the tilt knob). The balancing is easy and fast, but I recommend to pay much attention when you do it, because it is easy to drop the lens, in particular the first times that you do it.