Sony DT 16-50mm f/2.8 SSM : Specifications and Opinions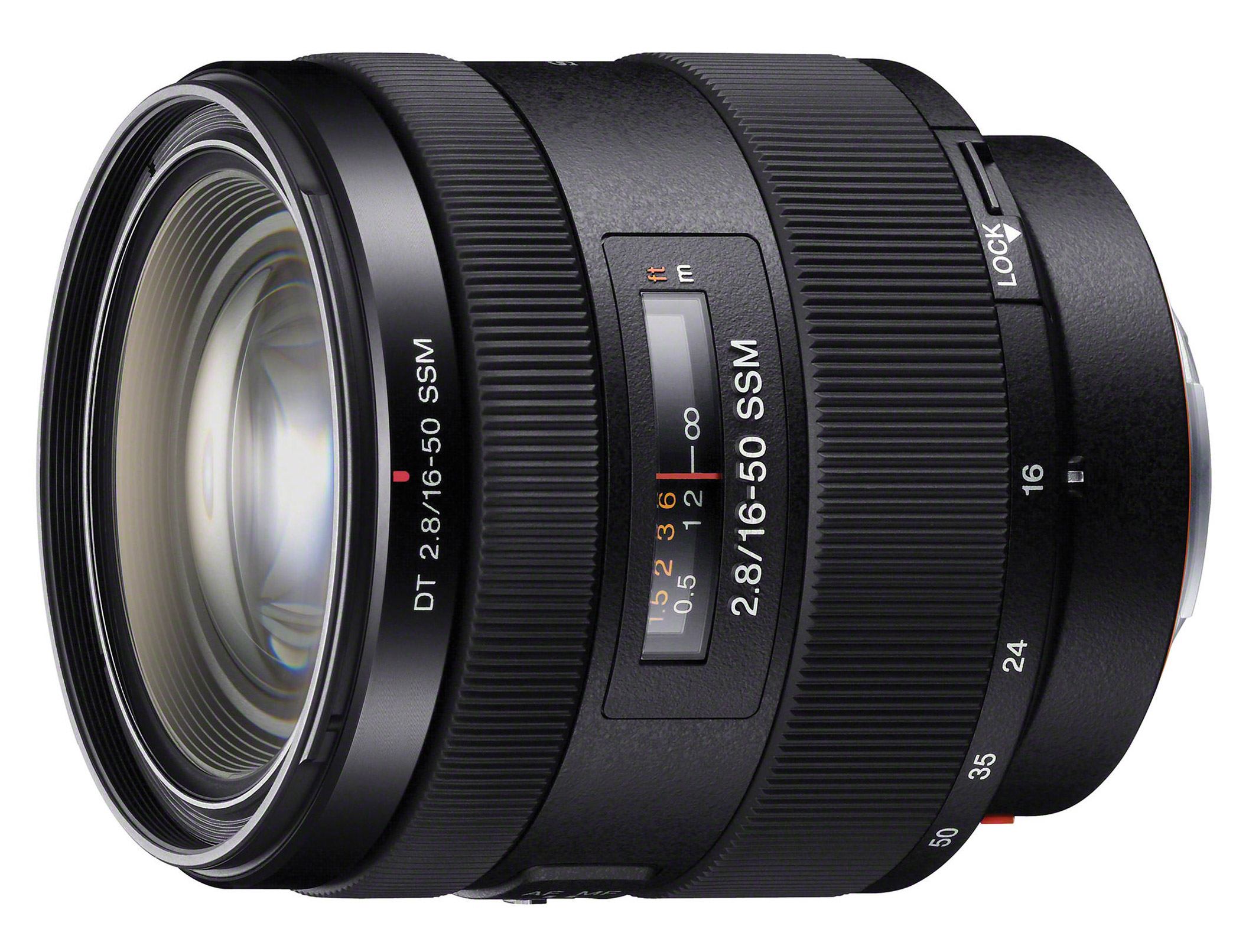 MOUNT

This lens is available with the following mounts:

Sony A-mount: this lens is compatible with reflex APS-C Sony A-mount.





Specifications

Focal lenght
16-50 mm
Angle of view
84 - 32.1°

(equivalent to a 24-75mm in Fullframe 24x36mm format)

Format
APS-C
Max. aperture
f/2.8
Aperture blades
7
Lenses/Groups
16 elements in 13 groups
Min. focus distance
0.30 meters
Reproduction ratio
0.20x



Features

Zoom type
Ring, external
Stabilization
No, but most cameras of this brand have built-in stabilization
Focus
Ultrasonic AF Motor (Ring-USM)
Internal AF
Yes
Full Time MF
Yes



Built and notes

Tripod ring
No
Extenders
No
Filters
72 mm
Lens hood
Yes, supplied
Weather sealing
Yes
Weight
577 g
Dimensions
81 x 88 mm
Buy
Sony DT 16-50mm f/2.8 SSM, buy on Ebay



Publish your advertisement on JuzaPhoto (info)
Reviews
What do you think about this lens?
Do you want add your opinion? You do it by joining JuzaPhoto, it is easy and free!

There is more: by registering you can create your personal page, publish photos, receive comments, join discussions and you can use all the features of JuzaPhoto. With more than 161000 members, there is space for everyone, from the beginner to the professional.
pubblicata da Gigler92 July 12, 2018
Pros:
Silent and fast focusing, very solid and tropicalized build quality.
Cons:
High weight, for a handyman is tiring to turn woods, cities etc... Focus does not always precise especially against light, vignetting too sharp
Taken to replace my trivial 18-55, much sharper photos, very fast and silent focus but in crisis against light, a whole do to have if you want to increase the level of practicality. Average high price, but if you succeed (as in my case) with 500 euros is a whim to take off! Now on my a77ii there goes to the wedding. For now the only flaw is the weight, I was exploring the menu and eliminating some photos when I started to tire of holding the camera. However, recommended for those who like me loves landscapes, subjects, animals, events, experiments and wants to climb to an intermediate level abandoning maybe the sal 18-55 from 200 euros.
Pubblicata da Gigler92 July 12, 2018
pubblicata da Sebastiano Cirnigliaro September 13, 2017
Pros:
Sharpness already from TA, f2.8 constant across the entire focal plane, SSM, tropicalized.
Cons:
Weight, flare.
Probably the best handheld zoom for APS-C and no doubt the best kit offered in the kit that you can find. Indispensable if you own Sony A-Mount, there is no version E (you can still use the adapter, but it's not the same). One of the reasons that pushed me to prefer Attack A was to have it in kit with a77 II. It's hard to find better at this price (and even more) .nn Bomb proofs and perfect finishes. Useful tropicalization (once I was surprised by the backrest). AF precise, instantaneous and silent: it does not blow a shot.rnThird a bit for everything: I made landscapes (nightly thanks to the brightness), street, sport (areas where it is better than many fixed) and even some portrait because of the very soft blur. Of course in the last case if you want to get the best results, you have to replace it with a specific fixed target. Part of the weight that does not give me so much the only real differencethe flare resistance is the light source both frontal and lateral and slightly outside the framed area, so much so that I can often use it as a creative effect. In any case, the images are very usable.rnAccessible, both with and without kit.
Pubblicata da Sebastiano Cirnigliaro September 13, 2017
pubblicata da Matt46 April 28, 2016
Pros:
build quality, more sharpness, SSM
Cons:
Flare, big and heavy compared to competitors
You have to Sonysta in Aps-c, once enabled, all other 18-55 / 17-50 / 17-70 will suck by comparison ... a real show. Crisp 2.8, top closing of 1-2 stops. Too bad for some flare in backlit despite the hood generoso.rnè built very well, it is weather sealed and very heavy compared to the various Tamron / Sigma 17-50 2.8, which says a lot about the build quality
Pubblicata da Matt46 April 28, 2016
pubblicata da Manicomic August 07, 2014
Pros:
Cost, quality construction, clear already at room temperature, relatively small size.
Cons:
Do you suffer from flare in backlit distortion to 16 mm zoom ring too hard and wear tends to "flare" and should be changed
I've owned 2 copies of this perspective from which I made about 150,000 scatti.rnE 'definitely optics to have if you have a sony APSC to mount an absolutely affordable cost, is 600 Euros, but in some cases it is view even less offers: optical quality, build quality, fast af, f 2.8 over the entire length focale.rnIl comparison with the tamron 17-55 vc is merciless to the poor tammy that comes out with broken bones in any respect: yield optics, build quality, autofocus ... incomparable, it is not a perfect lens, it has its flaws, but at the price at which you find you can not 'do not buy it. The equivalent Canon and Nikon cost a lot more 'and do not offer anything more', indeed in some cases less damage: wide-angle, especially for the canon which is a 17x1.6 16x1.5 against the sony stabilizer for nikon. rnOttimo for video in af, in that case, the machine automatically deletes all the distortions but works in light crop (this applies to all lenses though). rn
Pubblicata da Manicomic August 07, 2014
pubblicata da Mastro78 August 13, 2013
Pros:
very solid construction, constant aperture, Quick AF, perfect management of the light.
Cons:
AF is not always accurate. Focal length field is too small. distortion and vignetting too wide to 16mm
buying second-hand, to assist the carletto 16-80.rnmi needed a more versatile for shooting inside under less 50mm ISO possibile.rna the gain in the opening is large compared to carletto. rnrnla construction is impeccable, better than zeiss, there is also the extension block, superfluo.rnle rings, have a precise movement, fluid but do not give up. zero games. rnPerfetta the ring of MAF with an excursion broad that it helps to be precisi.rnrnil ultrasonco engine is perfect for video management. rnPeccato that the AF in the video does not go beyond F3.5, thus making unnecessary the use of a constant 2.8. rnrnla yield is good. the resolution is enough for me wide open, but already one stop less is excellent. rnil fact is that, if you need to close it then so much tavle use carletto that allows you to get to 80mm. and is already excellent at all apertura.rnrnin made of colors and tridimenzionalità still wins the carletto. rnih ultimately the 16-50 is an excellent lens for indoor and thevideo greeting AF.rnrnUn
Pubblicata da Mastro78 August 13, 2013
Photos taken with Sony DT 16-50mm f/2.8 SSM
The sample photos are selected automatically between all photos posted by JuzaPhoto members, using the camera and the lens selected in the techs. If you find evident errors (e.g. photos taken with cameras and lenses that are not available yet), you can contribute to improve the page by sending a private message to the user that has entered incorrect values in the photo caption.