Sigma 150mm f/2.8 EX DG OS HSM Macro : Specifications and Opinions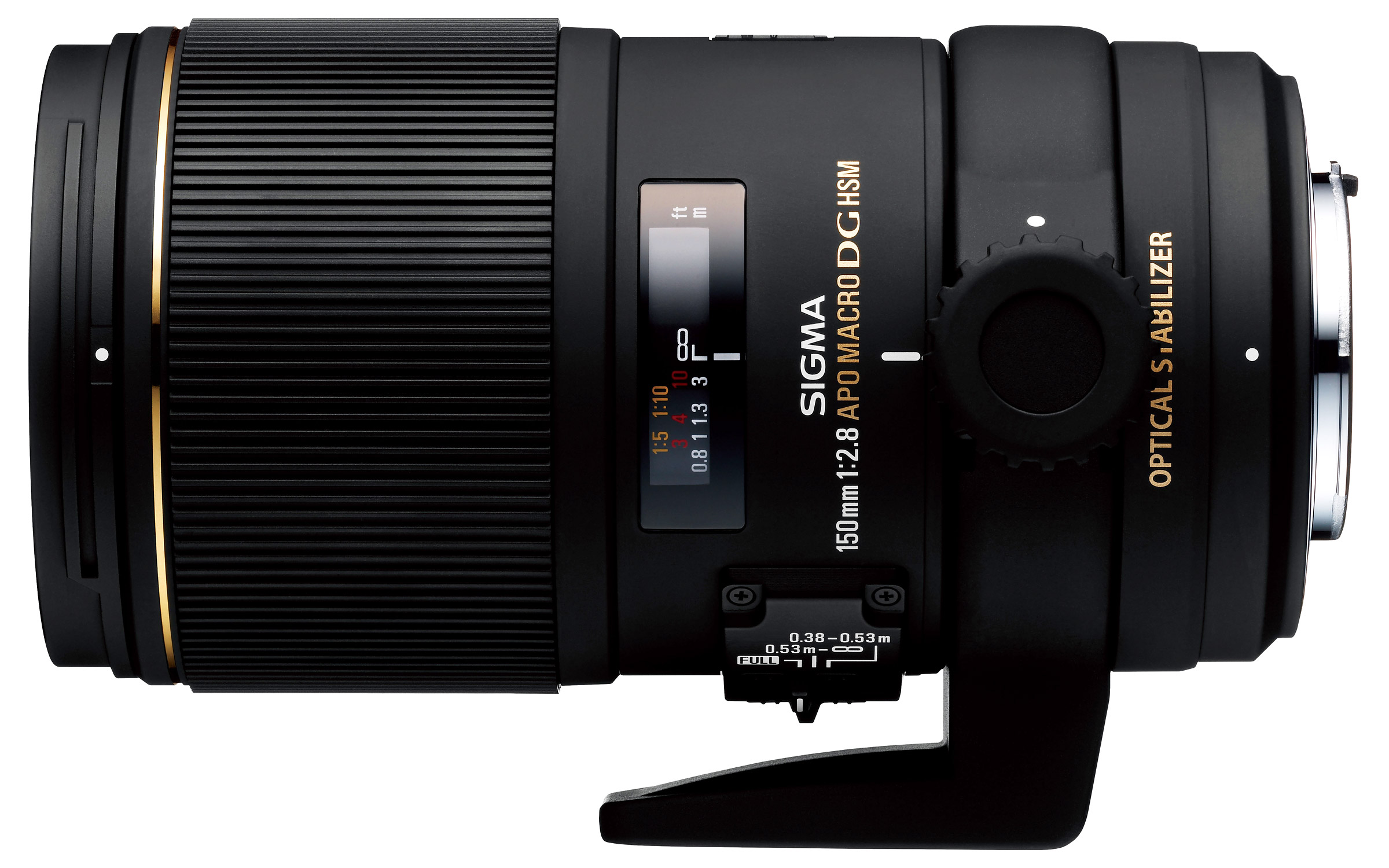 MOUNT

This lens is available with the following mounts:

Canon EF: this lens is compatible with reflex fullframe and APS-C Canon EF.

Nikon F: this lens is compatible with reflex fullframe and APS-C Nikon.





Specifications

Focal lenght
150 mm
Angle of view
16.4°
Format
FF, APS-C
Max. aperture
f/2.8
Aperture blades
9
Lenses/Groups
19 elements in 13 groups
Min. focus distance
0.38 meters
Reproduction ratio
1.00x



Features

Stabilization
Yes (built in lens)
Focus
Ultrasonic AF Motor (Ring-USM)
Internal AF
Yes
Full Time MF
Yes



Built and notes

Tripod ring
Yes
Extenders
Yes
Filters
72 mm
Lens hood
Yes, supplied
Weather sealing
Yes
Weight
1150 g
Dimensions
80 x 150 mm
Buy
Sigma 150mm f/2.8 EX DG OS HSM Macro, buy on Ebay
Reviews
What do you think about this lens?
Do you want add your opinion? You do it by joining JuzaPhoto, it is easy and free!

There is more: by registering you can create your personal page, publish photos, receive comments, join discussions and you can use all the features of JuzaPhoto. With more than 162000 members, there is space for everyone, from the beginner to the professional.
pubblicata da Majlergaard December 06, 2018
Pros:
Sharp like a lazer
Cons:
A little heavy, but not too heavy
Super scrap glass, built as a tank. Quick focus and fun fun, especially in Macro with DG-140 Ring Flash, you can go to F / 2.8 1/250 Flash Sync, FULL SUN and stop all outside lights. Portrat distance up to 4-5 meters, with flash, you're sure of a super sharp result. It is a nice lens, which always accompanies the weight approx. 1 kg, but it's worth it and if you have it, you'll use it for anything other than Macro and Portraits, because it can handle most. At DX, it's Sigma 225mm f / 2.8 EX DG OS HSM Macro. Used on Nikon D3100 and D5600
Pubblicata da Majlergaard December 06, 2018
pubblicata da Cebnobre December 04, 2014
Pros:
Great sharpness, nice focus ring, good autofocus speed, apochromatic, good ergonomy of feature buttons (AF/distance limiter/OS), good balance with lighter bodies (60D), robust. Still good with a Sigma 1.4x TC.
Cons:
Bokeh could be a little better for the price, optical stabilizer problematic (see opinion), tripod ring button fragile.
I like the weight balance in a 60D. Excelent to work with. Gets a a little heavy with a 7D. My main complaint: after 1 year of usage, the optical stabilizer sometimes tilts in temperatures of 23-25 °C (early mornings in NE Brazil). After it gets hotter, the problem stops. The bokeh is not great, specially in the front of the subject. Also, my tripod ring button broke without a clear cause...
Pubblicata da Cebnobre December 04, 2014
pubblicata da Gianniischia July 15, 2018
Pros:
Excellent.
Cons:
Stabilizer a little noisy.
I just recently replaced the Sigma 105 with the APO 150mm always sigma. I have to say that at the optics level it goes a little better than the 105 both as colors and as definition. Absent and fuzzy soft aberrations, not yet tried for portraits but I think it's great. Sharpness already at 2.8, on d850 is a blade. Only and real difference with the 105 is that it costs 3 times as much but the quality you pay. In conclusion I am satisfied with this purchase. I hope to have some time to make a gallery of macro photos, a fascinating world.
Pubblicata da Gianniischia July 15, 2018
pubblicata da Marco Belardi March 09, 2017
Pros:
Sharpness, build quality, presence of collar
Cons:
Some difficulties with autofocus in low light
I replaced my 105mm F2.8 Nikkor lens with this for the need to have a longer focal to eliminate the disturbing objects in the background, and especially because the collar from macro tripod is extremely convenient and useful, and allows to keep the stability that it has in the horizontal shutter (besides the fact that the tilting of the screen D500 is adjustable in one direction only). The weight is increased by a few pounds compared to where optical earlier I never complained, despite some of the stabilizer noise, not really performing. The build quality is impeccable, once the unseemly problem collar solved that impacted on 'autofocus of the first series, and the sharpness is good even at open aperture; if you are playing with Nikkor those intermediates, while the better I feel closed diaphragm and above all less suffering of chromatic aberrations. Also good color rendering. They went out of the known 180 mm with collar production, it remains the only capable optical -credo-to give a macro photographer / close-up tripod with the guarantee of a certain stability on the field, as well as providing a long in contrast to 'recent release of the medium-telephoto focal many as the current Tamron 90mm, or 100mm Zeiss 1 :2.
Pubblicata da Marco Belardi March 09, 2017
pubblicata da Alfonso Alfieri March 09, 2017
Pros:
Construction, Durability, great performance in a compact copro, Details, Glamor in its physicality
Cons:
Do not place or see no problem in previous reviews but I noticed that ... in a certain low light conditions is hard to focus
Rest fascinated by its solidity and from its well-made construction. I made some shots and I was surprised the picture quality as well as detailed and great blur, very muffled and at the same time soft, knowing him well and making us believe their approach to get us out of the beautiful portrait photos, but now maybe having .. .dico ... maybe some macro photos I can ... so much for. I was torn between 85 and 150 at the end I am decided and took the 150, to be noted NIKON also because 85 1.8 - 60 1.8 and 50 g f1.4 Nikon suffer too much of chromatic aberrations instead the sigma occurs very precise on this point. My has no manufacturing defect, especially the factor ring ..funziona perfectly and for the moment for what I want in the hands highly recommend it.
Pubblicata da Alfonso Alfieri March 09, 2017
Photos taken with Sigma 150mm f/2.8 EX DG OS HSM Macro
The sample photos are selected automatically between all photos posted by JuzaPhoto members, using the camera and the lens selected in the techs. If you find evident errors (e.g. photos taken with cameras and lenses that are not available yet), you can contribute to improve the page by sending a private message to the user that has entered incorrect values in the photo caption.