The landscape photographer's tent: Terra Nova Solar Photon 2
The landscape photographer's tent: Terra Nova Solar Photon 2, testo e foto by
Juza
. Pubblicato il 19 Agosto 2014; 3 risposte, 8910 visite.
Taking great landscape photos requires to be on the field at sunset, sunrise and often during the night. Since many times I have to sleep outdoors, I have spent a lot of time to find the 'perfect tent': for weeks I have studied models from all brands to find a tent that was very light and easy to carry around, spacious enough for two persons, very resistant to rain, freestanding and two walls. There are very few tents that satisfy all these requests, and the Terra Nova Solar Photon 2 has been my choice.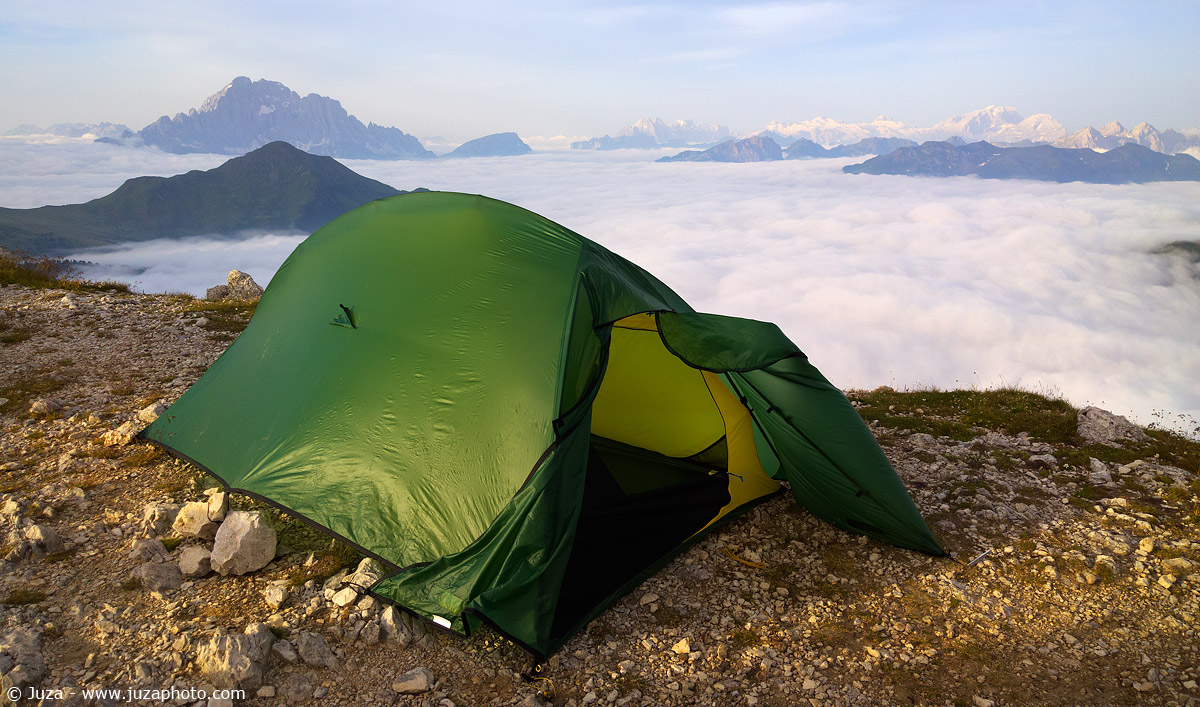 One of the main reasons that made me buy the Solar Photon 2 is its extremely light weight: at 0.95 kg, it is one of the lightest 2-persons, freesting tents on the market, and it is way lighter than my previous Ferrino Monster Lite 2 that weighed about 2.5kg. The weight of a tent depends by two elements: poles and tent walls/floor.


Poles and tent design
There are countless tent designs, but the main schemes are essentially four: cross-poles, tripod, double arch and single arch.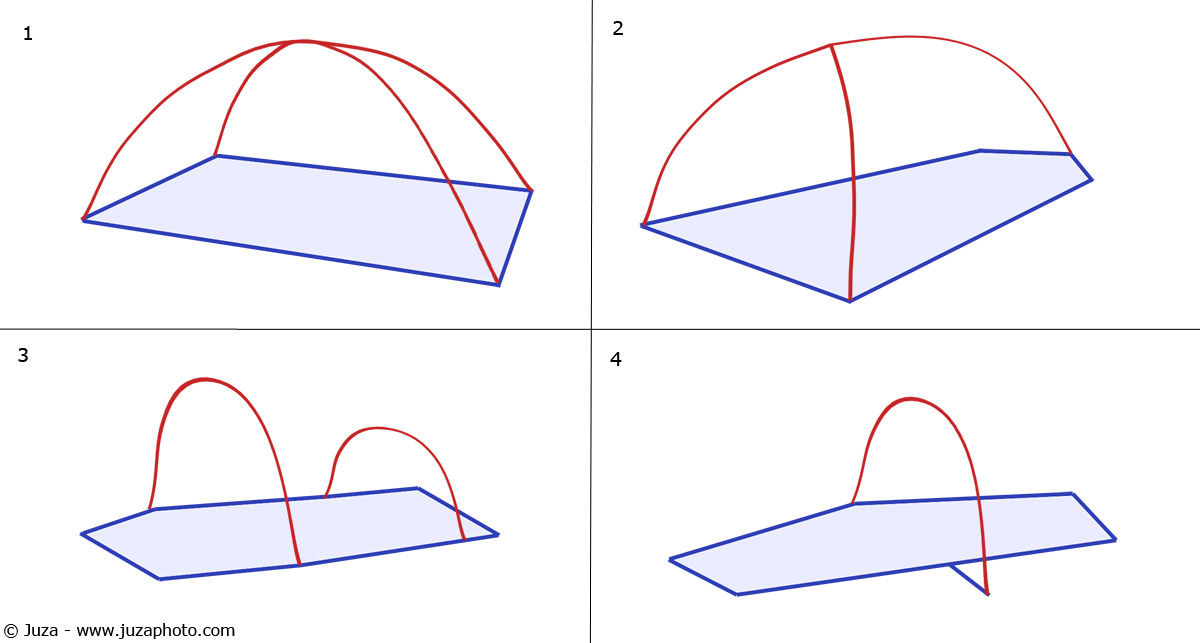 Tent foor in blue, poles in red; flysheet is not pictured. 1) cross-pole tent 2) tripod tent 3) double arch tent 4) single arch tent
Cross poles tents are completely freestanding (it means that they can be used even without pegs and guylines, so you can mount them everywhere, even on very hard terrains where it would be difficult to use pegs), but their poles are longer, thus heavier, than other designs. An example of cross-pole desing is the
Hilleberg Unna
.
Tripod tents have an Y shaped design that is partially freestanding: you can mount them without pegs, but the feet area won't be completely expanded. A variant of tripod tents has two short poles at the base of the main pole, so the tent becomes fully freestanding. This design is lighter than cross poles tents. The Terra Nova Solar Photon 2, reviewed here, is an example of tripod design.
Double arch tents have a very simple design that is even lighter than tripod tents, but they are not freestanding at all, so you can use them only when it is possible to use pegs. An example of double-arch desing is the
Ferrino Lighttend
.
Single arch is similar to double arch, but it uses just one arch in the center of the tent; it is the lightest possible design but it is not freestading. An example of single arch desing is the ultra-light, ultra-expensive
Terra Nova Laser Ultra 1
, that weights just 0.5 kg.
Most tents use aluminium poles, but some high-end tents use composite materials (as DAC poles) or even Carbon Fiber poles. The weight of the poles usually is the 20-25% of the tent weight.
Walls and floor
The other thing that determines the overall weight is the material of the tent fly and floor. The cheaper and mid-range tents uses Polyester, while high-end tents use SylNilon or, at the very highest level, Cuben Fiber. Cuben is extremely light and resistant, but it cost about three times more than SylNylon, that is already expensive.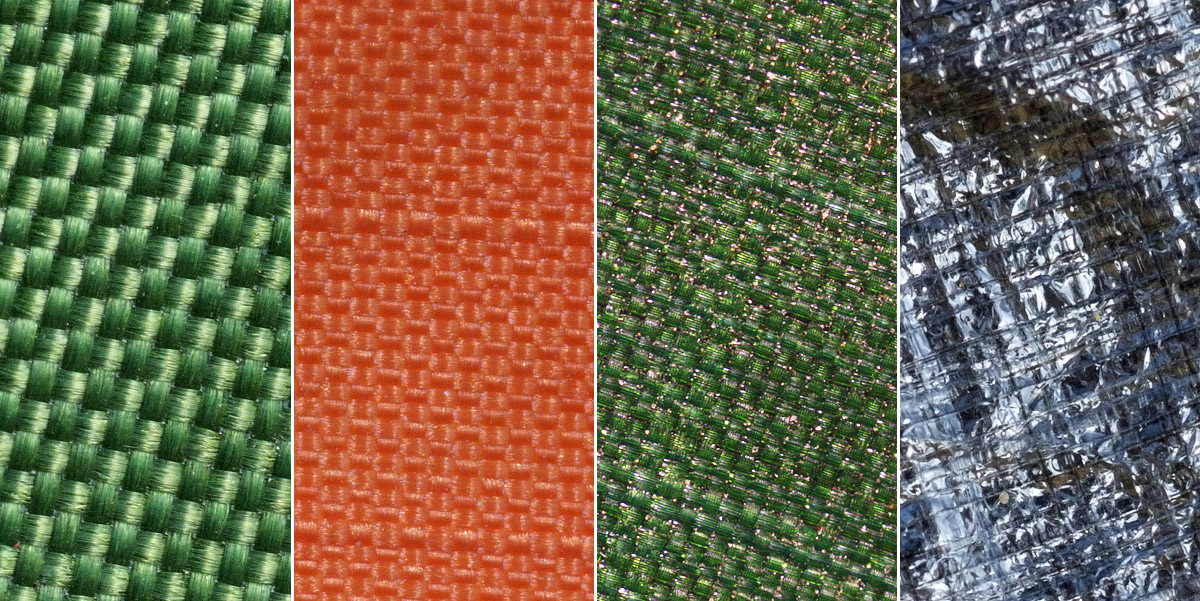 Tent walls at high magnification. 1) polyester wall of the Quechua 2 Seconds tent 2) texit wall of the Ferrino Monster Lite tent 3) silnylon wall of my Terra Nova Solar Photon tent 4) cuben fiber wall of the Terra Nova Laser Utra tent

For example, the Voyager Ultra 2 Tent is exactly identical to the Terra Nova Superlite Voyager, but the Ultra version is made in Cuben Fiber (that Terra Nova calls 'Ultra Fabric') and it costs 1500 euros vs the 540 euros of the non-Cuber version, three times as much for a 33% weight saving (1kg Voyager Ultra vs 1.5kg Voyager Superlite). Other than that, Cuben Fiber is extremely water resistant, for example in these two tents the Cuben fiber version has a 10000mm water column vs the 5000mm of the non-Cuben version.

The Solar Photon 2 uses SylNylon both for walls and floor. Sometimes ultralight tents have poor water resistance: the Terra Nova Solar Photon 2, instead, has an excellent rating of 3000mm for the flysheet and 5000mm for the floor. This rating is called the 'water column' of the tent and it indicates the resistant to rain and humidity.

When evaluating a tent, an important choice is the one between single wall and double wall tents: the former are easier to mount, but they have poor ventilation so they easily get condensation, while double wall takes a little more time to mount but they have way better aeration. After using a single-wall for several years, I absolutely wanted a double-wall tent.



Size
Even though many times I'll use this tent alone, I have chosen a 2 persons tent because single person tents are really, really small, while 2-persons are comfortable for one person with equipment, or barely adequate for two persons (tent size ratings are always a bit optimistic).

Other that open size, I paid a lot of attention to packed size: I needed a tent that takes little space in my backpack, so I can carry it with me even when I use the small Seven backpack. At just 15x40 centimeters, the Solar Photon 2 takes minimal space, much less than my old Ferrino that measured about 22 x 45 centimeters when packed.


On the field
Mounting the tent is quite easy and it takes just a couple of minutes. The SylNylon is extremely thin, this is the price to pay to have a ultralight tent: that said, recently I have mounted in on the top of a mountain, on very hard and rocky soil, and it survived without a single scratch, so in practive it is pretty resistant. My only real complaint regards the 1g pegs supplied by Terra Nova: they don't have any sense, I have trown them away after the first use and I have replaced them with seven 'heavy duty' Ferrino pegs, that weight 14g each.

With more reasonable pegs, the real weight of the tent becomes 1.05 kg instead of the 0.95kg of standard configuration, but even at 1.05 it is still featherweight, and the better pegs allow to mount it even in very hard terrains or in high winds.

Left: the high quality, 14g pegs that now I use with my Solar Photon 2. Right: the 1g pegs supplied by Terra Nova after the first use.
My first night with the Terra Nova was spent is a moderately cold, but very humid day: I am really happy to say that the inside of the tent remained perfectly dry, without any condensation problem.
I have not tested it yet in high winds and heavy rain, when there will be occasion I'll update this part of the review with more info about wind and rain resistance.
Price and alternatives
The Solar Photon 2 costs about 450-500 euros; I bought mine from
Uttings.co.uk
at about 480 euro, otherwise you can get it from
Outside.co.uk
at 440-450 euro. I had to buy it from United Kingdom because Terra Nova products are not sold in my home country; that said, international shipping from UK to Italy has taken just three days.
A very good alternative at a lower price is the Vaude Hogan Ultralight 1-2P; it is very similar to the Terra Nova Solar Photon 2, but it is a little heavier (1.5kg instead of 0.95 kg) and it costs 280 euro.
Risposte e commenti
Che cosa ne pensi di questo articolo?
Vuoi dire la tua, fare domande all'autore o semplicemente fare i complimenti per un articolo che ti ha colpito particolarmente? Per partecipare iscriviti a JuzaPhoto, è semplice e gratuito!

Non solo: iscrivendoti potrai creare una tua pagina personale, pubblicare foto, ricevere commenti, partecipare alle discussioni e sfruttare tutte le funzionalità di JuzaPhoto. Con oltre 213000 iscritti, c'è spazio per tutti, dal principiante al professionista.