Microsoft Surface Pro as Workstation
Microsoft Surface Pro as Workstation, testo e foto by
Juza
. Pubblicato il 10 Agosto 2013; 3 risposte, 10352 visite.
I am always been a fan of innovative, 'extreme' devices, and from August 2013 I have begun using a tablet as my workstation: in other words, now everything I do, from photo post-processing to writing code for JuzaPhoto, is done on a little tablet. In this article I'll explain the reasons of this choice and my impressions about the Surface.
Goodbye XPS 12, welcome Surface
Last year I bought a Dell XPS 12, an ultrabook with i7 processor, 8 GB RAM and a 256 GB SSD. I was really satisfied from this computer and I had no plans of changing it, but I had the unlucky idea of bringing it with me during a photo trip in France. Our car was robbed and the XPS 12 disappeared together with a lens, camera and other stuff. Initially I thought about buying another XPS 12 since I liked it, but than I decided to try a more radical solution: a true tablet, the Microsoft Surface Pro. But is it possible that such small, light device has enough power to be used as a real workstation?
The answer is, surprisingly, yes. Even though the surface is very similar to the Apple iPad in terms of weight and size, it has a much, much more powerful processor, and it runs Windows 8, exactly the same operative system that you can find on desktop computers. Win 8 was a very bold move from Microsoft, but I think that this time they did the right choice: the same OS for every device, from tablets to laptops to desktop computers. Unlike Apple, that has two completely different OS for tablet and laptops/desktops, Microsoft allows to use on tablets exactly the same applications that you can use on every Windows computer, as Photoshop, for example (the only exception are the tablets that use Windows RT, a much more limited version of windows created for cheap tablets; I absolutely recommend to prefer Win 8 Pro to Win RT).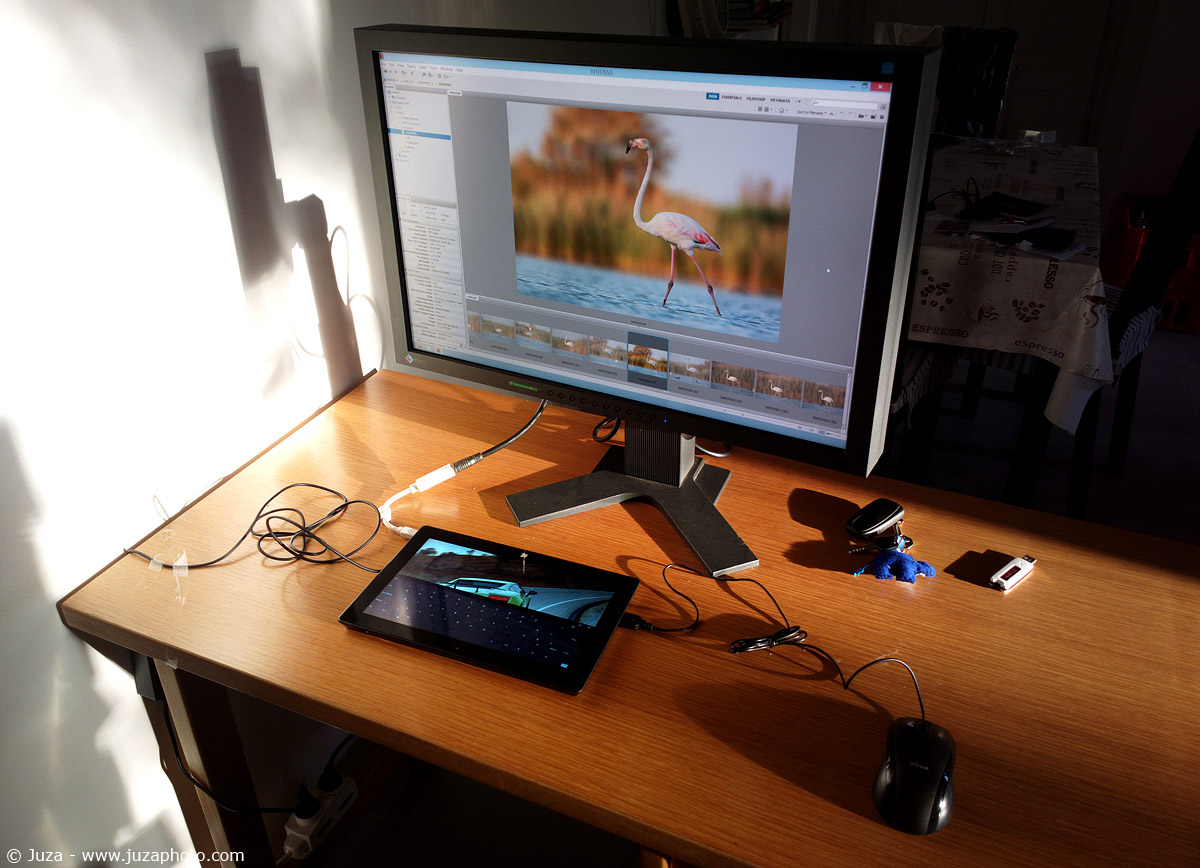 Inside the Surface, there is a Intel i5-3317U processor (Dual Core 1.7 Ghz, max 2.6 Ghz), 4 GB DDR3 RAM @ 1600 Mhz, a 128 GB SSD; the screen is a 10.6", 1920 x 1080px touch screen and overall it weights 0.9 kg and it measures 25 x 17 x 1.3 centimeters. This hardware makes it by far the fastest 10" tablet on the market, and it is enough even for serious post processing with Adobe Photoshop. Of course I'd never recommend it if you have to post process every day huge numbers of photos, but for the average user it is already fast enough. For example, even though I take many photos I post process carefully only the few, very best photos, so I don't need the speed of a desktop computer.

Or course, the 10.6" screen is really too small for post processing, but I use if only when I am traveling: as I did with my previous XPS 12, when I am at home I use the Surface with an high quality 24", full HD external screen. The external screen allows accurate post processing, and at the same time the Surface is used both as processor and as virtual keyboard, so it does not need any extra space on the desk because it replaces the physical keyboard. Typing on the virtual keyboard of Windows 8 takes a lot of time to get used, but nowadays I use it with satisfaction. As usual, I work a lot with the mouse; the Surface has a full sized USB port so it is possible to attach a mouse. If you need to connect more devices, you can always use an USB hub.

You may be surprised to read that 128 GB are enough for a workstation, but for me they are fine, or actually... they are even better than higher capacities, because they reminds me that I must not keep files on my computer. The storage of your PC is the most unsafe place for your files: a computer can be stolen (as it happened to me), it can break or get a virus. For this reason, I consider the computer only as a 'processing tool': I keep all my files safely stored on line, on Google Drive cloud storage, plus a physical backup on a external hard disk. Usually I keep the files on my computer only for few days or a couple of weeks, then I store it on my cloud drive. The only storage space that I use is to install Photoshop and the few other applications that I need, so even with 128 GB I always have a lot of empty space.

Another thing that I like about the Surface is its built quality: since it has no moving parts, it feels a lot more solid than my previous computers. The tablet form factor makes much easier to build robust devices, and it is even possible that future versions of the Surface will be water-resistant, a nice plus if you use it outdoors (there are already several smartphones that are waterproof up to 2 meters).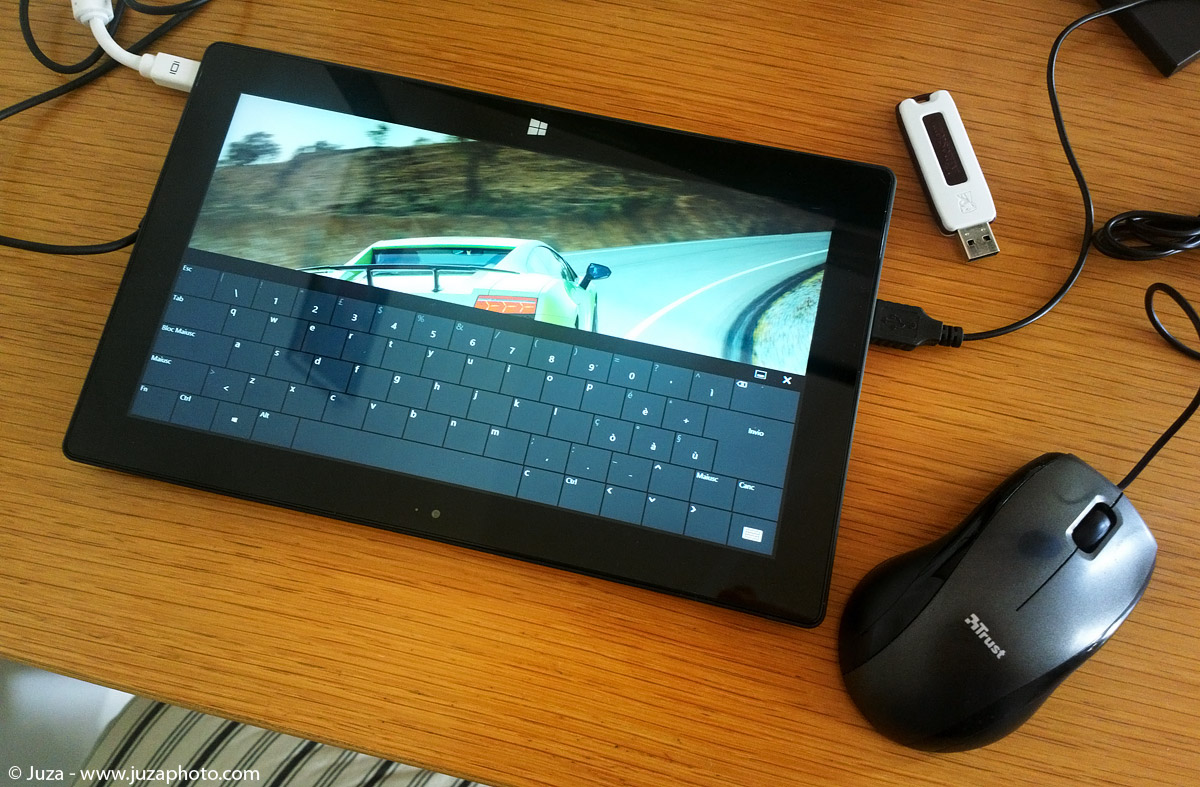 Currently the price of the MS Surface 128 GB is 1000 €, that is more expensive than most tablets but it is in line with ultrabooks with similar specifications. It is clearly not the right solution for everyone, but if your exigencies are similar to mine, I'd suggest to try it: for me it has been a pleasant surprise (you can find more details about the
Surface on Microsoft website
).
What could be improved in 'Surface Pro 2'?
Even though I think that the Surface is a truly great tool, it is clearly a 'fist generation device', and there are several things that can be improved.
It is almost obvious to expect a newer and improved processor. The new 4th generation Intel processors have greatly reduced power consumption, so the next Surface may even have a faster, i7 series processor, while improving battery life at the same time (currently the battery lasts only for 2-3 hours, so there is a lot of room for improvement here). Other than that, the maximum storage will likely increase to 256 GB and RAM may be upgraded to 8 GB.
Weight and size are really minimal if you compare it to laptops or even to ultrabooks, but for a tablet it is a bit on the heavy side: a 20% weight reduction would put it closer to the iPad and other high-end tablets. Other than that, a slightly thinner bezel would allow to reduce dimensions while maintaining the same screen size.
One thing that I'd really, really like would be the possibility to recharge it through an USB port, instead of using the proprietary charger: USB charging would allow to use the same charger that I also use for the mobile phone and other devices, greatly reducing the number of chargers that I have to carry with me when I travel. The iPad already has USB charging, so I hope that the next Surface will have it as well.
Another welcome addition would be the possibility to use cellular connection other than wi-fi; of course when possible it is better to use wi-fi, but sometimes when traveling a wi-fi connection may not be available so a little micro-SIM slot would be really useful. One last missing thing is GPS; even though it is not essential on a tablet, it is always a welcome feature.
An even further look
More than twelve years ago I bought my first personal computer; it was huge, heavy and very slow. In 2009 I replaced it with a much faster laptop; it was a Dell XPS 16 and in about 2.5 kg it packed an hardware that was light years better than my previous desktop PC. Now, in 2013, a little tablet has enough power to replace (at least for me) a laptop: the more I use the Microsoft Surface, the more I am amazed by how fast it is.
Tablet as powerful as the Surface are still a rarity (and none is so small), but I think that in the next years they will become increasingly common, and they will eventually replace most laptops. In the next years I also expect to see the processing power of smartphones getting better and better, until they will be able to replace a computer: imagine a mobile phone that connects wireless to mouse, keyboard and external screen when it is placed on you desk. Of course, such smart phone should be able to run a phone-optimized operative system and Windows 8/Mac OS at the same time, but something like that may not been to far away (
an early example
). This is my vision of future: a single tool capable of 'replacing' all your electronic devices.
Risposte e commenti
Che cosa ne pensi di questo articolo?
Vuoi dire la tua, fare domande all'autore o semplicemente fare i complimenti per un articolo che ti ha colpito particolarmente? Per partecipare iscriviti a JuzaPhoto, è semplice e gratuito!

Non solo: iscrivendoti potrai creare una tua pagina personale, pubblicare foto, ricevere commenti, partecipare alle discussioni e sfruttare tutte le funzionalità di JuzaPhoto. Con oltre 190000 iscritti, c'è spazio per tutti, dal principiante al professionista.