JuzaPhoto utilizza cookies tecnici e cookies di terze parti per ottimizzare la navigazione e per rendere possibile il funzionamento della maggior parte delle pagine; ad esempio, è necessario l'utilizzo dei cookie per registarsi e fare il login (
maggiori informazioni
).
Proseguendo nella navigazione, acconsenti all'utilizzo dei cookie e confermi di aver letto e accettato i
Termini di utilizzo e Privacy
.
Manfrotto BeFree Carbon Review
Manfrotto BeFree Carbon Review, testo e foto by
Juza
. Pubblicato il 04 Dicembre 2014; 2 risposte, 10928 visite.
The BeFree Carbon is the ultralight, high-end version of the already excellent Manfrotto BeFree, my favorite tripod. I bought my first BeFree in mid 2014 and I immediately fell in love with this tripod, I liked it so much that I have replaced my entire 'collection' of tripods and head with this single tripod. Of course, when Manfrotto announced the carbon fiber version I quickly jumped on it: let's see how it compares with the aluminum version and what are its pros and cons!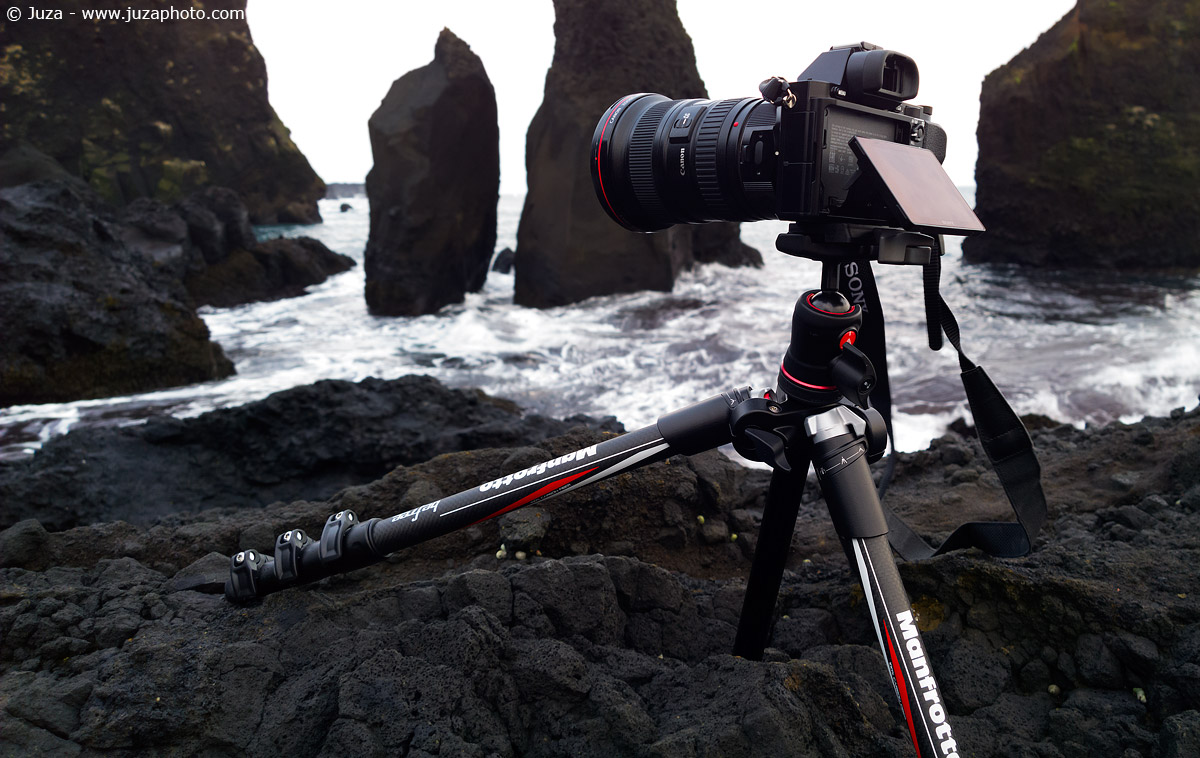 Why is BeFree so special?
Until one year ago, I had a Manfrotto 055 aluminum tripod (2.5 kg) with a ball head for landscapes and geared head for macro, for a total weight of about 4.5 kg. It was a very stable and robust tripod, but it was huge (75-80 centimeters long with the head mounted) and heavy: the Manfrotto BeFree Carbon is one fourth the weight (1.1kg vs 4.5kg) and one half the length (40cm, head included, vs 80cm). Of course, traveling and backpacking with the BeFree is much, much easier!

In terms of height, the BeFree does not make too much compromises: it reaches 142 centimeters, that is enough for me. At the beginning I was worried about the minimum height of 34 centimeters; it can not get completely flat on the ground as the 055 and 190 tripods. In practice, it is not a problem and the difference is much less than expected: consider that the height of 34cm includes the head; my previous Manfrotto 055 could get as low as 7 centimeters without head, but with the Manfrotto 410 head that I used for macro the minimum overall height was 20 centimeters, so the real difference with the BeFree is about ten centimeters.

The max load of 4 kg is more than enough for wide-angle lenses, standard zooms, macro and moderate telephoto lenses; currently I use it with the Sony A5100 and Sigma 8-16, Canon 24-105 and Canon 180 Macro, and all are perfectly stable on the small ball head of the BeFree. The head can be replaced with any other head, both from Manfrotto and other brands, but only the custom made head allows to fold perfectly the legs in reversed position. I would not recommend this tripod for heavy telephotos, the 190 and and 055 are better choices if you often use very big lenses.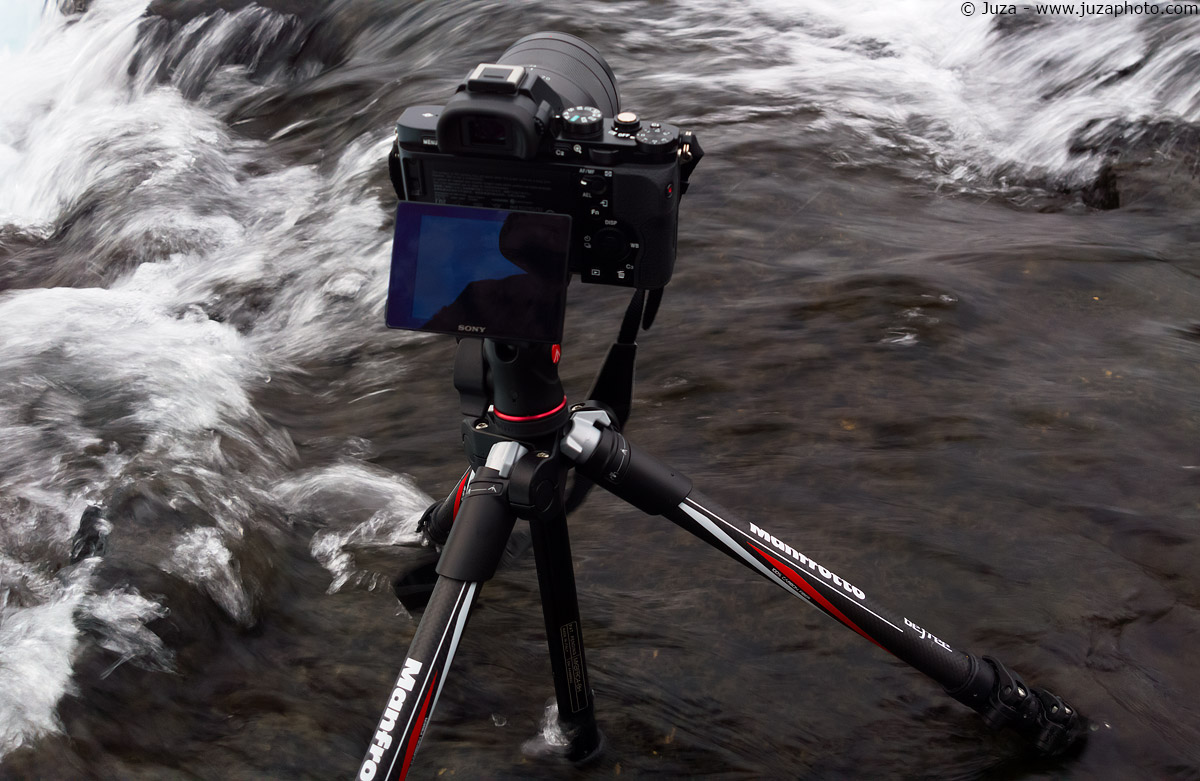 On the field: BeFree VS Iceland
In November 2014 I have used the BeFree Carbon during a long trip in Iceland. This country is a nightmare for tripods: heavy winds, muddy soil, sand and saltwater creates very harsh conditions. I have enjoyed a lot the BeFree: thanks to its small size, it was really easy to carry it around in my backpack; maximum and minimum height have been fine for every situation.

I have had some problems with sand: many times the legs of the tripod where buried in sandy beaches or in the hot mud of the geothermic areas, and sometimes they where even underwater, so I got a lot of sand between the leg sections and sometimes they become stuck. I have disassembled it a couple of time (it is quite easy) and after cleaning it is again working perfectly. That said, the sand is not a fault of the BeFree - every tripod used for 18 days in such harsh conditions would have got some sand inside ;-)

A small fault of the BeFree, instead, are the tripod feet that comes out easily if you work in muddy ares: at the end of the trip I have lost two rubber feet. Not a big problem, I have already bought the replacement feet for few euros, but next time I'll put some super glue on them to avoid this problem.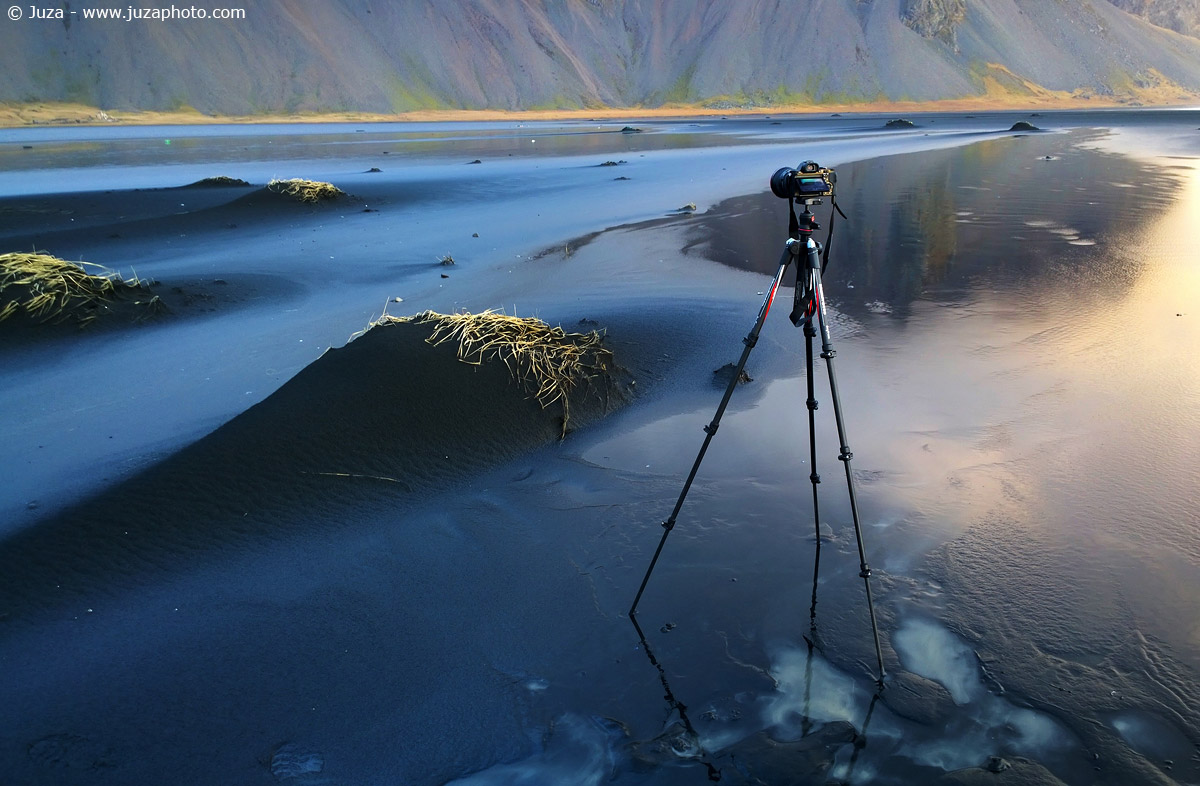 Carbon Fiber vs Aluminum
The carbon fiber version is, obviously, lighter: at 1.1kg it is truly featherweight, about 350 grams lighter than the aluminum version. But the weight is not the only advantage of carbon fiber: another important aspect is that when you use it in extremely cold temperatures, it does not become so freezing as metal made tripods. Other than that, if you use often the tripod in salt water, carbon fiber does not have any problem, while in long term aluminum and other metals can suffer from corrosion.
Aesthetically, the CF version is clearly more high-end: the CF legs are beautiful and they are decorated with red and white stripes; even small things, as the camera plate supplied with the tripod, have a fine, custom design. The plate is not the classic aluminum plate, but a lighter version made of technopolymer, called Manfrotto 200LT-PL (the standard version is the 200PL).
The only downsize of this model is its price: at about 330 euros or 350 dollars, it costs twice as much as the aluminum version. If you have a tight budget I recommend the already excellent Manfrotto BeFree 'aluminum'(
199 $ on B&H
), while if you are a maniac of light weight and high-end materials (as I am :-)) you can buy the high-end Manfrotto BeFree Carbon (
349 $ on B&H
).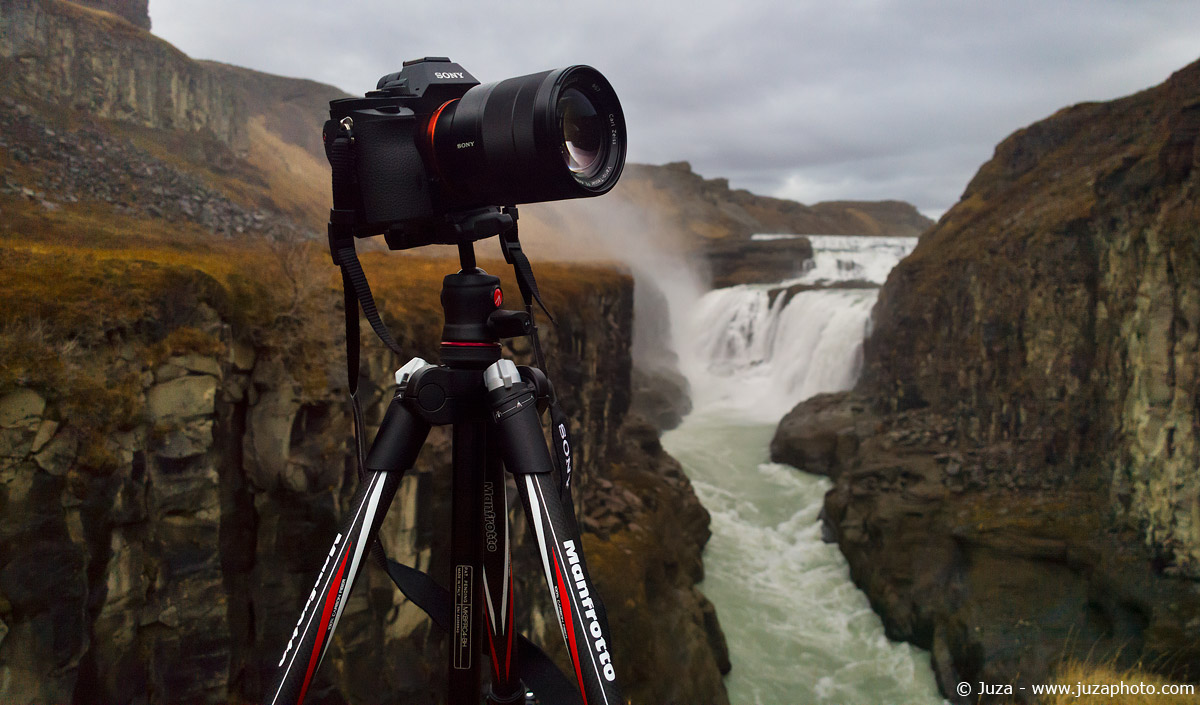 Risposte e commenti
Che cosa ne pensi di questo articolo?
Vuoi dire la tua, fare domande all'autore o semplicemente fare i complimenti per un articolo che ti ha colpito particolarmente? Per partecipare iscriviti a JuzaPhoto, è semplice e gratuito!

Non solo: iscrivendoti potrai creare una tua pagina personale, pubblicare foto, ricevere commenti, partecipare alle discussioni e sfruttare tutte le funzionalità di JuzaPhoto. Con oltre 188000 iscritti, c'è spazio per tutti, dal principiante al professionista.