Canon EF 500mm f/4 L IS II USM Review
Canon EF 500mm f/4 L IS II USM Review, testo e foto by
Juza
. Pubblicato il 09 Maggio 2013; 5 risposte, 27716 visite.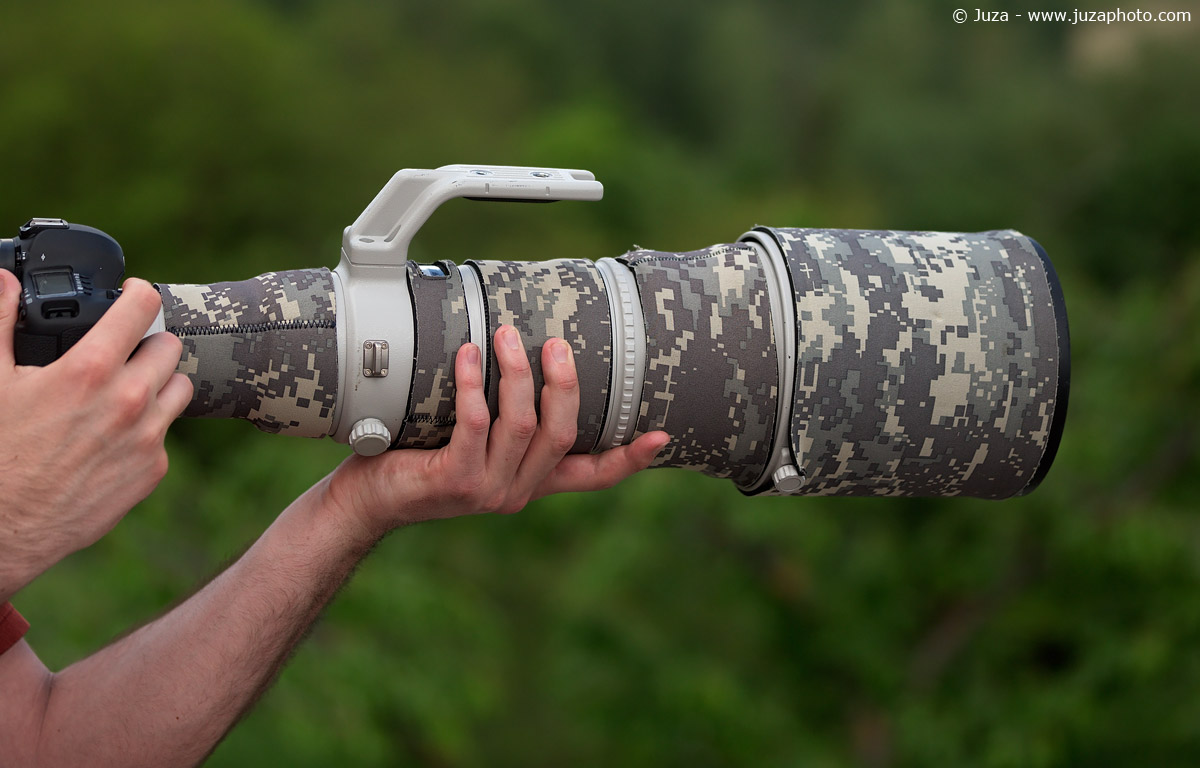 It is as expensive as a small car, it weights just a little more than 3 kg and it is one of the sharpest lenses ever made: we are talking about the Canon EF 500mm f/4 L IS II USM, one of the latest masterpieces in the field of super tele lenses. It was announced in 2011 but it became available only in late 2012; at about 10000 €, it is almost twice as expensive than the previous version. Is it worth the steep price? I have tried it on 1DX and 7D to see how it performs.
Specifications (compared with the previous 500 f/4 IS)
Focal length:
500 mm
Lenses and groups:
16 lenses in 12 groups
(previous version: 17 lenses in 13 groups)
Diaphragm blades:
9 blades
(previous version: 8 blades)
Macro ratio:
0.15x
(previous version: 0.12x)
Max Aperture:
f/4
Stabilization:
Yes, 4 stops equivalent
(previous version: Yes, 2 stops equivalent)
Autofocus:
Ultrasonic AF Motor
Closest Focus:
3.70 meters
(previous version: 4.50 meters)
Dimensions:
146 x 383mm
(previous version: 146 x 387mm)
Weight:
3190g
(previous version: 3870 g)
Weather sealing:
Yes
Price:
10000 €
(previous version: 6000 €)
Production:
2012-
(previous version:1999-2011)
Built quality and lens construction
The 500mm has been put on diet. Thanks to the larger use of magnesium and titanium, the new 500 weight just a little more than 3 kg, about 0.7kg lighter than it predecessor. The old version was already quite hand holdable, and the new version can be 'easily' used without tripod, thanks for it lower weight and more effective image stabilization. If you are used to the old 500 or 600, holding this lens is impressive - it really feels light.
If you give a look to the specifications, you will see that the optics is composed by 16 lenses, rather than the 17 lenses of the previous version. This is because Canon has replaced two ultra-low-dispersion lenses with one fluorite lens - fluorite is much more expensive than glass, but it allows to get even better image quality. Another change is that, like in the new 300, 400 and 600, Canon has removed the flat protective element from the front of the lens. It helps to get the very best image quality and to reduce weight, but it increases reparation costs if you damage the front element. Always using the lens hood is highly recommended to protect the expensive optics.
Features: autofocus and image stabilization
The new autofocus adds both speed and more features. Thanks to a new CPU, Canon claims even faster focusing speed (in practice, I have not seen big differences, both this lens and the previous 500 have very fast AF). Of course the lens uses a ring-type ultrasonic AF motor, and it has full time manual focus, AF stop buttons (I have never used them) and focus preset, another feature I rarely use. An interesting development is that a third AF mode has been added: "PF". PF, that means Power Focus, is essentially manual focus done using the AF motor; it allows to get a more gradual and smooth focus during video. When you set the focus switch on PF, the focus preset ring change its function to electronic focus ring. Even though photographers are not interested by this feature, it is a great news for video makers.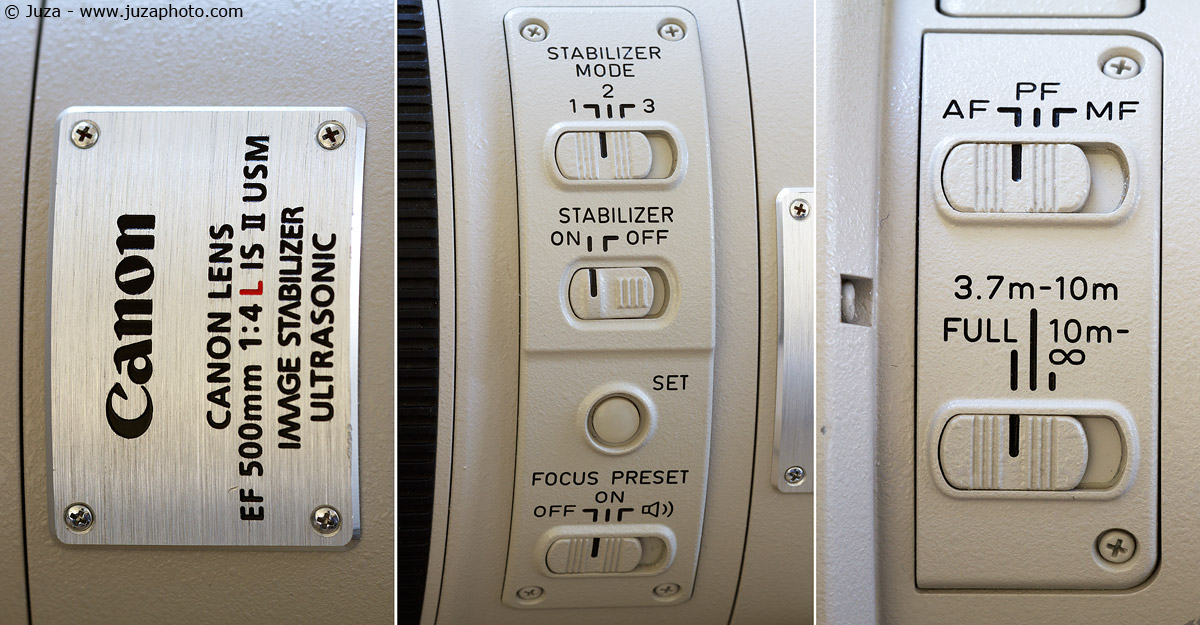 Details of the new 500 f/4: the new control panel with IS mode 3, PF, reduced minimum focusing distance.
A great news for nature photographers is that the minimum focusing distance has been reduced from 4.5 to 3.7 meters, so the macro ratio has improved from 0.12x to 0.15x. While it is far from a real macro, it is a bit better than the previous version, and it is a great help when photographing small subjects. When using the 2x teleconverter, you get a quite good 0.30x macro ratio. The focus limiter has been slightly changed, now you can select a focus range between 3.7 meters to infinity, 3.7 meters to 10 meters, 10 meters to infinity.
The image stabilization has been improved in several ways. The major difference is that the new IS unit give a "4 stop equivalent" compensation vs the 2 stops of the previous versions; this is an huge improvement when shooting handheld. Other than being more efficient, the new IS unit is smaller and more silent: if you have tried taking videos with the current supertele, you surely know that the noise of the IS can be pretty annoying because it can be clearly heard in video, in particular if you use the camera built-in microphone.
The new stabilization gives better results even when the lens is mounted on tripod, according to Canon; personally I have never had problems even with the current superteles. Unless the head and the tripod are 100% stable and still, the IS always helps to reduce motion blur. Another new feature is a third IS mode: while Mode 1 (IS active both in vertical and horizontal) and Mode 2 (IS active in vertical only) are unchanged, the new Mode 3 works like Mode 2, it correct the motion blur only in vertical to allow panning, but it is activated only during the exposure, while Mode 1 and Mode 2 are active as long as you keep half pressed the shutter button.
Image quality (without teleconverters)
The old 500mm was a very sharp lens, but the new version promises huge improvements, in particular with teleconveters. I was really curious to compare the two versions of the lens, so I did a side by side test, other than the usual test in the field with the 500 II. For the field photos I have used mainly the 1DX, the current Canon flagship, while the studio test has been done with my Canon 7D. The 7D has very small pixels and it shows every problem of a lens, so if a lens looks good on 7D it will be equal or better on any other Canon camera. In this fist test, I have compared the two versions of the lens without teleconveters; this is a crop from the unprocessed raw file (no sharpening).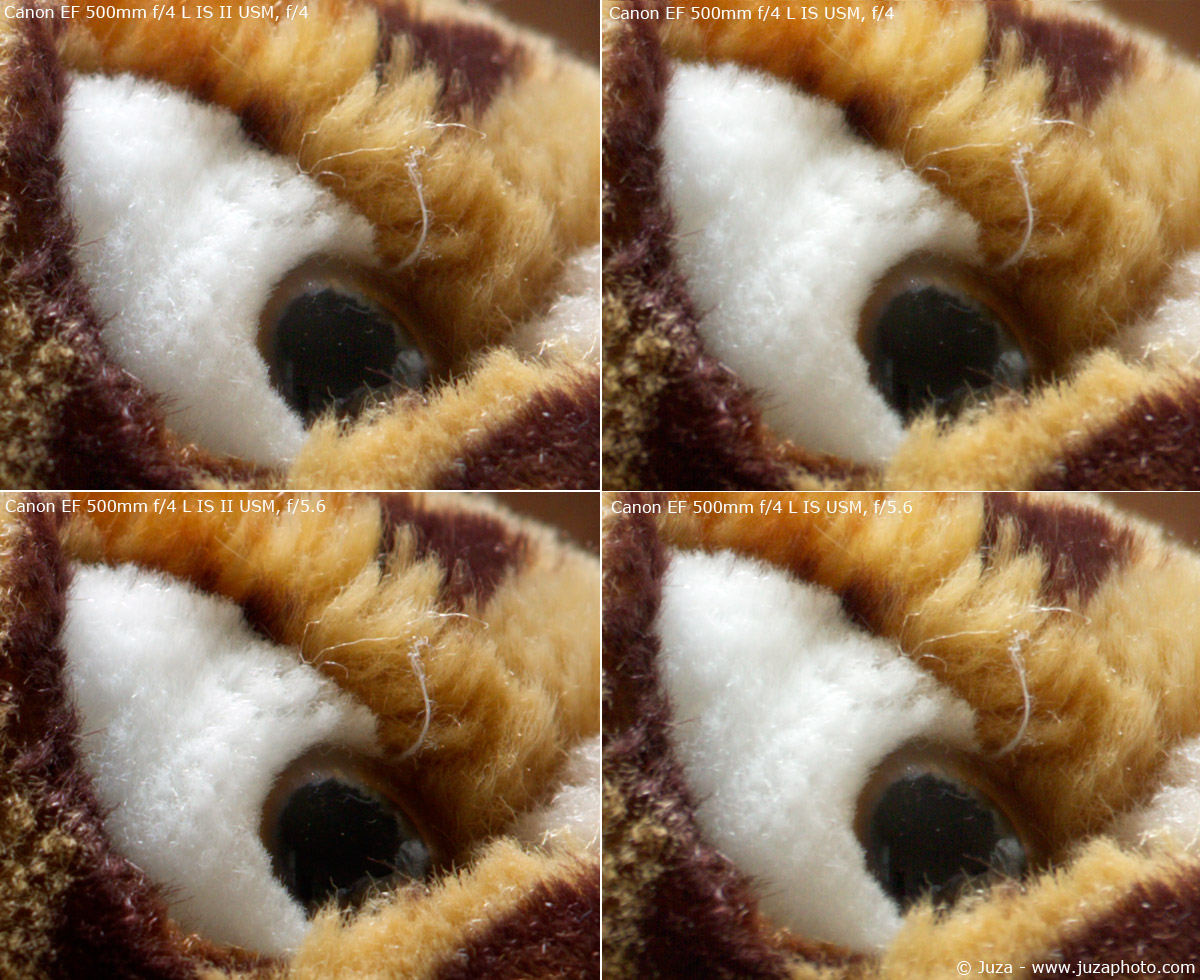 The new 500 is slightly better, but the differencies are minor, even on the 7D - on the field, I think it would be impossible to see any difference between the two lenses; both are extremely sharp and contrasted. Let's give a look to a sample photo taken with the 500 II.


Canon 7D, Canon EF 500mm f/4 L IS II USM, 1/800 f/5.0, ISO 400, handheld. Click here to download at full resolution!
The results on the field confirm was already seen in the studio tests; the image quality of the 500mm (without teleconverters) is awesome.
Image Quality: 500mm + TC 1.4x
In this second test I have tried the 500 f/4 II with the latest version of the Canon 1.4x teleconverter. As always, the studio test has been done with the Canon 7D and I have not applied sharpening.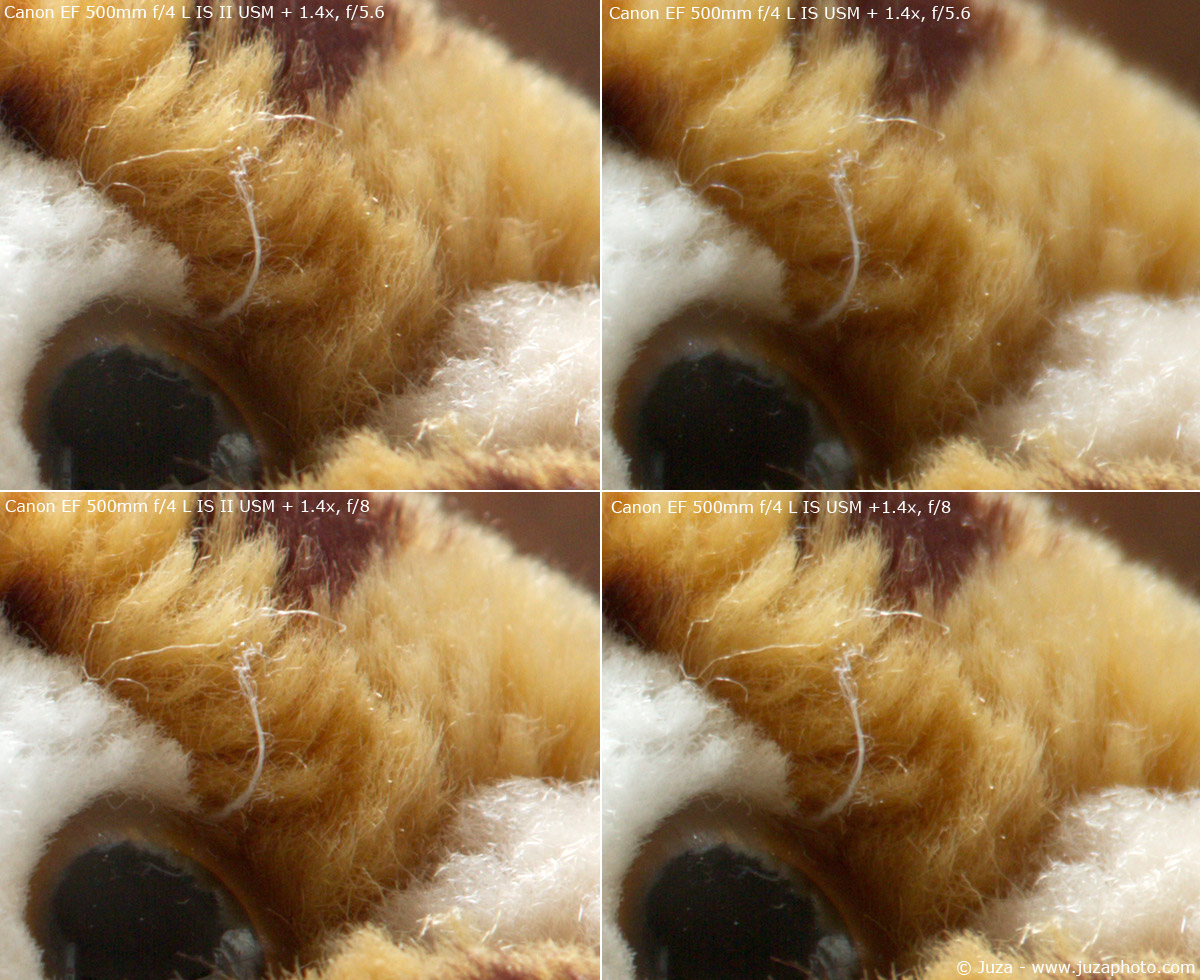 This time the new 500 shows a clear advantage. While the old 500 gets a bit soft wide open with the 1.4x (on high resolution cameras as the 7D), the new 500 looks almost perfect even at f/5.6. There is almost no gain by stopping down to f/8, while the old 500 required f/8 to get the best sharpness with the 1.4x TC.


Canon 1DX, Canon EF 500mm f/4 L IS II USM con Canon EF 1.4x III, 1/200 f/5.6, ISO 400, handheld. Click here to download at full resolution!
Even wide open at f/5.6, the 500 + 1.4x is really sharp, there is no need to stop down. The autofocus is still very fast, unless you are working in very low light. Note that the shutter speed is 1/200 and the photo has been taken without tripod - the image stabilizer is really effective!
Image Quality: 500mm + TC 2.0x
The previous 500 was good, but not great, with the 2x: it was soft wide open while at f/11 it was quite good. What about the new 500? Let's give a look to results of the test!

I must say that I am truly amazed. The new 500 is sharp even wide open...an impressive achievement. The old 500 was much less sharp with the 2x, and f/11 or f/13 were necessary to get good image quality: the new 500 instead is great even at f/8. The following sample shows its image quality on the field.


Canon 1DX, Canon EF 500mm f/4 L IS II USM con Canon EF 2.0x III, 1/800 f/8.0, ISO 800, handheld. Click here to download at full resolution!
Again, the 500 f/4 II is impressive: it is very sharp even wide open at f/8; stopping down is no longer essential to get a sharp photo. The AF is clearly slower and it works only on 1DX and 5D MarkIII (new firmware); for static subject it is fine and it is ok even for moving subjects, but if you are in low light or you have a very fast subject you may get better result by shooting with the 1.4x and cropping the image.
Conclusions
There is only one bad thing about this lens: the price. At 9500-10000 €, it is really expensive...but if you can afford it, you will have an impressive improvement in comparison with the previous 500. The Canon 500mm f/4 L IS USM II is a lot lighter and easier to handhold; it has improved focus and more effective image stabilization, and it is the state of art in terms of image quality. Being able to use the teleconverters with only a minimal loss of image quality is an immense improvement; I highly recommend this lens to wildlife photographers.
Risposte e commenti
Che cosa ne pensi di questo articolo?
Vuoi dire la tua, fare domande all'autore o semplicemente fare i complimenti per un articolo che ti ha colpito particolarmente? Per partecipare iscriviti a JuzaPhoto, è semplice e gratuito!

Non solo: iscrivendoti potrai creare una tua pagina personale, pubblicare foto, ricevere commenti, partecipare alle discussioni e sfruttare tutte le funzionalità di JuzaPhoto. Con oltre 188000 iscritti, c'è spazio per tutti, dal principiante al professionista.