Fujifilm X-E2 : Specifications and Opinions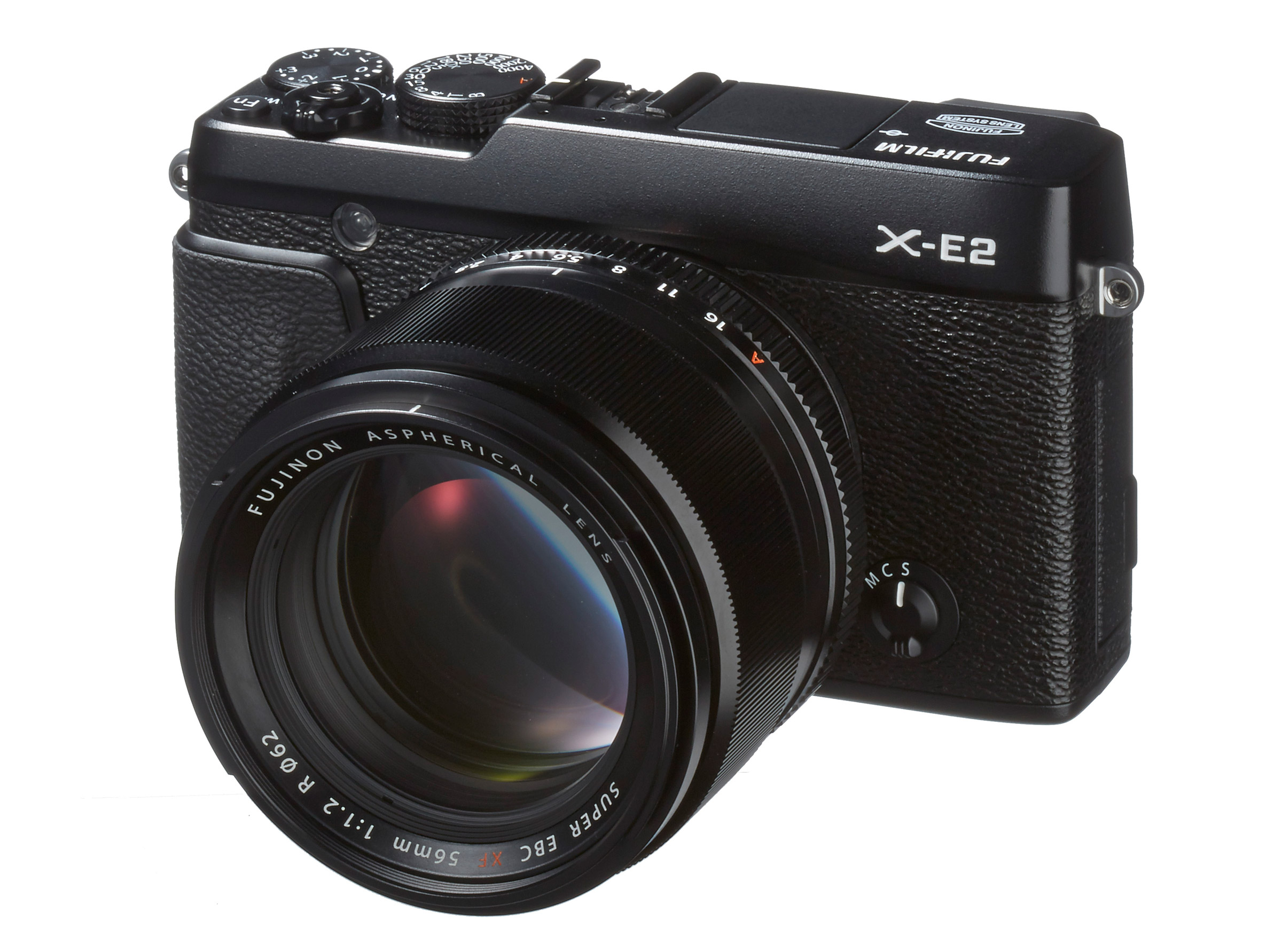 Esposure

Shutter speeds
30" - 1/4000
Exp. compensation
+/- 3 stops at 1/3 steps
Exp. modes
M, S, A, P, Scena
Metering modes
Multi-Area, Semi-Spot, Spot



Features

Stabilization
No
AF micro-adjustment
Not needed (it has sensor-based AF)
Live View
Yes
MLU/SS
Not needed (this is a mirrorless camera)
Dust reduction
Yes
Video mode
1920x1080p @ 60 FPS
WiFi
Yes
GPS
No



Built and notes

File formats
JPEG, RAW
Touchscreen
No
LCD
3.0", 640 x 480 pixels, fixed
Viewfinder
Electronic, coverage 100%, x
Flash
Yes, guide number 7 meters
Storage
SD, SDHC, SDXC
Battery
Li-Ion
Weather sealing
No
Waterproof
No
Weight
350 g
Dimensions
129 x 75 x 37 mm
Buy
Fujifilm X-E2, buy on B&H
B&H is one of the largest photographic stores in United States. You can find a wide range of products, reliability and great customer care; other than that, by purchasing on B&H you contribute to support JuzaPhoto!


Publish your advertisement on JuzaPhoto (info)
Photos taken with Fujifilm X-E2
Click here
to see sample photos taken with this camera!
Reviews
What do you think about this camera?
Do you want add your opinion? You do it by joining JuzaPhoto, it is easy and free!

There is more: by registering you can create your personal page, publish photos, receive comments, join discussions and you can use all the features of JuzaPhoto. With more than 60000 members, there is space for everyone, from the beginner to the professional.
pubblicata da Esph December 19, 2014
Pros:
Aesthetics fantastic, electronic viewfinder in some ways better than the pentaprism, white balance, ergonomics, controls, sensor, image quality, ISO held, corposii raw and full of information
Cons:
Programs of post-production that still fail to manage the Raw house fuji as God commands, battery life is relatively short, only one slot sd, security still far from the reflex system for professional use
Opinion:
We Perlando a system closer to the Leica Reflex, therefore it makes no sense to make comparisons with the latter. The Leica offer the top quality and style, the SLR the best compromise between performance, reliability and quality. rnIl viewfinder of this x-e2 is amazing: you can take pictures in the dark as it is light and allows you to see the shot before you do it. No ghosting or slowdowns. In broad daylight with direct sunlight, in some circumstances, it may not be easy gardarci inside and see the shot. In this a pentaprism is unbeatable. The focus is always precise and fast in any lighting condition, much more than an SLR. rnIl white balance is very good, better than most of the new FF prosumer SLR. With 4 punsanti fn everything is within reach without taking your eye from the viewfinder and manage the camera becomes easy. The sensor x-trans is gorgeous, up to ISO 3200 is up to the SLR ammiraglie, 5000 iso grain is virtually invisible to the Raw 6400 are still full of details and have a hint of grain that does not even need dusting. Interestingly, the vastness of the raw information: with 16 mpx churns out 34 mb file, exactly as the recent Nikon D750 which is a Full-Frame 24 mpx 2014 ... RNLA real big difference between the system and the SLR and fuji that the first need to know really photograph well and have a keen sense of composition. This is because a fuji forgives less. The viewfinder is excellent but not a pentaprism is a different thing. It makes you see what you will be in the shot, hook very well, but is not designed for continuous shots. The photographer must be mature and know how to get the picture you want on the first / second shot. It's the difference between a sniper rifle (fuji) and a machine gun (SLR). SLRs forgive too, have too many automatic and in one way or another they take home the shot. If from one day to the Alter SLRs disappeared think that professionals would remain 1/100 of those who are there. But behind a dress from the retro there is also a lot of technology. It is not essential as a Leica, but does not want to be too much like a reflex. The battery life is short but right for what you should do: with a x-e2 not photographing car racing with shooting in bursts, not a wedding photographer strafing the event with thousands of photographs (hoping that something is out). With an x-e2 do photography, there is evidence. Jeff Ascough photographing weddings with Leica, and what he did was from another planet. Kevin Mullins photographing weddings with fuji and is a great photography, has its own unique style, not part of the pile, really knows how to photograph. An amateur with an x-e2 learn to photograph, or moves away from photography to switch SLR reflex, convinced that it is the camera to make a good photograph. rnL'unico neo real is the slow development of programs for professional post-production of raw fuji.We must however say one thing: the raw baked are so good that the only tricks are really minimal. rnih some sites I read that the cons of this camera is the lack of a video apparatus height, the ability to take over in 6400 iso raw, the 1/4000 of shutter speeds ... Fujifilm reinterprets the photograph away the modern conception of camera handyman. The reflex system has created the need to go beyond what they really need to photograph and especially to photograph well. Of course I did not stand against the reflex: I always used and still use to work, but if I will definitely go to the system fuji be a great victory. Many have already done so.
pubblicata da Strunz July 07, 2014
Pros:
weight - amazing picture quality????? (it's just that I have not understood yet use to bottom) - at high iso is not less than the upper value of Nikon SLR - 10 - 24xf is greater than the amount dx nikkor - good idea of ??the two rings old style SLR even if you go to silt up in a cumbersome software - very low noise and even beautiful to look at
Cons:
bad software (the Italian version is also loosely translated) - too many customizable buttons - vision in the electronic viewfinder sometimes shocking and not corresponding to the real snap - ridiculous battery life (as if there was the possibility of reflex to always turn off the display ) - the diagram iso car prefers the max iso-rnindispensabile on condition of highlights and shadows with strong intervention acr - the lack of a quick adjustment of ISO is that the choice of the point of focus
Opinion:
usually use Nikon pro, this would seem a toy that seems to me to produce incredible pictures with the two rnusata xf 10-24 and 55-200 offers a range of images with very high weight and volume very low rnil sensor I think is not comparable to anything in circulation at least at home nikonrni defects seen the high prices are certainly not excusable / justifiable and I will not be overcome, even though in reality it would be enough of a nikon d90 software to realize the convenience and flexibility of use that divides a nice toy to a body performance (I think this might be even bloodthirsty) rnpersonalmante sorry because both the sensor and the two lenses that I have tried are safe qualitàrn
pubblicata da Alep July 04, 2014
Pros:
Design, management, ISO, image quality and color
Cons:
Maybe an AF a little slow, but it depends on the needs
Opinion:
I come from a system with FF D700. When I made the switch to this machine I did it for reasons of space and weight, many times I let the machine stops not take away backpack with heavy machinery and optics. I must say that I am completely satisfied and I'm not regretting anything for my old D700. I use this machine mainly with 35mm 1.4 and the quality of the images that come out is really impressive even at high ISO. The small size allow you to always have it with you. In conclusion, I believe that Fuji is doing a crazy job with this type of machine also updating the firmware of the camera body and lenses.
pubblicata da Claudio58 January 31, 2014
Pros:
FF performance, robust and ergonomic, discreet and essential
Cons:
Switching the display / viewfinder menu
Opinion:
Aside against the aforementioned, I find the X-E2 just fantastic. Check in from all kinds of SLR and mirrorless and I do not regret any of them. The definition with any optic is above many competitors definitely more expensive. I found my system. Fuji finally put on the market products with exciting performance and at the same time light and content. Claudio
pubblicata da Jekuno January 18, 2014
Pros:
An excellent color reproduction, high definition image acquisition and rapid AF focusing, really improved since the X-E1 effective and accurate.
Cons:
The only problematic aspect is the development of the RAF, in the sense that there are still no software that allow a complete workflow (Capture One is great, probably the best for color, Photo Nija very good for the extrapolation of the details but lacks for highlight recovery, SILKYPIX demosaicizza files very well but lacking in many features, Lightroom and Camera Raw are still inadequate compared to others)
Opinion:
A camera somewhat basic, almost spartan, but able to express a photographic quality with few rivals, files are rich in detail and color-pleasing in all conditions of use. The picture quality is outstanding, absolutely at the top of the industry APS-C and embarrasses even some full frame cameras. The X-Trans sensor is really extraordinary in the containment of noise, which is never an issue until the threshold of ISO 6400.
Cameras comparison

You can select up to three cameras to compare with Fujifilm X-E2.


Photos taken with Fujifilm X-E2
The sample photos are selected automatically between all photos posted by JuzaPhoto members, using the camera and the lens selected in the techs. If you find evident errors (e.g. photos taken with cameras and lenses that are not available yet), you can contribute to improve the page by sending a private message to the user that has entered incorrect values in the photo caption.