Canon 60D : Specifications and Opinions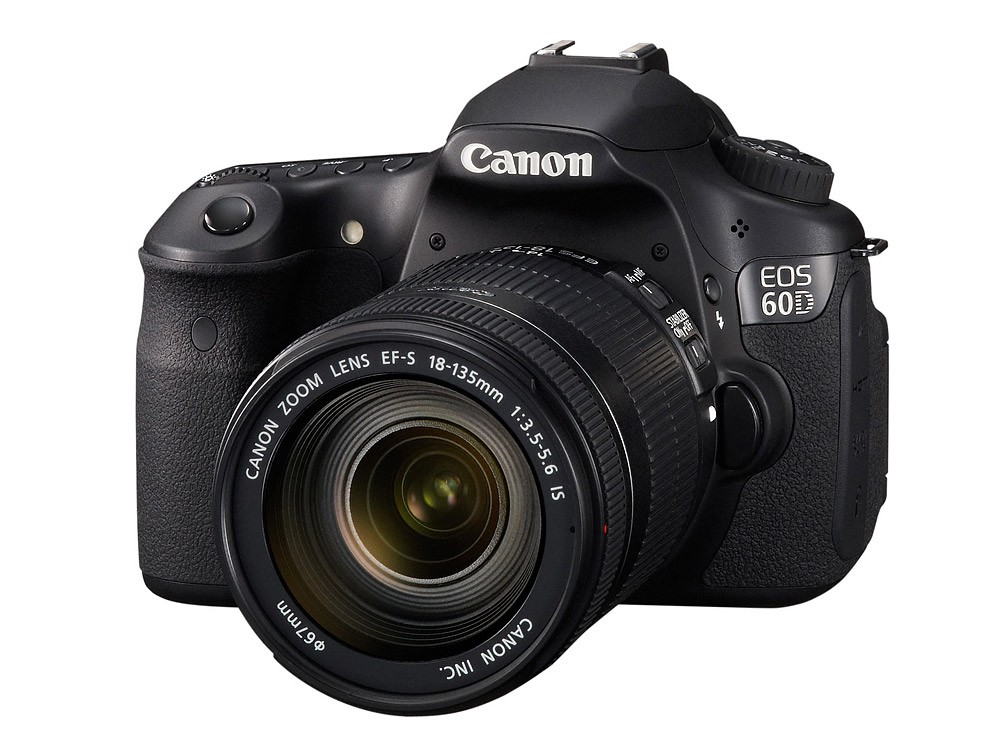 Esposure

Shutter speeds
30" - 1/8000
Exp. compensation
+/- 5 stops at 1/2 steps
Exp. modes
P, S, A, M scene
Metering modes
Multi-Area, Semi-Spot, Spot



Features

Stabilization
No
Autofocus (AF areas)
9
AF micro-adjustment
No
Live View
Yes
MLU/SS
Yes, Silent Shooting and Mirror Lock Up
Dust reduction
Yes
Video mode
1920x1080p @ 30 FPS / 1280 x 720p @ 60 FPS
WiFi
No
GPS
No



Built and notes

File formats
RAW, mRAW, sRAW, JPEG
Touchscreen
No
LCD
3", 720 x 480 pixels, articulated
Viewfinder
Optical, coverage 96%, 0.95x
Flash
Yes, guide number 13 meters
Storage
SD/SDHC/SDXC
Battery
Li-Ion, Canon LP-E6
Weather sealing
No
Waterproof
No
Weight
800 g
Dimensions
145 x 106 x 79 mm


Ads by JuzaPhoto (info)
Reviews
What do you think about this camera?
Do you want add your opinion? You do it by joining JuzaPhoto, it is easy and free!

There is more: by registering you can create your personal page, publish photos, receive comments, join discussions and you can use all the features of JuzaPhoto. With more than 86000 members, there is space for everyone, from the beginner to the professional.
pubblicata da Tony12 January 01, 2016
Pros:
swivel screen
Cons:
yield iso
Opinion:
I had bought used for the price of opportunity but 10 minutes after I had already repented, has the same sensor canon 7d so assured to ISO low noise. It may be good for those who have seen the video screen up but did not seek something special anyway to avoid the I sold a month later to the despair of iso not think it was really well ... never mind !! after her I switched to FF and I solved all my problems with the Canon EOS 6D.
pubblicata da Ciapagnao September 22, 2015
Pros:
weight 18mpx video size
Cons:
all the rest
Opinion:
I used the 60d of friends 3/4 times, did not convince me before, not like now. The two main things that made me curse were: 1) to change the dial of the various types of shooting by manual priority must press a button above. Are we joking? what use is it? maybe I'm too novice to know but it seems one of those things will test your patience. 2. there is a pretty big wheel to turn as we have always done with the 40d and 50d pretty convenient to use to change his diaphragm but it was too easy to let the command nice comfortable where he was needed to force change it so every time you have to change my aperture in manual must Premer button on the top right 'Zoom' and then circling the shutter dial. Utility that will have a similar system? maybe you take a 7D for despair? or probably is an obvious choice from the marketing department of canon or is always me who are beginner and do not understand these technical innovations. Apart from that, theas soon as you pick up the car it looks more like a number than a xxx xx because of plastic, so it is obvious, if you want the magnesium body or 5d 7d but at this point I'm keeping a 600d and 'those who saw themselves as self'. Another downside is that I never liked the swiveling display, will be comfortable there is no doubt, as long as you just have at hand. Also in this case the best 7d. I conclude by listing the positives, or the fact that he does video and 3k.mpx more than 50d. The advice to anyone who is used to very little or those who have a 600d and 60d selling it takes just a few euros more. Absolutely if you have a 50d or 40d Keep it. However a better 50d or 600d (for video) and for those with the availability of budget 7d.
pubblicata da Franc91 February 11, 2015
Pros:
Constructive quality - Ergonomics - Collars and Hotkeys - Upper Display - Display Adjustable - Autonomy - Precision Autofocus - Video Quality - Quality Photo
Cons:
Tenuta High ISO (Over 2000) - Lack Microadjustment AF - Points of Focus
Opinion:
I own the 60D for almost a year, before I had a 1000D and the passage above in ergonomics and practicality of the controls is abysmal, just wield feels that it is not an entry-level body, holds up well the ISO up to 1600, after the quality the picture becomes very, very precise autofocus is a viewfinder that liveview! provided that your optics are correctly calibrated from the house, I would have liked the micro-adjustment af, but until now I have not felt the need, and I wanted more points of focus, not tropical conditions, but I traveled both in conditions of extreme heat or cold, and I have never had a malfunction, very useful the upper display that also has the timer of seconds in the poses in BULB, spectacular autonomy, even with liveview active, always overcome the 1000 shots per charge cycle, and in my sessions and outputs do not pass ever such numbers, so I'll save the weight and the purchase of a battery grip and 2nd battery, very practical also customizable controls, and also the Balanceent of white in CAR is very good, the same with regard to the video function and the main screen adjustable, very convenient for macro photography or in awkward positions where it would be tiring to keep your eye fixed on the screen, to exploit to the full the sensor requires the optics a bit more "valid" of the classic 18-55, overall I am very satisfied and I think I still hold it for 3-4 years ....
pubblicata da Robertodice December 20, 2014
Pros:
Really very good ergonomics, intuitive controls and buttons positioned wisely and functional. Very good image quality and color rendering faithful. Size and weight are right "compromise" between the lower end models and the models PRO. Battery performance. Very useful AF-on button.
Cons:
held at high ISO good but nothing exciting. Absence of magnesium alloy body, while retaining however a feeling (and not only) of robustness. Enabling video mode very uncomfortable since it requires to fully rotate the mode dial.
Opinion:
Overall I am very satisfied with the fotocamera.rnSono was a little disappointed by the performance at high ISO, especially by comparison with other APS-C held recently. The shots are still widely used up to 2000 ISO (of course according to my personal taste and opinion) as long as exposure and shooting conditions are correct. What struck me most positively is the color rendering, which I consider a faithful and pleasant especially if you use software for post production Canon.rnL'ho owner preferred to 70D because at this time of the 60D is new, at affordable rates and I think the camera awkward for video unless you use the equipment supplied for stessi.rnL'assenza joystick for selecting points of focus is not done much regret, since the points are just af 9 (which is sufficient in my opinion for a use not purely "sporting"), so it's easy to move from one to another through the rings or the joypad place within the second ring.
pubblicata da Jamsus November 10, 2014
Pros:
Image quality, good performance at high ISO (as long as we are not pixel-peepers), strength in the hands, layout of controls, adjustable screen, functionality, touch and feel and ergonomics, shutter speed up to 18000, battery really durable dialogue with external flashes, good center focus.
Cons:
No tropical conditions, no AF micro adjustment, auto focus in live view is not very fast, many "average" points of focus
Opinion:
Solid car and very versatile, quality shots and RAW quite good and in burst shooting speed average. I got this machine as a first reflex after several months of 600D on loan and I have to say I am very satisfied. The ergonomics of the machine is more than just an entry-level, the controls are laid out intelligently and you get used just fine. Great menu and LCD provide access to many features in a snap. I can not recommend this machine because now the price is abbordabilissimo. rnrnÈ one of those machines to use and re-use again.
Photos taken with Canon 60D
The sample photos are selected automatically between all photos posted by JuzaPhoto members, using the camera and the lens selected in the techs. If you find evident errors (e.g. photos taken with cameras and lenses that are not available yet), you can contribute to improve the page by sending a private message to the user that has entered incorrect values in the photo caption.