Canon EF 50mm f/1.2 L USM : Specifications and Opinions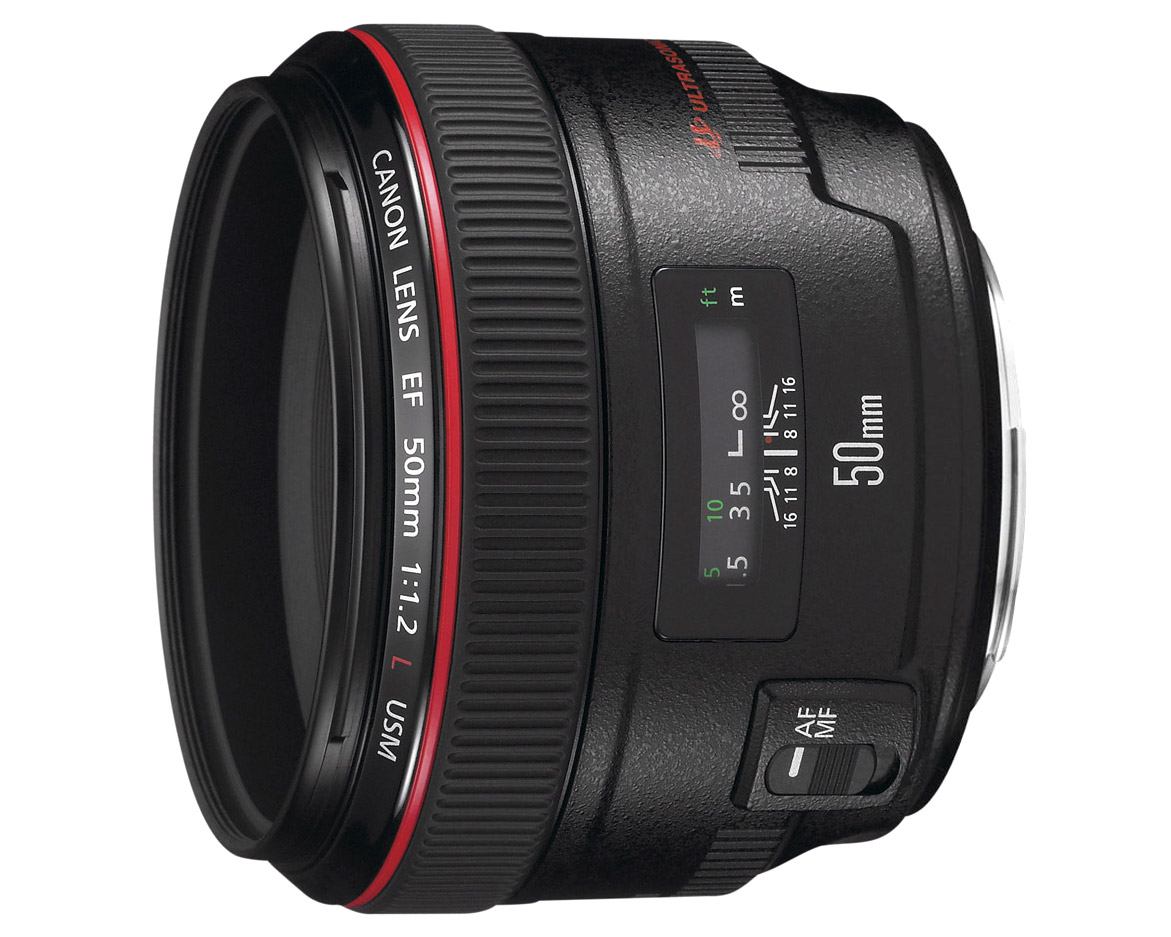 Specifications

Focal lenght
50 mm
Angle of view
46.7°
Max. aperture
f/1.2
Aperture blades
8
Lenses/Groups
8 elements in 6 groups
Min. focus distance
0.45 meters
Reproduction ratio
0.15x



Features

Zoom type
-
Internal AF
Yes
Full Time MF
Yes



Built and notes

Tripod ring
No
Extenders
No
Filters
72 mm
Lens hood
Yes, supplied
Weather sealing
Yes
Weight
580 g
Dimensions
86 x 66 mm

Buy

Canon EF 50mm f/1.2 L USM, buy on B&H
B&H is one of the largest photographic stores in United States. You can find a wide range of products, reliability and great customer care; other than that, by purchasing on B&H you contribute to support JuzaPhoto!


Ads by JuzaPhoto (info)
Reviews
What do you think about this lens?
Do you want add your opinion? You do it by joining JuzaPhoto, it is easy and free!

There is more: by registering you can create your personal page, publish photos, receive comments, join discussions and you can use all the features of JuzaPhoto. With more than 74000 members, there is space for everyone, from the beginner to the professional.
pubblicata da Rednaxela August 04, 2015
Pros:
Pleasing and soft bokeh (rounded aperture blades), very good contast and colors, solid construction, not too heavy, good and usable image quality even wide open, very good and sharp at f/2. The only 50mm lens with f/1.2 (but that's only 1/3 stop brighter than f/4) ;-)
Cons:
Very expensive (compared to other brands), not as sharp as newer constructions form Sigma, visible reddish CAs (but that's part of its typical image look)
Opinion:
much better and sharper than I expected since its image quality was criticised in many tests and forums. Of all Canon 50mm lenses this is by far the sharpest lens between open aperture and f2! With its high contrast, vivid colors and its pleasing bokeh (rounded aperture blades) it delivers very harmonic images. My most used lens for indoor available light photography since I purchased it in 2010. AF is fast but a little slower then most other USM L-Lenses. Solid constuction with weather sealing (if used with filter). But a very expensive lens. Today the new Sigma 50mm f/1.4 ART lens could be the better choice (even sharper and less expensive).
pubblicata da Donagh August 02, 2015
Pros:
Blurred (the best of canon in my opinion), Construction Tropicalized, Yield on tonal transitions, impressive even in ex-f4 f8 etc ... (it is also his "defect"), nice vignette, vintage made for about aberrations
Cons:
It takes a while to acquire the hand "stops" that does not face the slip plane of focus that is smaller than that of a "normal" 50mm even at small apertures due to the abrupt transition between the area in focus and out of focus, always detaches also when you close the diaphragm, some aberration but is a minor flaw ...
Opinion:
Used with satisfaction on 5dm3 for almost two years, a great yield for the environmental portrait, blurred scream, good-excellent sharpness, accuracy af in the servant (better take so with this in mind), made beautiful skin on the girls (in this case a super clear lens does not help), if the environmental portrait is your field, I can only recommend it, I've used the always paired with the 135mm f2. Sold by just requiring a 50mm closed me increases the depth of field for good and light have always below (choosing home canon: 50 1.8 STM), maintaining kit very few lenti.rnrnLo advice! Rnrn (for the same reason in the past I've sold 2 85mm 1.2 mk1 and mk2, were specialized and heavy to carry, to them I preferred the 135mm f2)
pubblicata da Alexmaxfac July 25, 2015
Pros:
Blurred incredible, building L series, tropicalization
Cons:
AF points side
Opinion:
Lens wonderful, my favorite kit, difficult to use in TA but allows incredible effects, the background blends in a fog from which you can make "going out" the subject, closing at F2 becomes "sharp", lost in reliability on AF points side in low light, but to use that I do not care that much ;-))) absolutely recommend it! along with the 135 F2 are permanently attached to camera bodies!
pubblicata da Roberto Di Patrizi July 05, 2015
Pros:
brightness, building, blurred
Cons:
Price challenging
Opinion:
I bought it a few months ago after having long desired. It costs a lot for my pocket. Fetishistic satisfaction of owning it was huge. I use it on 5DMII using it almost always with the center focus point and often wide open to learn to manage it well. It's great, it has a magic all its own. I have only this goal, I have no other, for the time being. But I like it so much that even if I had no other goals would use them. I Think ...
pubblicata da Raf5d3 July 02, 2015
Pros:
Blurred unrivaled speed AF good for the kind of lens, built by L series
Cons:
Some problems with the accuracy of AF.
Opinion:
Excellent lens, outstanding performance, very clear to 1.2 in the central area of ??the frame. The AF is great considering it is a superluminosa lens with auto-focus then you kiss your elbows. The only slight problem is that even on 5dmarkIII the precision AF is only perfect with the central points, as they move their points of focus towards the outside loses precision thus forcing to close the iris also to 3.2 or 4 to have the area in focus. In 1.2 you can use the focus and then recompose only if the subject is a bit 'in there otherwise flab. Lens difficult to use, as well as 85L, but it is a love.
Photos taken with Canon EF 50mm f/1.2 L USM
The sample photos are selected automatically between all photos posted by JuzaPhoto members, using the camera and the lens selected in the techs. If you find evident errors (e.g. photos taken with cameras and lenses that are not available yet), you can contribute to improve the page by sending a private message to the user that has entered incorrect values in the photo caption.