Canon EF 50mm f/1.2 L USM : Specifications and Opinions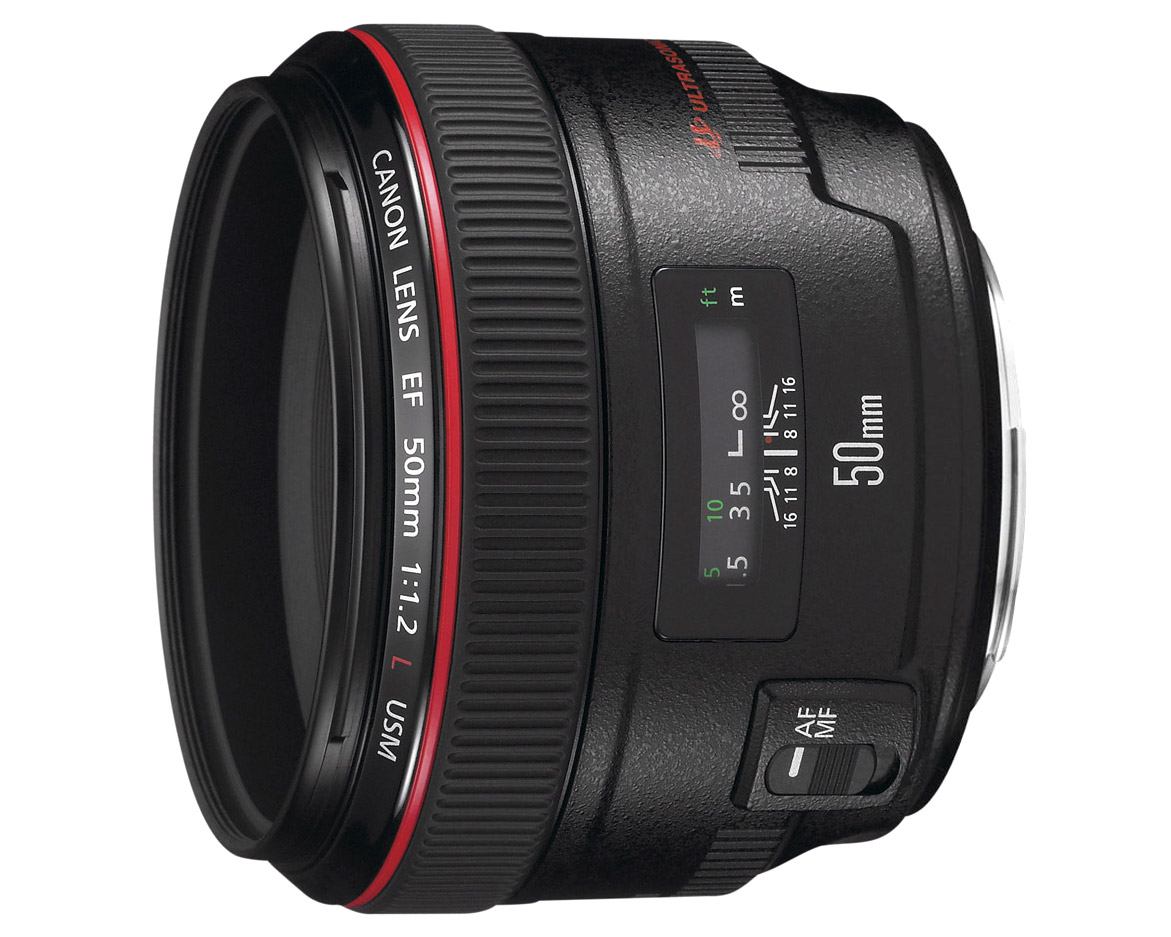 Specifications

Focal lenght
50 mm
Angle of view
46.8°
Max. aperture
f/1.2
Aperture blades
8
Lenses/Groups
8 elements in 6 groups
Min. focus distance
0.45 meters
Reproduction ratio
0.15x



Features

Zoom type
-
Internal AF
Yes
Full Time MF
Yes



Built and notes

Tripod ring
No
Extenders
No
Filters
72 mm
Lens hood
Yes, supplied
Weather sealing
Yes
Weight
580 g
Dimensions
86 x 66 mm

Buy

Canon EF 50mm f/1.2 L USM, buy on B&H
B&H is one of the largest photographic stores in United States. You can find a wide range of products, reliability and great customer care; other than that, by purchasing on B&H you contribute to support JuzaPhoto!


Ads by JuzaPhoto (info)
Photos taken with Canon EF 50mm f/1.2 L USM

Click here
to see sample photos taken with this lens!
Reviews
What do you think about this lens?
Do you want add your opinion? You do it by joining JuzaPhoto, it is easy and free!

There is more: by registering you can create your personal page, publish photos, receive comments, join discussions and you can use all the features of JuzaPhoto. With more than 62000 members, there is space for everyone, from the beginner to the professional.
pubblicata da Riccardogibilterra November 25, 2014
Pros:
Beautiful, massive, bright, fast AF, blurred by fear, handyman (at least for me), L, 1.2.
Cons:
You have to tame it, not coincidentally is nicknamed Talpone.
Opinion:
You can read all the reviews you want, see graphics video test everything you can find on the web, but the advice I give is if you can noleggiatelo and try it, well calibrated the machine taken taken taken and buy it ........ !!! Dream lens, detachment, poetic blurred by fear! The buy back with your eyes closed is worth whatever it costs!
pubblicata da Davide Spedicato November 12, 2014
Pros:
colors, fast and silent AF, three-dimensional image bokeh
Cons:
TA is reliable only with the cross-type points
Opinion:
I bought this lens after reading and re-read everything you can find on the net; what perplexed me was reading about the unreliability of the AF TA.rnIn in fact, the first impact was not much; I tried it in portraiture and the only way to get sharp photos in 1.2 was to reconcile with the central ... with all the other points, the MAF was a stroke of lotto.rnCosì I brought 5DIII and 50one to room service for the calibration of any single point of focus. Now I can finally say it's worth all the money spent and I think is the best 50mm out there ... PROVIDED THAT YOU USE IT WITH A POINT MAF CROCE.rnLo blur is really nice; 1.2 clearly one can not ask for clarity exasperated ... but who buys a goal like it does for other reasons such as its bokeh and the feeling you get by clicking (hard to describe) .rnLo detachment of the plans is spectacular as the tridimensionalità.rnA TA vignetting you see all right but for portraits & egrave; an effect that I do not mind at all ... but ... if there is not often I add it in post.rnSe you can buy it!
pubblicata da Steve Emme October 30, 2014
Pros:
Construction, colors, focus, three-dimensional image
Cons:
Apart from the price, a little too soft at room temperature
Opinion:
I state that I am not a fetishist of the optics so that, after having had several 50 (1.4 Canon, Sigma EX 1.4, 1.4 sigma series art), I decided to try it to see the performance. The 50 is the lens I use the most in assoluto.rnAlla I finally gave up and I'm loving it:) rnOttica great for the type of photography that belongs to me (portrait and fashion), beautiful colors, beautiful rendering of the complexion, focus fast and accurate, three-dimensional. It is not a "blade" as the sigma 50 f 1.4 series art, but I took it on purpose because the softer and made of special focus, allow me to have pictures more easily lavorabili.rnE 'view that scales well with the camera body, very strong but not pesante.rnA f2 sharpness, of course taking into account opening is very good, since f4 becomes exceptional. At f 1.2 and F1.4 do not have to wait for clarity as that of the sigma art: if you shoot a full-length and you go to look at the eye is enlarged to 100% forperfectly definito.rnCome said by some, suffers from chromatic aberration, but is easily removed with a simple adjustment ps.rnDetto this, I finally have found the right 50 and I hardly separerò.rn
pubblicata da Matteo Bertulessi October 23, 2014
Pros:
F1.2, speed of MF, light tropicalizzazzione
Cons:
price, plasticky construction, tropicalizzazzione not adequate cost
Opinion:
Extremely disappointed with this objective, after years and several research (internet, trade fairs, magazines, and acquaintances who said lens) I was perhaps influenced by the fact reviews made, or the craving to have what for many is the "OBJECTIVE" I bought it but after a few months sold, according mè not worth the money that they charge, competing brands at half the price they do best, I repeat € 1,200 / 1,300 for this purpose are troppiii.
pubblicata da Nordend4612 September 17, 2014
Pros:
Blurred unique, brightness, focus, sharpness, weather sealed, built for me .... and also the focal!
Cons:
Price and .... I do not have it!
Opinion:
I have this goal 6 months and I feel I've let my first impressions are so excited! Really agree with what is written in the previous reviews that the only cons is not having it! RnL'ho bought it as a personal gift for the arrival of my daughter; I came more than four years of 50mm f1.8 (used both on aps-c that on FF) and after trying to fine the 50mm f1.4 in a workshop.rnChe say? I have read and studied everything on this objective by turning on the internet. Heard assessments and adventures / misadventures of all kinds, made every type of evaluation and then I threw up. I love the 50mm focal length on FF, and based on the logic (very personal) that it is better to take a few good goals but I evaluated to stake everything on a fixed quality (albeit expensive) but that I liked, rather than have three of medium quality .rnInizio by trying to answer the question on everyone's mind when assessing this goal or whether it is worth spending four times more than the f1.4 version or even twelve times more respect to the f1.8 version. For my personal assessment, yes, indeed. Let me explain my reasoning: the 50mm f1.8 I always found sufficiently clear, even at full aperture and with a blurred acceptable but the AF, especially on aps-c left a lot to be desired and it was still slow; with 50mm f1.4 USM I found the (very important and real big difference with the younger brother) and always a good yield at wide apertures, but the images in the TA found little contrast and slightly veiled while the bokeh was more agreeable with brother f1.8 aperture; the 50mm f1.2 instead is great at room temperature (not a pixel-peeper, absolutely, but it is as clear as the other lenses I have, if not more) and close more and more better, keeping intact a beautiful chromaticity and loyalty colors as well as a bokeh unico.rnNon agree then who says that is a goal that has meaning only when used in TA? .assolutamente, if you take it is to have not only the third stop in the most but also for the surrender of large apertures (f2.8 fromand over) and for maintaining a unique style for each color and bokeh diaframma.rnCapitolo AF: I use it on the 5D, so its not a thunderbolt of war and incredible ... well with the side! Honestly I did not notice a deterioration in the functioning of the AF TA compared to younger siblings?'d Say it's equal, if not better, the 50mm f1.4 used both at RT. It also works with the side, well, if it does not hook because he would not do even with other versions in my opinion. It helps a lot to use the flash with infrared .... there is really hard're wrong focus. From my brief experience though, if you fail a shot most of the time it is due to the difficulty of managing a shallow depth of field. With this lens is very important to manage the distance from the subject to have the face or both eyes in focus ... is the lens for portraits prince ambientati.rnAggiungo also a goal that is weather sealed, heavy right and well built, as well as well salable on the market. Onlla sharpness I can say that it is not like the 135L f2 but more like the 70-200 F4L for me .... absolutely valida.rnRiassumendo, if you like the 50mm focal length is a goal not to be missed because it offers really unique shots and that you do not can be achieved with the younger siblings. Spending has also more than makes sense if we look for a fixed lens quality that can also serve as a handyman and can give us the shots that stand out ... if your budget does not allow it or if the focal length we like but we already meets the version F1.4 fall for on your feet with this latest version that is worth far more than it costs.
Lens comparison
You can select up to three lenses to compare with Canon EF 50mm f/1.2 L USM.


Usato in vendita

Sono presenti degli annunci di vendita per questo obiettivo nel mercatino vendo/compro di JuzaPhoto.
Photos taken with Canon EF 50mm f/1.2 L USM
The sample photos are selected automatically between all photos posted by JuzaPhoto members, using the camera and the lens selected in the techs. If you find evident errors (e.g. photos taken with cameras and lenses that are not available yet), you can contribute to improve the page by sending a private message to the user that has entered incorrect values in the photo caption.