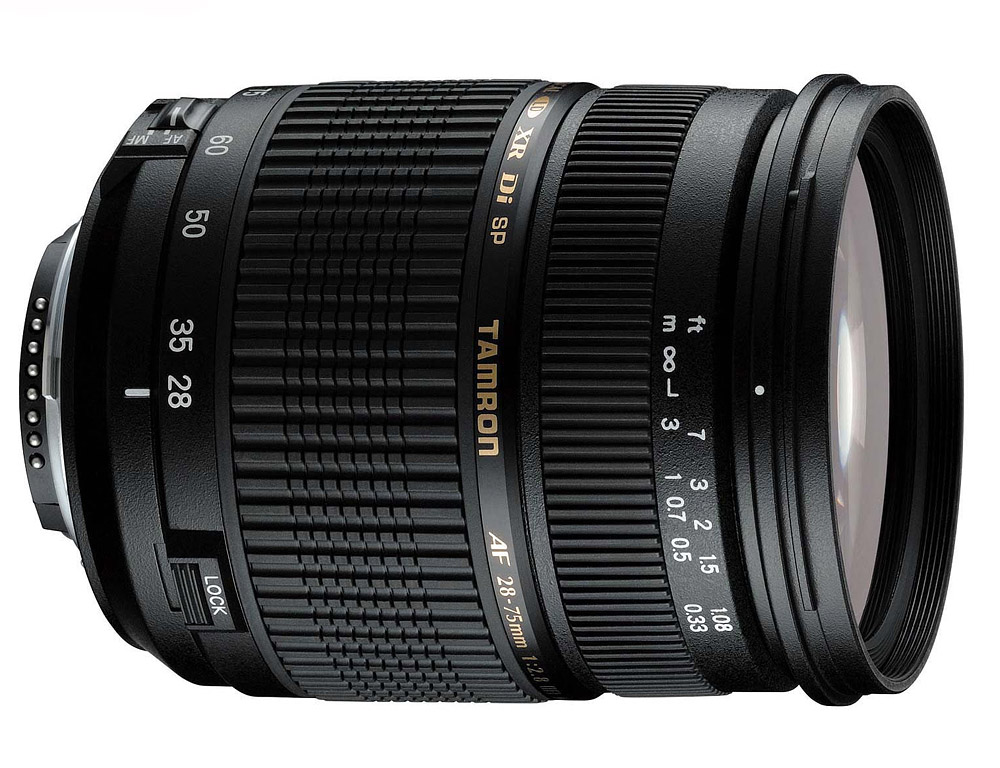 Specifications

Focal lenght
28-75 mm
Angle of view
75.4 - 32.2°
Max. aperture
f/2.8
Aperture blades
7
Lenses/Groups
16 elements in 14 groups
Min. focus distance
0.33 meters
Reproduction ratio
?x



Features

Zoom type
Ring, external
Internal AF
Yes
Full Time MF
No



Built and notes

Tripod ring
No
Extenders
No
Filters
67 mm
Lens hood
Yes, supplied
Weather sealing
No
Weight
510 g
Dimensions
73 x 92 mm
Photos taken with Tamron 28-75mm F/2.8 XR Di LD

Click here
to see sample photos taken with this lens!
Reviews

The opinion of JuzaPhoto members that own this lens. If you have the Tamron 28-75mm F/2.8 XR Di LD, you can add your opinion!
What do you think about this lens?
Do you want add your opinion? You do it by joining JuzaPhoto, it is easy and free!

There is more: by registering you can create your personal page, publish photos, receive comments, join discussions and you can use all the features of JuzaPhoto. With more than 25000 members, there is space for everyone, from the beginner to the professional.
pubblicata da Budi Haryanto May 20, 2012
Pros:
the glass is superb for portrait; lightweight for walkaround; less expensive with great price/quality;
Cons:
slightly focus hunting in lowlight; low build quality
Opinion:
If you are not specialist in wedding or important portrait reportage, this lens is perfect for you. The glass, I bet, is exactly on a par with another luxurious 24-70 L lens. When you combine with a crop camera for walk around all day long photo activity , with total weight lens + camera less than 1 kg, it won't make your neck suffer and you'll get satisfaction with the result. Check it out in my short review - http://www.budiharyantophoto.com/2012/02/tamron-28-75mm-f28-sp-xr-di.html
pubblicata da Mago77 September 29, 2011
Pros:
bright, good value for money
Cons:
af slow, long lens for APSC, too soft to 2.8
Opinion:
A good lens that I bought second-hand. It amuses me because it is very light making it possible to reduce the depth of field, the focal length is not optimal for the APSC (on canon equivalent to a 45-120). At full aperture is a bit 'too soft but just close a stop sign and gives good details. The focus is internal, so as not to rotate the front lens and the construction looks solid. Unfortunately, the autofocus is slow and does not have full time manual focus.
pubblicata da Federicoz October 03, 2011
Pros:
Price, quality of the blur, sharpen
Cons:
Slow and noisy AF, build quality is not excellent
Opinion:
On APS-C is a bit 'long when used as primary optics when used with a 10-20/22 can be part of a camera kit. THE build quality is not up to canon, even the series USM, plasticky and games, but returns good images, copy in my possession at the minimum focus is sharper than a canon 24-70 I had, but resists slightly flare, and many times moving shots loses focus. On a FF (21mpx) the use as optical all-around, with excellent results
pubblicata da Alemalva October 25, 2011
Pros:
bright, minimum focusing distance, price, quality lens
Cons:
unusable wide open, system focus embarrassing to say the least, lack of adjustment to manual focus when in autofocus
Opinion:
It 'a goal that has a quality / price ratio very good, I bought it for 2.8 hours but I must say that TA is so soft that the pillow where I sleep in comparison is made of marble! However, some closing stop the lens becomes a real blade, made amends abundantly its softness and its motor (ino-ino eh!) Focus: slow, noisy and inaccurate (especially in the absence of a good deal of light). It's not really macros, but has a minimum distance that you can still make decent enlargements. Summing up I can recommend it, as long as there are weapons of patience ... My vote is seven
pubblicata da Preben Elkjaer December 17, 2011
Pros:
Value for money, color rendering, minimal distance of focus, clear if closed at least one stop
Cons:
Too soft to 2.8 hood very plasticky.
Opinion:
It 'a lens, good value for money, clear closed if at least one stop: a 2.8 is too soft, but it definitely improves already f.4 to become really very good from 5.6 onwards. Beautiful color rendering, similar to the 24-70: Tamron tends to saturate less the image. The AF on my 5D II works well: of course not as reactive as a USM, but it is quite accurate and I have not found it ok. Thanks to its magnification and if you have special demands, can partially compensate for the absence of a Macro. Dignified the construction, even if the hood is too plasticky. In short: if you do not pretend sharpness at 2.8, is a good alternative to the Canon 24-70 especially considering it costs only a fraction (1/3) of the same.
pubblicata da Francy20287 October 10, 2012
Pros:
brightness - quality / price ratio -
Cons:
Having regard to the price you can only criticize the hood too plasticky, lack full time manual focus
Opinion:
paid 350 euro in physical store, I took away a lot of satisfaction, soft at the edges wide open becomes a blade closing of a one-stop, from the best of at f8, construction and strong enough when used on APS senori C-need to bundle it with a good wide angle, unfortunately in backlit conditions resistance to flare is not a reference, excellent color rendering
pubblicata da Nicolas74 November 09, 2012
Pros:
bright, good blurred the minimum distance of focus, light handy, good quality and price.
Cons:
slightly soft at f/2.8
Opinion:
I took this as the first Tamron lens for my Nikon D7000 Body at first I was a little puzzled not finding opinions and discussions where there was talk of this lens then when I decided to take it I realized its potential you can not help it not recommended for both quality and price bargain luminoso. crystal clear and none to envy targets Nikon.
pubblicata da Ch3m December 05, 2012
Pros:
Good sharpness, brightness and price
Cons:
Autofocus noisy
Opinion:
A great lens especially for the value for money. APSC of 28 mm are long, but the range of focal lengths is great for street, wide open allows you to get great portraits even though it is a little soft. The color rendition in my opinion is good and the internal focusing facilitates the use of polarizers. Lacks the full time manual focus and zoom tends to themselves when hung on the neck if you do not get stuck with the lever. Overall a good lens that makes her figure even on FF.
pubblicata da Xisidoro March 26, 2013
Pros:
Image quality, macro, brightness, price
Cons:
Feeling a little plasticky, focus a little strange on aps-c
Opinion:
Some critics focus slow, but I've never seen as a problem. Beautiful blurred, excellent image quality, excellent color rendering, bright and can also be used as a macro (ok is not 1:1 but is comfortable in many situations). Sold only uncomfortable because of aps-c but the pass to the FF riprenderei the fly.
Lens comparison

You can select up to three lenses to compare with Tamron 28-75mm F/2.8 XR Di LD.
Photos taken with Tamron 28-75mm F/2.8 XR Di LD
The sample photos are selected automatically between all photos posted by JuzaPhoto members, using the camera and the lens selected in the techs. If you find evident errors (e.g. photos taken with cameras and lenses that are not available yet), you can contribute to improve the page by sending a private message to the user that has entered incorrect values in the photo caption.