Canon EF-S 17-55mm f/2.8 IS USM : Specifications and Opinions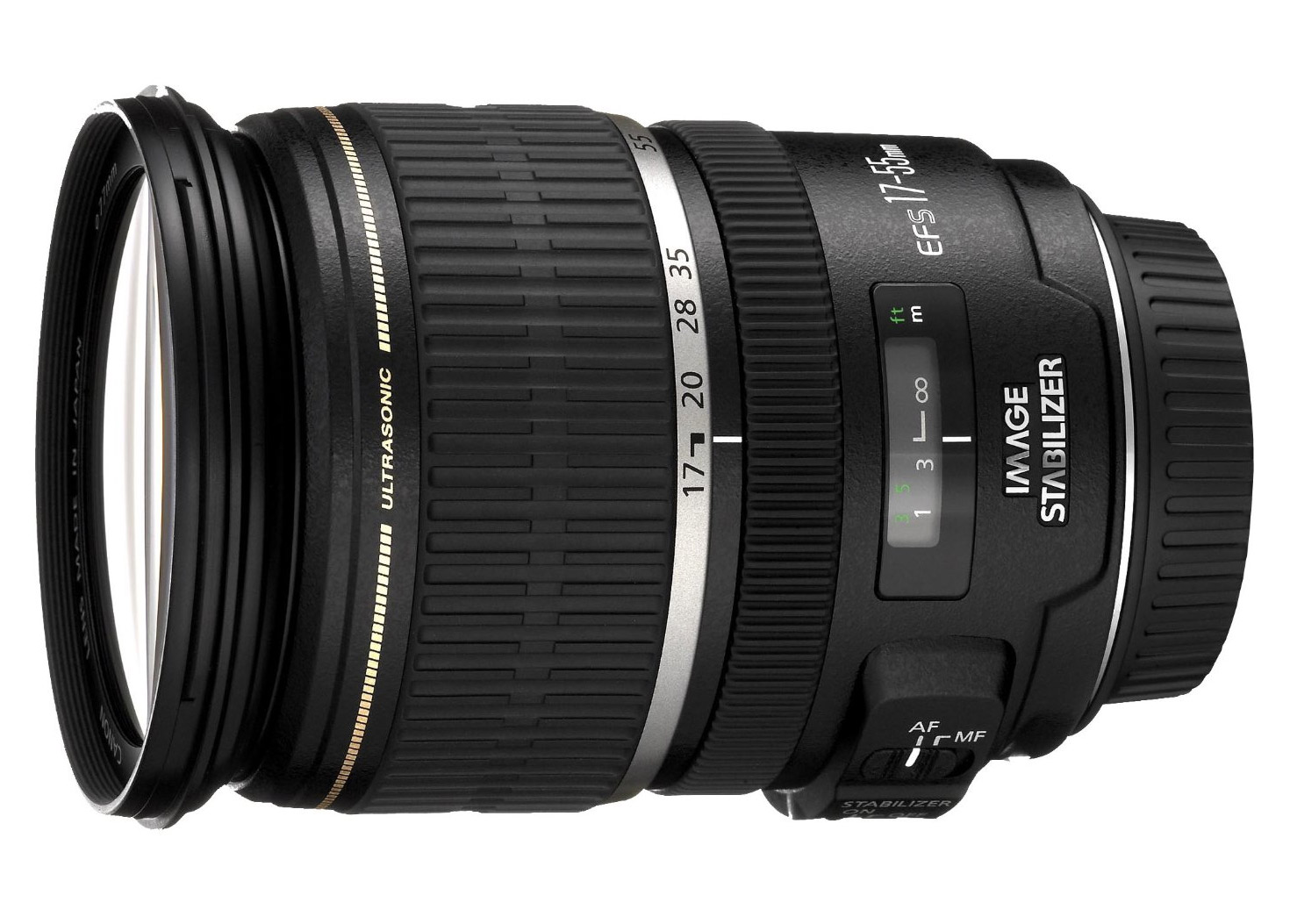 Specifications

Focal lenght
17-55 mm
Angle of view
76.3 - 27.3°
Max. aperture
f/2.8
Aperture blades
7
Lenses/Groups
19 elements in 12 groups
Min. focus distance
0.35 meters
Reproduction ratio
0.17x



Features

Zoom type
Ring, external
Internal AF
Yes
Full Time MF
Yes



Built and notes

Tripod ring
No
Extenders
No
Filters
77 mm
Lens hood
Yes (not supplied)
Weather sealing
No
Weight
645 g
Dimensions
84 x 111 mm


Ads by JuzaPhoto (info)
Reviews
What do you think about this lens?
Do you want add your opinion? You do it by joining JuzaPhoto, it is easy and free!

There is more: by registering you can create your personal page, publish photos, receive comments, join discussions and you can use all the features of JuzaPhoto. With more than 92000 members, there is space for everyone, from the beginner to the professional.
pubblicata da Pauloneves555 August 31, 2012
Pros:
sharpness, speed, detail, f: 2.8, lightness
Cons:
only serves to cameras with aps-c sensor, could be firmer in the front segment (fluctuates a bit when in 55mm)
Opinion:
this is my lens of choice for travel photos, portraits, nocturnal, architecture, for any service. Mounted on my Canon EOS 50D produces a set of very high quality and performance. The only thing it lacks to be an L series lens is the red stripe, but also did not make sense to Canon to produce an EF-s series lens as a L series. In all the features it provides the lens-end to users of sensor APS-C.
pubblicata da Carlo V January 08, 2016
Pros:
Sharpness, 2.8 at all focal lengths
Cons:
Color rendering a little 'cold
Opinion:
I used both of which Canon 60D 7D. Bought used 400 Euros. Previously I had the Tamron SP AF 17-50mm F / 2.8 XR Di II (bought used 190 euro). Compared to the Canon Tamron it is generally sharper especially in light conditions the most critical (sunset). Good sharpness already in TA that becomes truly remarkable to F / 5.6 and f / 6.3. A fall of sharpness, a bit 'of vignetting and a certain bias is often at the edges in a particular way to 17 mm and in a much more negligible climbing focal length. These defects are most apparent with respect to a optic for full frame mounted on APS-C because this lens has the lens diameter designed for reduced size (EF-S). I noticed that things improve enough closing the aperture (F / 14 to 17 mm more) and of course with intervention in PP. I think that is the real all-rounder for anyone who has an APS-C with an effective focal comes to 88 mm, and if bought used has a great value for money. Focus fast and quiet with the possibility of intervening moremanually. The front lens tends to suck a little 'dust, but this does not affect any surrender in photographs. The construction of the discrete I think (not a series L). Of course if you use the hour for 70 to 200 2.8 L by mounting this seems to have in hand a toy, but it's just a feeling, compared to Tamron feelings of strength in the hand are more or less identical (the Canon is still a bit 'heavier). I do not even particularly useful the presence of the stabilizer for these focal lengths. Unfortunately this is not the hood as standard. The color rendering tends to be a bit '"cold" but these are personal tastes. Defined in I recommend it absolutely will be amazed by its sharpness and hardly hooked by the SLR. 9 vote.
pubblicata da Mazzo62 September 20, 2015
Pros:
Optical quality, AF, stabilizer
Cons:
Mechanical construction
Opinion:
I had two copies of this perspective: nothing to say about the quality of the glass, the AF and the stabilizer, but much to say about the building: rn1) the quality of the material is unsatisfactory, especially the plastic cylinder that comes out when lengthens the focalern2) for hobby I used even in the rain, and in both specimens after a period (not too long) of use in these conditions has formed the condensate below the front lens, forcing to give up shooting until all 'drying ... I asked canon and I was told that is normal, not a series L.rnPersonalmente not approve of this marketing choice: because a body of quality and performance as well as the 7D MkII can not adopt a view Basic height? rnHo solved the problem by switching to FF, although I was tempted to go down to normal use concorrenza.rnComunque recommend
pubblicata da Riccardomelzi September 11, 2015
Pros:
Bright, crisp and clear TA, excellent stabilizer. I think the best solution for APSC. For what it offers cheap.
Cons:
Enter a lot of dust.
Opinion:
I had this lens for two years on 40D and I must say that I have almost never detached. The image quality is excellent: I can say calmly, comparing shots, that 17-55 is much sharper than the 24-70 TA 2.8 The first series that use of 5D MkII (which, however, has other qualities, of course) . If I could choose I would be very uncertain ... but unfortunately you can not use on FF! Stabilizer exceptional, in my gallery is a night view taken in 1/8 freehand, there is nothing else to add. Defects: color my taste a little chilly, blurred not up to the 24-70, imagine a little "hard", I would not know how to explain myself better: it lacks a bit of "atmosphere" compared to 24-70, but remains 2.8 , to my taste much better -for example- of L. 24-105 E 'a vacuum cleaner, steam-cleaned 2 times in 2 years. Still great, straconsigliato. Will revive your old APSC: try it beforechange camera, you will not regret!
pubblicata da Echopage June 01, 2015
Pros:
Sharpness, brightness, IS, AF, full time manual focus,
Cons:
Price, not including lens hood, vignetting, weight
Opinion:
Outstanding optical quality, already at full aperture is very clear, and diaframmando become razor sharp even at the edges, the autofocus is impeccable and extremely quiet, the build quality is not great, but it's well-made plastic, decent but not outstanding resistance to flare. On balance it is one of the best lenses specific for APS-C, perhaps the only Sigma 18-35 is superior, but pays the reduced focal range. Compared to my "old" Tamron 17-50 are on another planet has the Tamron AF of a tractor (both in terms of slowness that noise) the Tamron 2.8 is just enough over the edge and you diaframmarlo f4 to have edges decent. The price is a little high in relation to the fact that you do not give it bag it hood and the weight is not from dragonfly! But for the rest it is to be recommended as an upgrade to the sigma / Tamron 17-50!
Photos taken with Canon EF-S 17-55mm f/2.8 IS USM
The sample photos are selected automatically between all photos posted by JuzaPhoto members, using the camera and the lens selected in the techs. If you find evident errors (e.g. photos taken with cameras and lenses that are not available yet), you can contribute to improve the page by sending a private message to the user that has entered incorrect values in the photo caption.