Canon EF-S 17-55mm f/2.8 IS USM : Specifications and Opinions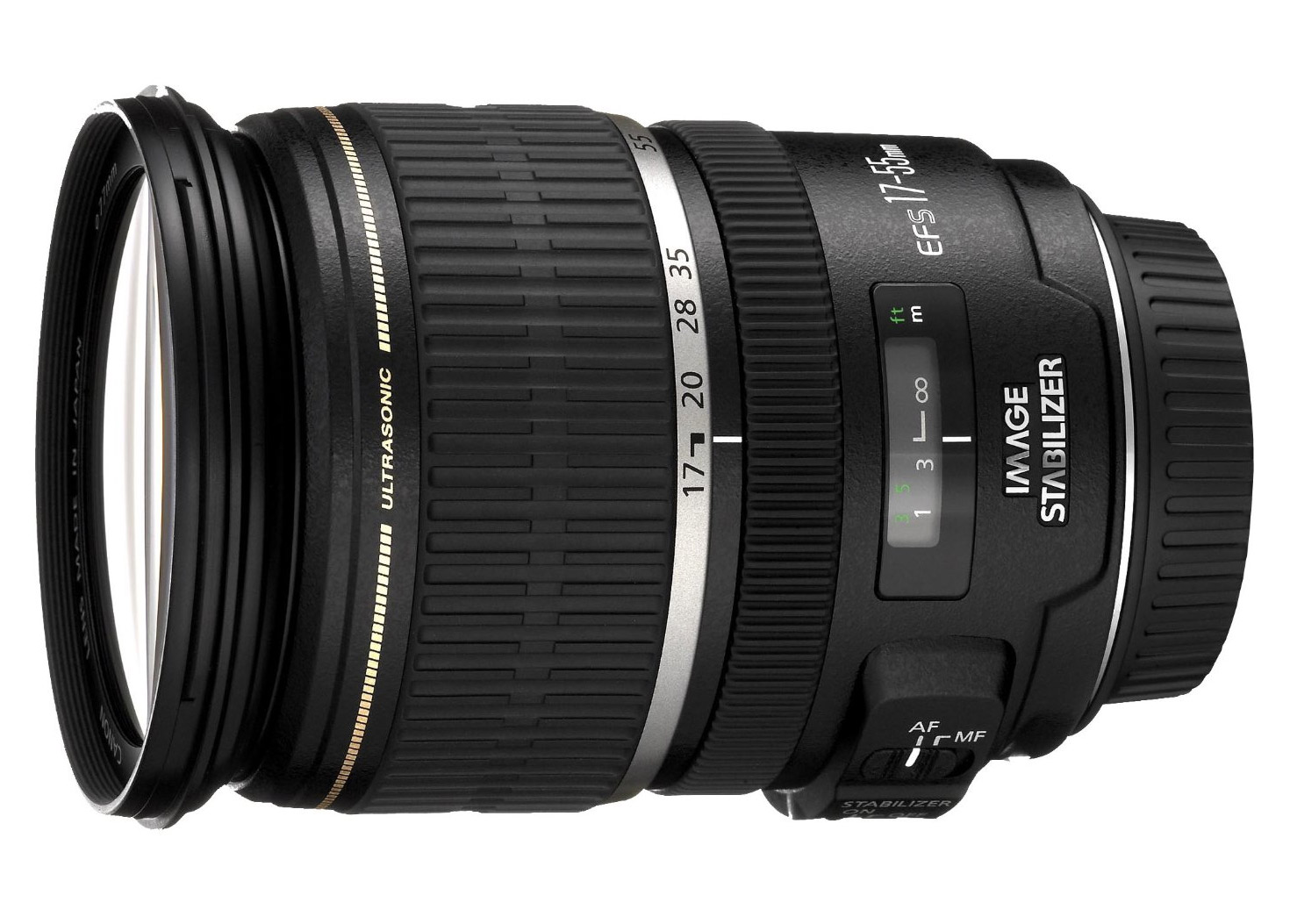 Specifications

Focal lenght
17-55 mm
Angle of view
77 - 27.6°
Max. aperture
f/2.8
Aperture blades
7
Lenses/Groups
19 elements in 12 groups
Min. focus distance
0.35 meters
Reproduction ratio
0.17x



Features

Zoom type
Ring, external
Internal AF
Yes
Full Time MF
Yes



Built and notes

Tripod ring
No
Extenders
No
Filters
77 mm
Lens hood
Yes (not supplied)
Weather sealing
No
Weight
645 g
Dimensions
84 x 111 mm

Buy

Canon EF-S 17-55mm f/2.8 IS USM, buy on B&H
B&H is one of the largest photographic stores in United States. You can find a wide range of products, reliability and great customer care; other than that, by purchasing on B&H you contribute to support JuzaPhoto!


Ads by JuzaPhoto (info)
Photos taken with Canon EF-S 17-55mm f/2.8 IS USM

Click here
to see sample photos taken with this lens!
Reviews
What do you think about this lens?
Do you want add your opinion? You do it by joining JuzaPhoto, it is easy and free!

There is more: by registering you can create your personal page, publish photos, receive comments, join discussions and you can use all the features of JuzaPhoto. With more than 64000 members, there is space for everyone, from the beginner to the professional.
pubblicata da Pauloneves555 August 31, 2012
Pros:
sharpness, speed, detail, f: 2.8, lightness
Cons:
only serves to cameras with aps-c sensor, could be firmer in the front segment (fluctuates a bit when in 55mm)
Opinion:
this is my lens of choice for travel photos, portraits, nocturnal, architecture, for any service. Mounted on my Canon EOS 50D produces a set of very high quality and performance. The only thing it lacks to be an L series lens is the red stripe, but also did not make sense to Canon to produce an EF-s series lens as a L series. In all the features it provides the lens-end to users of sensor APS-C.
pubblicata da Dany1960 March 17, 2015
Pros:
brightness,
Cons:
price, not the hood, still do not understand if you have problems with the stabilizer
Opinion:
woods, I would ask who owns this goal (canon 17 55 f.2,8), it happens that when I focus any object the middle square (use only a small square in the center) just moves down the left, and remains there until, or snap a picture, or at least leave the shutter button to return to where it was before. the shift is slight, but the other four goals I have this not happen, of course, happens when I entered the stabilizer (with stabilizer off this does not happen) I happen also that taking such openings under f.4,0 I often blurry image I think there is a relationship between the two, perhaps focusing say, an eye with openings f.2,8 / 3.2 having a shallow depth of field the small shift can focus on the nose, giving me the fuzzy feeling on your face. I say this because when I click over f.4,0 / 5.6 I have pictures more 'focused. if someone can tell me something, thanks
pubblicata da Dani1891 July 27, 2014
Pros:
Opening, quick focus.
Cons:
Although well built, at the end and 'plasticky. Vignetting. Footprint significantly.
Opinion:
Used on 70d. rnrnMigliorato the feeling after a calibration of AF. Starting to look like what other users descrivono.rn The perception of quality 'constructive' and penalized by the fact that 'plastic, finished well, but still plastic'. Costa enough to expect more ', also another piece of plastic could mettercelo canon (the hood) they would cost a pittance, but the desire to make a profit on the sale to the exorbitant cost of the same is' turn up and naso.rnComunque 'bright and stabilized, this makes it usable in many circostanze.rn
pubblicata da Maxphotoparker February 20, 2014
Pros:
All!
Cons:
I do not think he has
Opinion:
I have used and enjoyed, this lens for over a year. In my opinion he deserves the L without a shadow of a doubt. They make me smile "counter" that many have listed: RN1) will not fit ff (that 's why it's called EF-S!!) RN2) stretches during zooming (even the 24-105 and 24 -70 do and are and have been the delight of thousands of photographers nonostant what!) RN3) plasticky construction (are we really sure that ALL L are metal?) RN4) and not 'weather sealed (even many L "white "I am everywhere and yet we are working without problems) RN5) Price (tell me if you Canon or Nikon at home is something Aperture 2.8 and stabilized with a range of focal lengths similar at a better price) rnParlando serious things (and not discussing the sex of angels) in my opinion, and 'a great goal! focal range that allows you to do a lot of things. A very bright aperture, sharpness already at 2.8 that few have and a stabilizer that does its job well. What can you ask for more in a perspective??? RnIo recommend it to all owners of machines aps-c looking for a proproduct quality to use for sempre.rnLo I sold the 17-40 f4 L USM (very good lens) and gave me the most satisfaction of 17-55 ONLY when I needed a focal length of 17 FF. For ALL other applications (street, prtraits, reportage and travel) I regret to have that wonderful vebduto 17-55 IS USM!
pubblicata da Diego.armando.parafango January 07, 2014
Pros:
sharpness, brightness, stabilizer, versatility
Cons:
weight, price, building, distortion at the edges, flare
Opinion:
I use it for about a year with great satisfaction, 95% perfect clean images and razor sharp images, excellent brightness and is also an all-rounder that lends itself to many uses from landscape to portrait, the street and another, and the 2.8 "is help shots in low light even freehand, good seal on the market of "usato.rnPer known as rigurda the mourners are the price in relation to construction (plasticky) is very high, the weight that is remarkable, that the flare is exaggerated I really suffer a lot, and in my case I find excessive distortion at the edges. rnrnNel whole I am satisfied of the "purchase, unfortunately if one day you decide to switch to FF you are forced to sell
Lens comparison
You can select up to three lenses to compare with Canon EF-S 17-55mm f/2.8 IS USM.


Usato in vendita

Sono presenti degli annunci di vendita per questo obiettivo nel mercatino vendo/compro di JuzaPhoto.
Photos taken with Canon EF-S 17-55mm f/2.8 IS USM
The sample photos are selected automatically between all photos posted by JuzaPhoto members, using the camera and the lens selected in the techs. If you find evident errors (e.g. photos taken with cameras and lenses that are not available yet), you can contribute to improve the page by sending a private message to the user that has entered incorrect values in the photo caption.