Publish your advertisement on JuzaPhoto (info)
Sigma 12-24mm f/4.5-5.6 EX DG HSM Review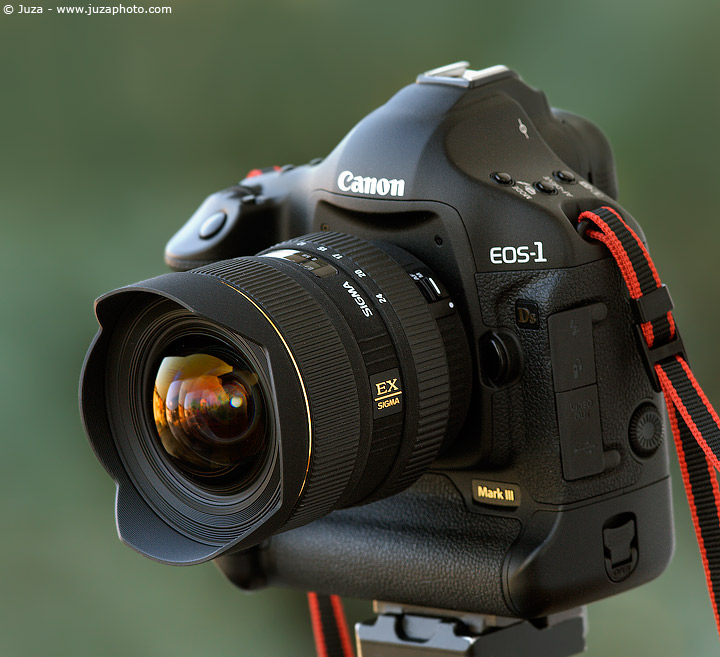 You may be surprised to discover that I use a relatively cheap ($700) Sigma lens for my 1Ds3. But the Sigma 12-24mm f/4.5-5.6 EX DG HSM is a truly unique lens: it is currently the widest rectilinear wide-angle for fullframe, at 12mm, it gives an amazing angle of view of 122 degrees! By comparison, the widest wideangle zoom of Canon, the 16-35 f/2.8 II, has "just" an angle of view of 107 degrees - an huge difference, that has led me to choose the Sigma.
&nbsp
Lens Specifications
| | |
| --- | --- |
| | |
| Focal length | 12-24 mm |
| Lens construction | 16 elements in 12 groups |
| Number of Diaphragm Blades | 6 blades |
| Angle of view | 122.00º - 84.10º (on 35mm camera); 102.80º - 64.18º (on APS-C camera |
| Max. Magnification | 1:7.1 |
| Maximum Aperture | f/4.5-5.6 |
| Minimum Aperture | f/22 |
| Image stabilization | No |
| Autofocus | Motore ultrasonico interno (ring-type USM) |
| Full Time Manual Focus | Yes |
| Closest Focusing Distance | 0.28 metri |
| Filter size | Filtri in gelatina, montatura posteriore |
| Dimensions (Diameter x Length) | 83 x 100 mm |
| Weight | 615 g |
| Weather sealing | No |
| Price | $ 700 |
| Announced | 2003 |
| Accessori | Rear cap, Front cap, lens case. |
&nbsp
Description
The 12-24 has the built quality of the best Sigma EX lenses: it feels very sturdy, even tought it is not on par with the most recent Canon L lenses, as the 24-105 L IS. It has the classic black matte finish of Sigma professional lenses - very nice, but not very resistant...with time, it shows clearly the wear. It lacks of weather sealing; nevertheless, I have used it even under the rain or in difficult environments without any problem (only the finish shows some signs of wear).
The body of the lens is quite big (clearly bigger than Sigma 10-20 or Canon 17-40) and it has a very peculiar front element, that is protected by the fixed lens hood. The ring closer to the camera body is the zoom ring, while the ring closer to the lens hood is the focus ring: they are a little stiff, but that's OK in this kind of lens, the slight stiffness assures that you don't move the zoom or the focus unintentionally. The lens does not extend during zooming: a nice plus, that partially compensates the lack of weather sealing.
Next to the lens mount there is the AF switch. Even though I use almost always this lens in manual focus, it has the excellent Sigma HSM (ultrasonic) AF motor with full time manual focus, that ensures fast and quiet AF. Of course, the lens does not extend durin focussing, nor it rotates the front element: all the focus operation are internal.
On the rear of the lens, it is possible to mount Gelatin-tipy filter - they are more awkward than the classic filter, but the exceptional angle of view and the very convex front element of this lens make impossible to use the standard front-type filters. That said, I am not a fan of filters so this is not a big problem for me.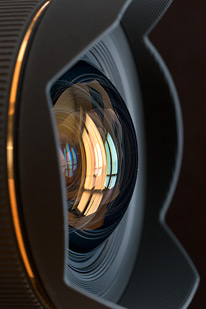 &nbsp
Similar lenses (for Canon EOS)
The
Canon 16-35 f/2.8 II
is the widest zoom in the Canon lineup. In comparison with the 16-35, the Sigma has some disadvantages: the image quality is no as good; it is 1 stop darker at the wide end and 2 stops darker at the tele end; it is not weather sealed. On the other and, the difference in terms of angle of view is so big that I've choosen the Sigma instead of the professional Canon 16-35, and I am really happy of my choice. Honestly, even if Canon announced a 12-24 f/2.8 L, I think that I'd stick with the Sigma - it is much cheaper than any f/2.8 professional wide-angle and it offers a fantastic price/performance ratio.
I did not considered the
Canon 14mm f/2.8 II
: it is still not as wide as the Sigma; it has not the versatility of zoom (that I consider very important for landscapes) and, more important, it is ridiculously overpriced - I'd never pay $ 2,100 for this lens, knowing that Nikon offers an outstanding 14-24 f/2.8 zoom, that is razor sharp even at f/2.8 in the corners, at $ 1,800!
The awesome
Nikkor 14-24mm f/2.8 G
is the only lens currently in production that comes close to the Sigma 12-24. It is possible to mount it on Canon EOS with the new Nikon G - Canon EF adapter, but honesly if you have a Canon I don't think that it is worth the effort. If you have Nikon, instead, the 14-24 is an interesting alternative to the Sigma: if you want the truly best image quality, and the higher price and higher weight are not a problem for you, the Nikkor 14-24 is the right choice.
&nbsp
Image Quality
Remember that you can easily adjust color, distortion, chromatic aberration and vignetting with Photoshop; even though I list every aspect of image quality I don't consider these aspects as important as the other three that can not be corrected with Photoshop (sharpness, contrast and flare). You can enhance a little sharpness and contrast with PS, but the results are not as good as a photo taken with a lens that is sharp and contrasted.
| | |
| --- | --- |
| | |
| Sharpness | If you get a good copy, the sharpness is excellent from corner to corner, even wide open at f/4.5. A truly impressive performance considering the focal length of 12mm! |
| Contrast | the contrast usually is quite good, but it may be lowered my flare, if you photograph bright subjects. |
| Color | it tends to give a slight yellow cast, but you can easily get the colors that you want with Photoshop. |
| Flare | since this lens has a very convex front element and almost no hood, it is a little more prone to flare than less extreme wide angles. That said, even when I photograph sunrise or sunset, the flare is not nearly as bad as with the 24-105. |
| Distorsion | the Sigma 12-24 is nothing short of outstanding - it has zero distorstion; in this respect it is way better than Canon 17-40 and still better than 16-35! |
| Chromatic aberration | the CA is really low (it has much less CA than some Canon L lenses); the slight CA can be easily corrected with PS. |
| Vignetting | it shows a little of vignetting at f/4.5, that quickly disappears from f/5.6. |
The image quality is really good, considering the low price and the extreme angle of view. That said, keep in mind that there is some sample variation - my first copy was very soft in the corners even at f/16, while this copy is super sharp from corner to corner.
&nbsp
In-depth look: Field of View, the difference between 12, 14 and 16mm
What makes the Sigma 12-24 a truly unique lens is its extreme angle of view. The following image compares the field of view that you get with a 12mm, with a 14mm (as the Nikkor 14-24) and a 16mm (as the Canon 16-35). The difference is huge!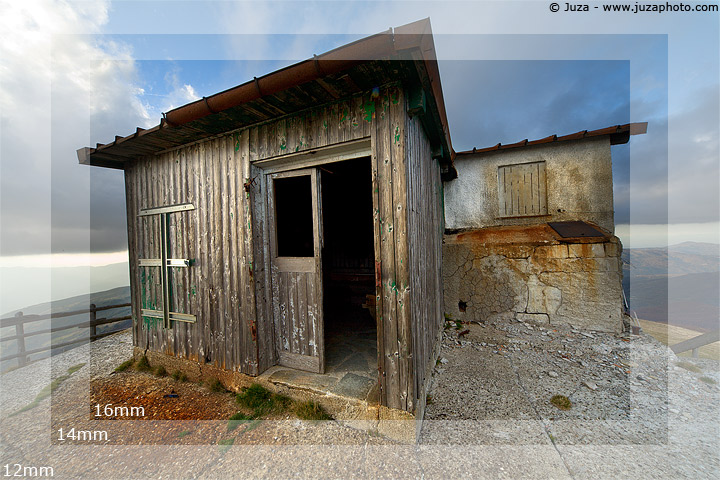 &nbsp
In-depth look: Sharpness
I was really curios to see how the 12mm, the most extreme rectilinear wide-angle currently in production, performs on the high resolution sensor of the 1Ds3. I have photographed a very detailed scene at 12mm with various apertures, and here you can see 100% crop from the 21mp file. The next photo is the test target; the red squares are the crops.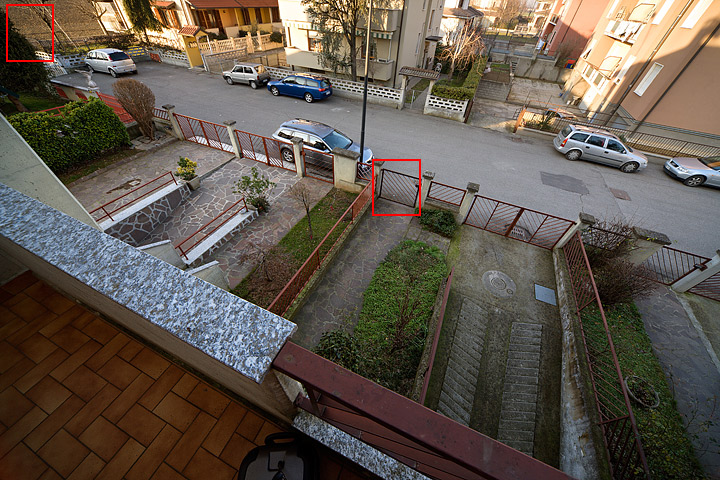 100% crops:
| | | |
| --- | --- | --- |
| | Center | Corner |
| f/4.5 | | |
| f/5.6 | | |
| f/8 | | |
| f/11 | | |
| f/16 | | |
I must say that I am really impressed by the sharpness of this lens - there is almost no difference between the center and the corners, and even wide open it is almost as sharp as at f/8 or f/11. Impressive!
&nbsp
Sample Photo
The following sample show the image quality of the Sigma 12-24 EX DG. The photo has been taken in RAW format and converted with Photoshop CS3; I processed it to optimize the image quality (contrast, color, sharpness), and I saved it as high-quality JPEG for web display. You can download both the processed JPEG and the original, untouched RAW file.
Click on the image to download the full size JPEG sample, or use the RAW link to download the untouched RAW (large file!). Please respect the copyright! This image can be printed only to evaluate the quality of the camera, for personal purposes. All other usages are prohibited.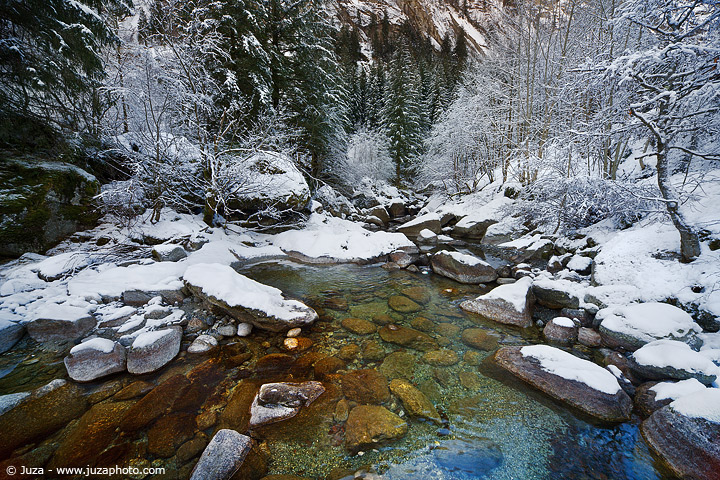 Winter - Sigma 12-24, ISO 100, 1/13 f/11 [JPEG / RAW]- a very detailed landscape photographed at 12mm, with 1Ds3
Other Reviews
-
Sigma 12-24mm f/4.5-5.6 EX DG HSM Review
by Petteri Sulonen
-
Sigma 12-24mm f/4.5-5.6 EX DG HSM user reviews
su Fred Miranda Forum
-
Sigma 12-24mm f/4.5-5.6 EX DG HSM Review
by Photozone
&nbsp
Conclusions
Pros
. The widest lens currently available for fullframe (35mm format)
. Versatile zoom range
. Very good AF
. Very good image quality (if you get a good copy)
. Good built quality
. Extremely low distortion
. Excellent price/performance ratio
Cons
. Sample variation; some copies are not at good as others
. Lack of image stabilization
&nbsp
Conclusion
The Sigma 12-24 is not a lens for everyone. If you don't have a fullframe camera and you don't plan to buy one soon, there are better choices for APS-C format: on a Nikon D300 or Canon 40D the Sigma 10-20 gives a wider view and slightly better image quality.
If you have a FF camera, instead, the amazing angle of view of the 12-24 makes it very interesting, if you can live without a bright aperture (usually bright aperture is not necessary in landscape photography, unless you are specialized in night photos). It is not weather sealed, but I don't consider weather sealing essential in a lens (I have never had a lens failing, even though I have often used non-sealed lenses under the rain. Instead, weather sealing is important in a camera - my old Canon 350D failed after some hours under pouring rain).
I
highly recommend
it to landscape photographers with fullframe cameras (Canon 1DsIII, Nikon D700, etc) that wants the widest angle of view, but keep in mind that there is some sample variation - if your copy does not performs as well as I showed in this test, I'd recommend to send it back and try another copy.
Do you have comments or questions?
If you have comments or questions about this article, feel free to ask in the JuzaPhoto FORUM!